OneNote has Started supporting Coggle mind maps and PhET Simulations interactive embed integration. These 2 apps are much famous among students and educators and they have been requesting to integrate them with the Windows 10 built-in Note taking application. Mike Tholfsen, the Microsoft Education Product Manager, has announced about OneNote enhancement and shared it on Twitter.
So the educators and students using Coggle mind map and PhET can now get benefits of interactive embed integration.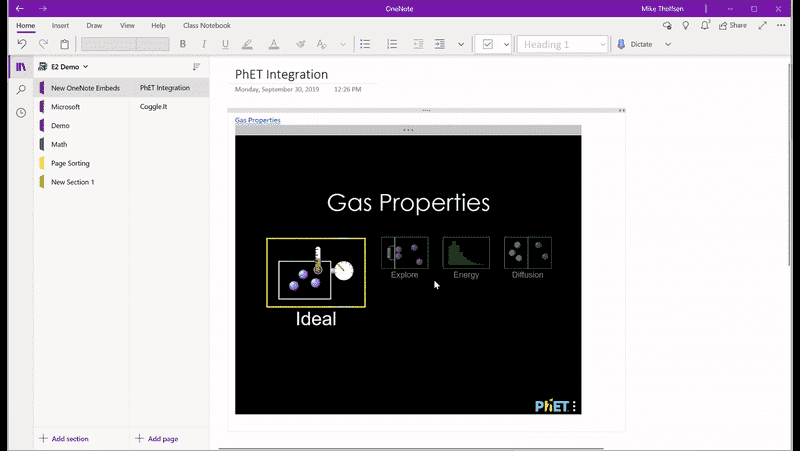 OneNote Started Supporting Coggle and PhET
As said by the Product Manager, they have heard frequent requests for OneNote integration with two well-known apps. Coggle.it. assists the users with simple techniques to share complex info, mind mapping, furthermore, flow charts. The renowned PhET bring about interactive STEM simulations developed by the University of Colorado Boulder
Users around the globe use the 2 apps to create interactive learning resources and digital materials for their classroom. Now they are able to embed the stuff directly into OneNote.
The demands for the integration between the apps have been noticed by the OneNote as well as PhET teams frequently. Now the "OneNote binder metaphor" and the ability to straightaway embed PhET or Coggle.it interactive pages in OneNote is a great combination. Additionally, users can arrange them, or distribute them to others in OneNote Class Notebook.
Currently, you have the ability to copy-paste either of the public PhET or Coogle.it links on to a OneNote page. This will render it as a live interactive embed in moments. The integration provides a great way to make learning more interactive.
To have a look at examples or how easy this is to do follow the links below and watch the animations in the webpage –
NEW! OneNote now supports interactive embed integration with PhET simulations and https://t.co/DVHvKAW6mG mind maps ? #edtech #MIEExpert #STEM @CoggleIt

? https://t.co/2eUO0MbBnK pic.twitter.com/51mhh9SPdn

— Mike Tholfsen (@mtholfsen) October 3, 2019