Pay Money to SBI Account of Others Using NetBanking – Fund Transfer to Third Party using SBI internet banking refers to pay money to SBI Account of others. If you want to pay money to SBI Account others you will have to go through Third Party Fund Transfer. Account holder gets fund at the same time when you click Submit button in this process. But before transferring money you have to add him as beneficiary. After completion of adding beneficiary from your side the bank activates the beneficiary within 6 hours and after then you can transfer money to his account. Here we will discuss how to add beneficiary for third party fund transfer and transfer amount of money to him using SBI (State Bank of India) internet banking website (onlinesbi.com).
Recommended: 
Pay Money to SBI Account of Others Using NetBanking
1. Add Beneficiary for third Party Fund Transfer in SBI
1. Login to your Account – SBI Online
2. Click on Payment/Transfer.
3. Click on Account of Others below Within SBI.

4. Click on the link Click here to add a new Intra-Bank Beneficiary.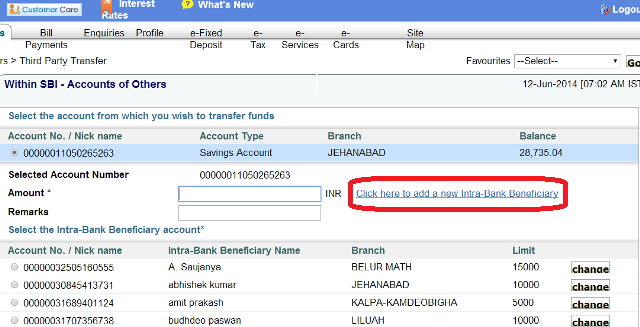 6. Next page requires Profile Password of your account. Write profile Password and hit on Submit.

5. This process leads to open a new page. Write name of the account holder whom you need to pay money and account number, Account Number twice and Transfer Limit means the maximum amount of money you will transfer in future. Click on Submit.
6. You need to Approve the beneficiary. A password will be sent to your mobile phone for approval. Open message box of your registered mobile phone and write OTP (One Time Password) you get in the appropriate box and click on Submit. Within 6 hours you will get a message from SBI that the beneficiary account has been activated. Now pay money to SBI account of others.
Must Read: Transfer Money from SBI Account without Getting High Security Password
Transfer Money to SBI Others Account using Internet Banking
1. Follow step 1 to 4 as given above.
2. Enter the amount you like to transfer.
3. Enter a small note in the remarks field such as credit amount, Pay amount . You may leave it empty. Point entered in the remarks field is shown as the narration in your account statement.
4. Check the Account to select whom you are transferring amount.
5. Check your payment option. If you want to pay instantly click on Pay Now.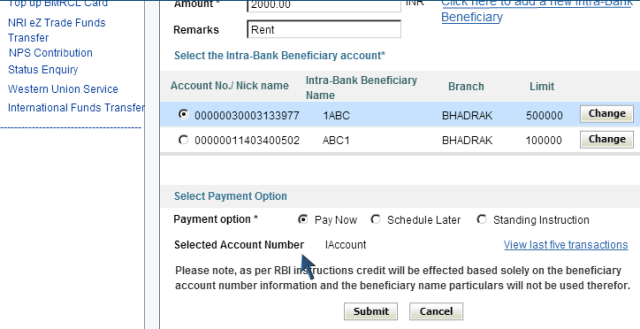 6. Click on the "Submit" button.
7. You can see the details of the current transaction that you have just done.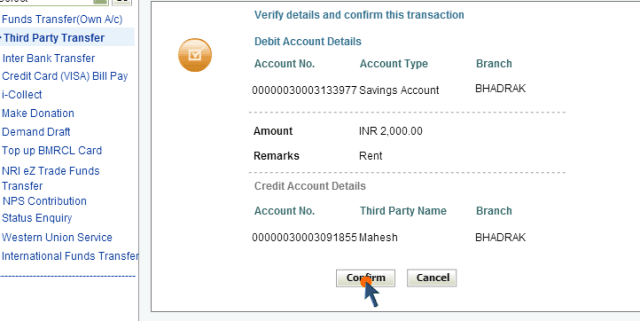 Check the details and then click Confirm. You can see a Confirmation Page with the reference number that your funds are transferred to a Third Party account.
Thus, you get successful to Pay Money to SBI Account of Others Using NetBanking