BullGuard Virus Scan is a new cloud-based antivirus service and definitely one of the best antivirus tools. It offers free web service and performs online quick scan on PC in order to identify Malware and risky items. The BullGuard Virus Scan service comes with chrome extension so that you can automatically install to chrome browser. You may start the scanning process using a single click whenever you wish.
How to Quick Scan PC Online with BullGuard Virus Free Service
To start scan process with BullGuard Virus Scan service is quite simple. You need to visit at the official website and click on the Start Scan link.
Visit BullGuard Virus Scan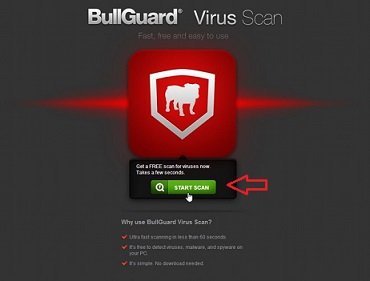 Then BullGuard automatically discovers the running your chrome browser and installs the correct extension. For example, if you are using Google Chrome then you will be prompted to install the extension and click the Add button.
After installing the correct extension to your chrome browser, a button of the BullGuard service is added to the extension bar in the top right corner.
Next, click on this button to begin the scan PC online to detect the malware and virus on your computer.
Once the scanning process is finished, BullGuard service displays your scan results on the screen. Besides, you may click View the scan report link to open a complete scan report in the notepad.
It is totally free and have Parental Control feature.
Conclusion
It should be well-known that BullGuard doesn't remove any viruses or Malware if it found on your computer. It only detects their attendance on your system. After the scan, you can click the Download Free button to download trial version of BullGuard Internet Security 2013 pack and remove all the available threats. In this situation, you have a better option to use an alternate antivirus software.
Download BullGuard Virus Scan Chrome Extension from Google Chrome Store