You often use to know definition or meaning of new words in dictionary. But nowadays, it is dropping its reputation due to popularity of online Google dictionary tool, Internet browser dictionary extension or several dictionary software. If you type a word to search on the Google search page then you get instant search results with simple meaning and small description of the word openly on results page.
But, reputation of dictionaries are surviving still because it have changed their role with time. Now it provides the benefits to online users on the Internet. There are many websites present that gives suggestion about meaning of a new word in conjunction you can find outs its synonyms, antonyms, allied words, thesaurus and many more.
For Windows 8, numerous dictionary apps has been developed for windows 8 fans.Currently, a new app Dictionary.com is launched for Windows 8.
How to install Dictionary.com app in windows 8?
Press shortcut (windows key + F) to launch metro search window and type "dictionary.com". Next click on Store button.
Now you get instant search results page on left panel with several dictionary app. Here try to find Dictionary app and click on it.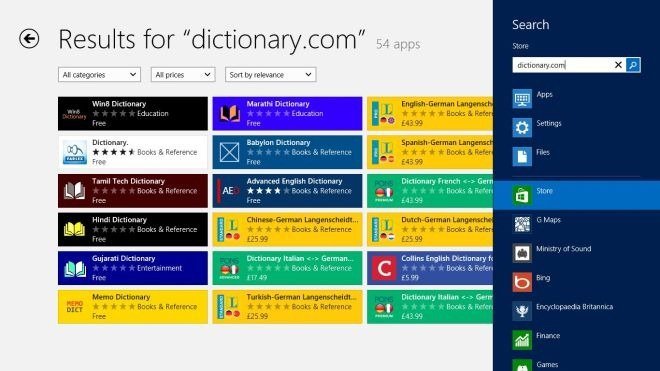 Next a fresh page come up. Click on the Install button.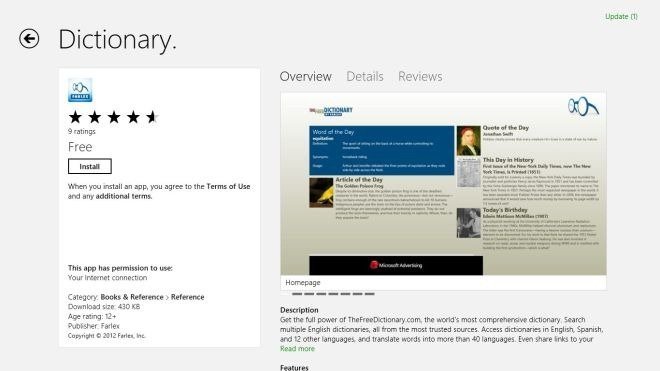 How to access Dictionary.com app –
Step-1
The main interface of this app displays sections like today famous article, quote, about today history and Birthday of reputed persons in the world. If you don't start action, this page displays regularly about interesting facts and fresh information also.
Step-2
To find out meaning for a new word you can hit either on the Search button on the top left corner or type the shortcut Windows key+Q to start the charms Search window. Then type your word on the left corner. Now search results for each word is shown in a single page that included its meaning, thesaurus and translation.
Step-3
This app permits you transform or translate the word into several preferred languages. To do it, browse Dictionary Settings option and choose the default language (English). You can also switch it to another languages like Dutch, German, French and more.
Read more details about Dictionary.com app From Windows Store