Airtel is on of the largest internet service provider as well as mobile connection issuer in India. Everyday crores of people recharge Airtel Mobile Phones, USB Data Cards, 3G Modems. Many portals are also running on internet to recharge Airtel SIM. Maximum customers wants to recharge his Airtel SIM through official website so that their money goes safely to their SIM Cards. This website facilitates customers to recharge 24*7 and free. The beginners who are going to recharge his SIM or internet connection first time may get trouble in this process. So we are describing here How to  recharge Airtel online using Debit Card, Internet Banking. mobile phones either it is talk time or Internet data.
Airtel Recharge using Debit Card, Internet Banking, Credit Card
Note : Every star mark you must have filled with proper action as required.
1. Firstly you have to Enter your Airtel Prepaid mobile number.

2.You can avoid to fill up Email Id because it is not compulsory. If you fill up the Email id box, it will be better because recharge related all information will be sent to this email address.
3. Select your recharge plan Exclusive Web Offer or Your Circle Recharge. Exclusive web Offer is better option and provides advantageous plans like full talk time before you.
4. Select your recharge category as 2G Internet, 3G Internet, Full Talk time, validity and Talk time ,National and international roaming or special recharges. This is based on your choice what you want to recharge.
5. Select Your recharge amount to pay. For this click on click on the drop down menu and again click on the amount you want to recharge with.
6. After filling the boxes, Click on the red button Proceed to transaction summary.
7.You can see that a new page is open quietly. You can see the preview of the last filled information by you.
8. If you have entered these data correctly click on Confirm.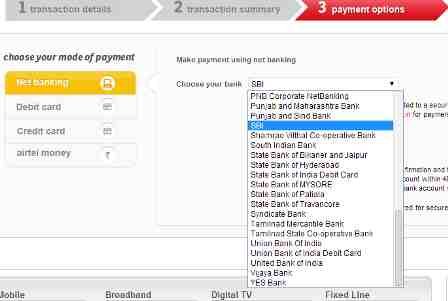 9.  In the next page You have to choose your bank where you have an account like SBI, PNB, and Tap Pay then you will be redirected to a secure payment gateway. There is need of your internet banking to pay. If you want to pay the amount with Debit Card or Credit Card you can click on the options in right sidebar. After choosing the bank click on pay.
10. You have to login with your Id and Password to submit or pay from your bank account. If you do not have the internet banking username and password then download the application form for the internet banking and contact your nearest branch.