Restore Old Battery flyout on windows 10 – This is the second article about retrieving the old Windows 7 Style component's Interfaces. In the immediately preceding article, we have explained to reinstitute System Tray, Calendar UI, Clock. Windows 10 battery fly size is bigger in comparison to Windows 7, as a result, it occupies more space. Furthermore, you have your own reasons due to which you like to get back old Battery fly out.
A 2-3 steps registry tweak is enough to Restore old Battery fly out on windows 10. See how we proceed:

Registry hack to Restore Old Battery flyout on windows 10
Step 1 – Access Registry editor with the process favorable for you. However, one of the easiest methods is to write regedit in start menu search area. Instantly, you can see a regedit (Run command) under Best match on the top of Cortana, click it.
Step – 2 – Once the registry error spreads on the screen, navigate to the below-written path
HKEY_LOCAL_MACHINE\SOFTWARE\Microsoft\Windows\CurrentVersion\ImmersiveShell
Step 3 – Move to the opposite side on the registry editor, right click on an empty location. On the right click context menu follow New and successively Edit DWORD (32-bit) Value and hit it.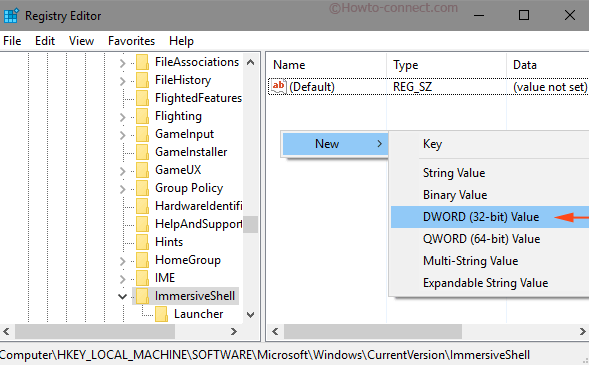 Step 4 – A new Registry Subkey is created and you need to rename it. Hence, give it the name of the below-written term.
UseWin32BatteryFlyout
Step 5 – Now perform a double click on the subkey UseWin32BatteryFlyout. When Edit DWORD (32-bit) value pop up comes out, write 1 in Value data box and click OK Button.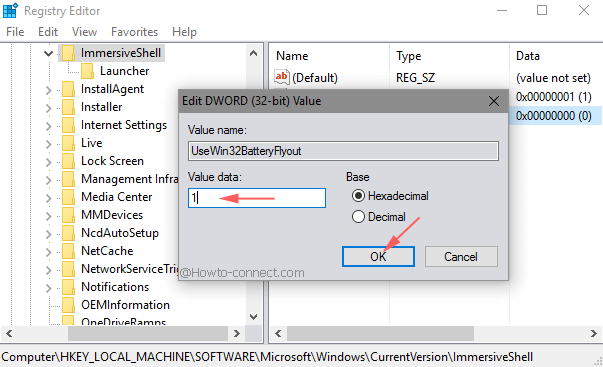 Step 6 – Close the registry editor and do either of the following things –
a. Restart the File Explorer or
b. Sign out and come back in, or
c. Restart machine.
Once you reach your desktop you will experience you were able to Restore Old Battery flyout on windows 10.