You can get the Spirality App for Windows 10 free till 7th of December 2018. Usually, the application costs you $4.99 but the product is providing a limited period offer on Microsoft Store. If you like creating doodles, mandalas, and have an interest in such creativity, now is the right time to grab the app.
Engaging in some artistic activities or even roughly doodling is a great means of relieving psychological stress. And while you don't have a painting canvas or a drawing copy around you when you are at work, software like Spirality App might be your best tool.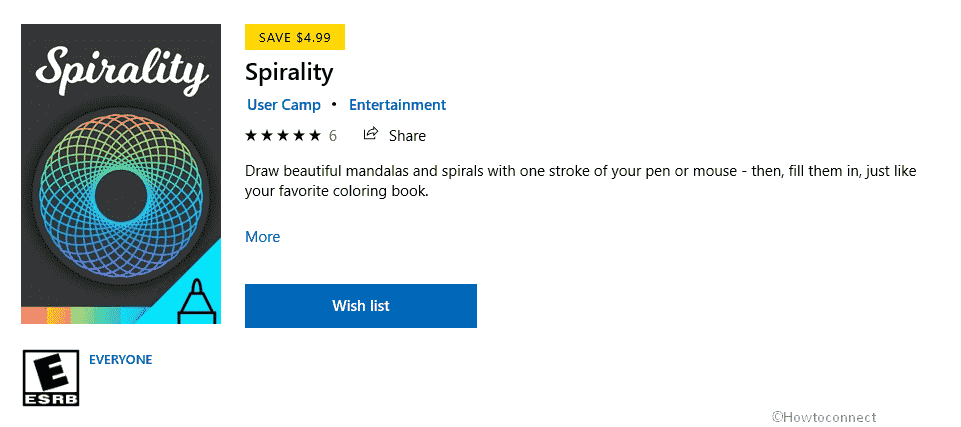 Get Premium Spirality App for Windows 10 Free
How to GET Spirality App for Windows 10 Free –
Step-1: So simply navigate to this page, click on Get and let the Microsoft Store appear showing Spirality.
Step-2: Again select the Get button and wait until the application is installed.
Spirality app for Windows 10 is simply the creation of art made easy. Using the application, the users can engage in creative doodling or even make some beautiful art. Moreover, the program enables its users to share high resolution images.
Your ideal doodle tool
Spirality App is more like a combination of an art-book, spirograph, and a coloring book. A few mouse strokes are all it would take to create your masterpiece!
Multiple control tools:
The application as several tools using which you can control how your spirals or mandalas look. You can change transparency, symmetry, colors, mirroring options and so on!
No professional skills needed
The best thing about the app is, you don't need to have any artistic skill to start creating spirals and mandalas. The tool is really easy to use even for a novice user to perform artistic activities.
Sounds interesting, doesn't it? So grab the deal right away and get Spirality App for Windows 10 Free before the app goes back to costing $4.99! Just a few days left!
That's all!