Guide to Fix System Restore Error 0x80070091 on Windows 10 through Steps. – Are you encountering a trouble while attempting to restore your system in Windows 10? Many users find the error code 0x8007009 at the same time. So you will view a workaround here to settle this system restore regarding issues on Windows 10. Pursue another article on the similar topic – System Restore Did Not Complete Successfully on Windows 10, 8 Fix.
Before proceeding with the fix of the System Restore Error 0x80070091 in Windows 10, let us find the root cause. The main reason for a system prompting this specific error is bad sectors on an external hard drive. In this case, the solution is that you need to run a check of the disk in order to fix the error you are encountering. For the same workaround, you can also follow this guide – How to Check if Your Computer's Hard Disk Drive is Bad.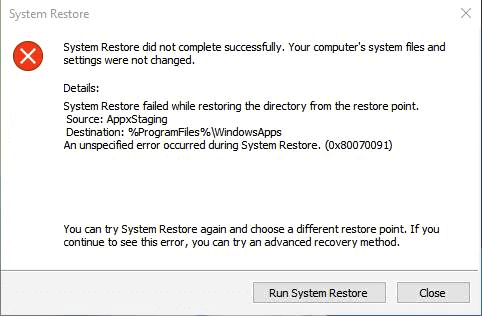 Solution to System Restore Error 0x80070091 in Windows 10
Follow the steps to fix this particular error.
Step 1 – First, you need to press the Start button and type CMD. Quickly you see the result Command Prompt (Desktop app) under Best match. Right-click on this and select Run as administrator.
Alternatively, find a group of procedures here – How to Launch Elevated Command Prompt on Windows 10.
Step 2 – After the Command Prompt appears, type or copy-paste the under given command. Remember to replace the drive letter of the external hard drive with your own.
chkdsk /f /r X: drive letter for the external hard drive
Step 3 – Now the above action will prompt asking to restart the system. After a reboot, it will scan for the entire bad sectors and will begin eradicating them. So, if you want the check to happen then press Y on your keyboard else N.
Don't forget Close all the running applications of your device and save your work before Rebooting the system.
Note to Remember – While performing the check on the hard drive your device may encounter bad sectors. Once it encounters such issues it will try to fix that particular error. This might lead to the loss of information or data stored on the drive. Hence it is always recommended to take a backup of the data stored in the drive.
If you are a beginner and get yourselves in trouble then follow Windows 10 – How to Use File History to Backup Data Step by Step.
In contrast, advanced users can try How to Create Restore Point on Windows 10 Using PowerShell. After then they should start the restoration once more.
Summing up
We hope you will successfully fix System Restore Error 0x80070091 in Windows 10 with the given solution. Once the mess up will be gone you can perform the restoration of your PC through recovery environment and enjoy your errorless Windows 10.
Repair any Windows problems such as Blue/Black Screen, DLL, Exe, application, Regisrty error and quickly recover system from issues using
Reimage
.