Did you also face the nagging issue of System Thread Exception Not Handled Windows 10 April 2018 Update v1803? Users are complaining that this specific Blue Screen of Death problem often occurs during startup. Sometimes, it also comes up when you are in the middle of some random work. However, the annoying part is that the system stucks in an endless reboot.
Generally, this error occurs due to faulty device driver, outdated BIOS or incapable hard drive connected with your PC. When BSOD happens to occur in Windows 10, it is common that your system will suffer unexpected restart. If this is the first time that this error logged on your problematic PC, then try the following workarounds to fix the error System Thread Exception Not Handled Windows 10 April 2018 Update 1803. If you are unable to start up windows then restart your PC in Safe mode.
System Thread Exception Not Handled Windows 10 April 2018 Update 1803 Solutions
Here is how to fix System Thread Exception Not Handled Windows 10 April 2018 Update 1803
Update problematic driver
The problematic drivers like Intel Graphics Kernel Mode can cause various problems such as Bluetooth not working, blue screen etc. Most of the time igdkmd64.sys File is related to Intel Graphics Kernel Mode driver, which manages the power of the Windows Operating System. If this driver gets faulty or outdated, the PC will eventually encounter System Thread Exception Not Handled. Therefore it is necessary to decipher the data to understand which driver has gone wrong.
Step-1: First of all, jointly hit Windows + X hotkeys all together in order to launch the power user menu. From the list of options that appear on the screen, choose Device Manager.
Step-2: Here, expand each and every category and locate the device that displays a yellow exclamation mark.
Step-3: Perform a right-click on the device and go ahead with the option namely Update device. Follow the on-screen guidelines of the wizard and complete the update procedure
After updating the driver check for the occurrence of system thread exception not handled problem.
If you find difficulty in update particular driver you can easily Update all Drivers for Windows 10 simultaneously.
Check for Bios Update
In case updating the driver fails to resolve your issue, give an attempt to BIOS. Various problems like bios incompatibility, memory conflict, etc can also be the possible reasons for the above-mentioned error. Therefore you need to keep your BIOS updated in Windows 10 PC.
To do so, navigate to the "motherboard's manufacturer" website and check if there exists the latest update. You should know the product name of the motherboard before visiting the website. Here is the process to get the model number of it.
1. Jointly press "Win + R" hotkeys from the keyboard to open Run dialog box.
2. Here type "cmd" and hit Enter.
3. Now just copy/paste the below-given command and hit Enter to get the product name.
wmic baseboard get manufacturer, product
You will get the 'motherboard manufacturer' and its model number on the screen.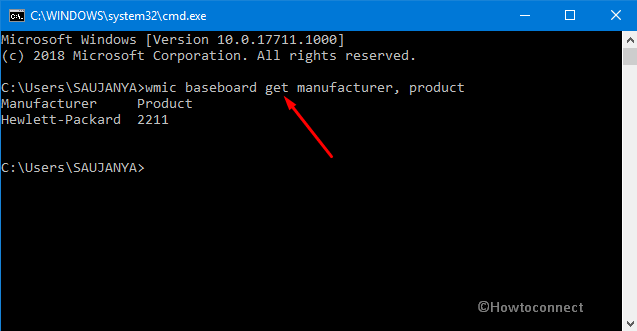 Note: Sometimes you could feel a little bit complicacy while doing BIOS update yourself. Therefore it is good to visit manufacturer website as BIOS is either in .zip or in .exe format. The company provides all the necessary installation instructions on their official website. Just go to its website, download the 'BIOS' update and then follow the instructions.
Hope this workaround will resolve the issue.
Perform SFC Scan
Open Cortana, type cmd and right-click the result. Choose 'Run as administrator' to launch an elevated Command Prompt.
Click Yes when UAC dialog pops-up.
In the black window, type in or copy/paste the below command line and hit Enter to initiate the scan.
sfc/ scannow
Once the scan gets over, it will notify you of the result.
Read SFC /Scannow, DISM.Exe, CHKDSK Windows 10.
Check hardware compatibility
If you have applied the above workarounds and the error System Thread Exception Not Handled Windows 10 April 2018 Update 1803 continue to persist, it might due to faulty hardware. In most of the cases, the damaged hardware might cause this 'Blue screen of death' specially if you have recently upgraded your PC to Windows 10 April update v1803. Therefore look out for the problematic hardware is connected with your PC.
Hope the above-mentioned tools help you in getting rid of this particular error System Thread Exception Not Handled Windows 10 April 2018 Update 1803.
Utility tools to solve this BSOD:
Repair any Windows problems such as Blue/Black Screen, DLL, Exe, application, Regisrty error and quickly recover system from issues using
Reimage
.