Microsoft provides you an option to Enable Line Focus in Edge Browser on Windows 10. This new feature will make the reading view clear without showing unnecessary elements such as scripts, menus, and ads. Basically, the built-in browser comes with a Reader Mode which is really familiar to those who are using Firefox and Vivaldi.
The Reading view of Edge offers you a well organized, simple, and clean layout. With the release of build 17711, the browser also includes a Line focus feature to streamline users reading experience. While you read an article, you can focus only on the context by highlighting one, three, or five lines. So, in this article, we will see how to turn on and use this feature.
Enable Line Focus in Edge Browser on Windows 10
Here is how to enable Line Focus in Edge Browser in Windows 10
If you are using Windows 10, you definitely know that 'Microsoft Edge' is the built-in website browser. It is known as a universal app (UWP). This browser does not only have a simplified user interface, but it also has an extensive support and a fast rendering engine. It also provides the readers an easy read with a new format and font document in the reader mode. Let us see the procedure to Enable Line Focus in Edge Browser in Windows 10.
Step-1: Get access to Microsoft Edge browser by hitting its icon on the taskbar (see snapshot). Next, navigate to the website of your choice.

Step-2: Click the Reading view button that appears at the right end of the address bar.
Step-3: After enabling the Reading view, make a click on the Learning tools icon. From the pane that comes into view, go to Reading preferences.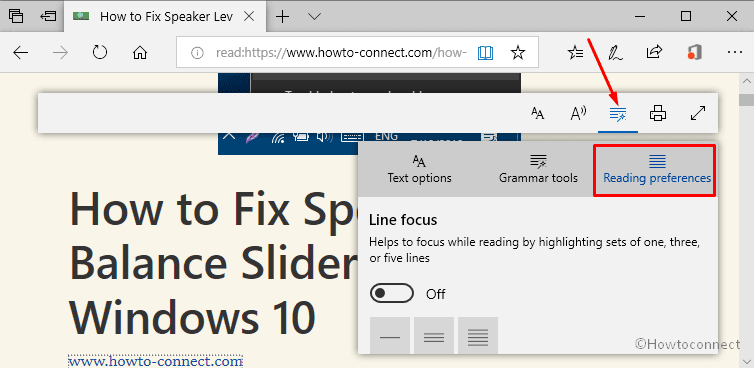 Step-4: Now, toggle On the Line focus option. After enabling it, you can customize the text by highlighting the sets of one, three or five lines.
Step-5: If you want to highlight any lines in the articles, simply select one, three or five below the toggle switch option.
As you see it is very easy for us to enable Line Focus in Edge Browser. Comparing with many nearest version of Windows, this Edge has gotten lots of changes, such as extension and EPUB support or a built-in PDF reader. Moreover, it also provides to the users the ability to export passwords and a number or go to the full screen with a single key store. One last special thing you should know about this browser is that it also allows you to print a web page without advertisement.