Currently top-rate smartphone manufacturer hasn't found solid security solution to protect from Android Malware. While several antivirus companies are offering to use up-to-date apps as Android security solution. But these antivirus apps are unable to avoid your Android Smartphone from Android Malware quickly. Similar to Windows, make note that antivirus app aren't vital on Android Smartphone. But, if you perform two actions repeatedly like downloading or installing doubtful apps then you need to avoid from Android Malware or other Android security threats using following lesser-known top 5 security tips.
1. Keep Caution when you use Sideloading Apps
Android OS lets you to install apps from external sources instead of official Google Play store. It is important because if Google Play removes any apps then you still have the opportunity of getting them from in a different place. Installing android apps from external sources instead of official device's app store is termed as Sideloading.
Though sideloading feature is disabled by default due to security reasons. Now enable it is an issue when you check the box of Unknown sources in your Settings screen. There are excellent benefits available after enabling the sideloading in your Android Devices. For example, you may install apps from Amazon app store, Android games purchased from the Humble Bundle store or install apps from XBMC store for Android.
On the other hand, there are also found negative effects after enabling the sideloading feature. If you are installing illegal or pirate APK files (games, other types of Android paid apps) without paying requisite amount then you are inviting a serious security threat (Malware) in your Android devices. In short, most pirated apps which are downloaded from doubtful websites or unknown third-party app stores create chances of malware attacking immediately.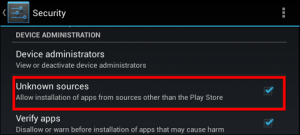 So Android users are recommended to install apps from trusted sources or official app stores only. The official app stores for Android version are Amazon, Humble Bundle and XBMC and Google Play Store. Android 4.2.2 or later version Android users have an option to scan all the sideloaded apps for malware.
2. Keep away From Doubtful Third-Party App Stores
Almost malware comes from third-party or un-official app store where no option is available to check the apps for malware. Some third-party Android app stores contain Trojan or malware, which works in the background. These risky items collect an Android phone's location stats and other distinctive identification info and send it to remote servers.
In this situation you have a better option to avoid your Android phone from Trojan as keep away from doubtful third –party app stores immediately.
3. Check the official Apps if You Install From Google Play
Few antivirus companies categorize certain types of apps as malicious items when it is scanned at the Google Play store. The certain apps are found as high-risk because it can access the permissions like seeing your phone's information. Now you should implement following caution when you are going to install apps from Google Play store.
Don't install doubtful-appearing apps after viewing bad appraise or require a lot of permissions to send SMS messages in order to start the app.
If any app asks to select permission like the Send SMS messages permission, make sure it is doing with legal reason for requesting the permission.
4. Be careful for Phishing
Malware not only introduces about the security warning but also helps you to perform a risky role like phishing through email, SMS messages or browsers. If you receive a doubtful email regularly and claiming from your bank. After clicking on the provided link, you are asked to enter your online banking credentials into a fake website. Once you enter your sensitive information, the fake website steals it without knowing you.
5. Set Security Update to Your Android Phone or Tablet
Similar to Windows OS, security problems are rarely found within the Android OS based devices. Update to latest Android OS version can frequently fix security problems. Unfortunately, Google is not liable for rolling out updates to all Android devices. Android device manufacturers and carriers are responsible to release security update patches time to time mainly for older version of Android devices. In general words, you may start to install the new Android OS update patches automatically. But Android device manufacturers and carriers don't offer to start automatic security update patches for their devices.