Newsletter is strategy of webmaster to advertise their marketing products in the virtual world. In fact, webmaster wants to target a larger number of subscribers to spread awareness  about their newly products. As you know Gmail has larger user base worldwide and on account of it webmaster has set their priority to access Gmail subscriber through Newsletters. Certainly, it is right way to access more and more user easily. Sometimes webmaster strategy works and users show interest to their offerings. Thinking their plan to access more and more people clicked is not right. Because most of the users do not like to follow such type of offerings of market players. And messaging like this treat as unwanted emails. In such condition, users want to unsubscribe each newsletter anyhow.
Users are capable of unsubscribing these emails manually, but it takes more time. To get you out through this problem, you may use an application of unsubscribe. The application of Unsubscribe enables you to remove multiple newsletters simultaneously. In following ways, it works: –
Unsubscribe scans all email message and pick out all Spam newsletters consequently unsubscribe it.
In both free and paid plan application of Unsubscribe is available.
 The paid plan of Unsubscribe is available at 2$ and it has the power to scan all emails from concluded 30 days while unpaid plan of unsubscribe has power to scan mail from last 14 days only.
It is also effective for Yahoo mail, AOL mail and Google Apps
Now, I am pointing step-wise method to install Unsubscribe for removing bulk newsletters in Gmail.
Access homepage of website unsubscribe. To access it
Click to Inbox manager link after then put mailing address of your Gmail account
Then information about third-party installation appears including with asking for login to your Gmail account.
After making login in own Gmail Accounts, permission is sought for scan your mailing Inbox. Say ok for scanning all emails.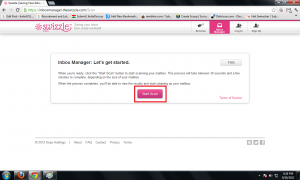 Finally, all newsletters will be traced out. You have an option to unsubscribe as well as delete these message.