People who desire to explore new places can always find out reasons for traveling and their love for new places. Some are so obsessed that they even prefer to personalize their desktops with wallpapers of different places. Very recently, Microsoft releases a theme that lets you enjoy 17 simple yet interesting locations that you wish to add to your travel bucket list. What Next PREMIUM Windows 10 Theme contains desktop wallpapers of sailboats, savannahs, and cities that help you to plan your next trip.
By staying at your desk, you can explore and think out about your next journey. So in this article, you will find a way to download and use this theme and also get to know it's required specifications.
What Next PREMIUM
Here is how to download and use What Next PREMIUM Windows 10 Theme –
Go to the taskbar, locate and click the Microsoft Store icon.
In the top right, search for the app What next PREMIUM and select the same.
The app will display an overview of the theme, click the Get button to download it.
Once you see the product is installed message in the interface, click Apply.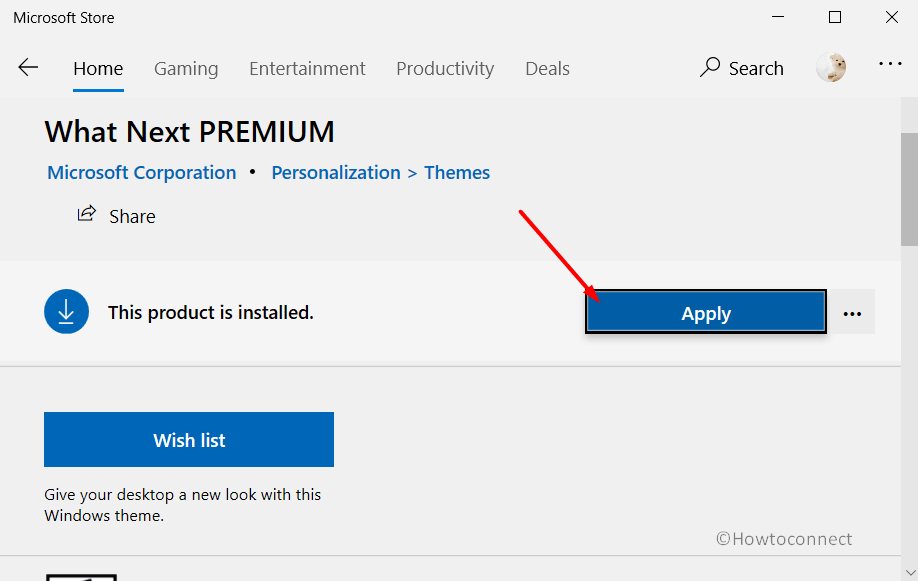 The Themes Settings page will show up. Switch to the corresponding right pane and select What Next PREMIUM theme.
Note – As an alternative, if you are not able to find the theme through Store, you can also visit the official webpage of What Next PREMIUM. Click the "Get" button and this will open the Store page. Then follow the instructions mentioned above to download and install the theme.
System Requirements
Being a regular Windows 10 user, you should be aware of the fact that certain applications are there that require some specifications to use them. Likewise, What Next PREMIUM also has a few conditions that your device should fulfill in order to apply it. This is a free theme which needs an approximate space of 11.74 MB of your disk drive. Moreover, you get the ability to install the theme on at least ten Windows 10 devices. But to avail this feature, ensure to download the app using a valid Microsoft account. So, these are the two main specifications that your device should meet in order to use the theme –
The required operating system running should be Windows 10 version 14951.0 or newer.
This theme is compatible with the architectures x86, x64, ARM, and ARM64.
Once your device accomplishes these simple system requirements, you can go ahead and enjoy the scenarios of the rendering places near you.
That's all!!!