Default apps experience improvements
Windows 10 20H2 2009 adds the ability to search the lists of file types, protocols, and apps when setting a default.
Updates for Your Phone app
Drag and Drop files feature
Windows 10 20H2 2009 introduces file drag and drop feature. It allows any Samsung phones that support phone screen feature to wirelessly drag and drop files from phone to PC and reciprocally without having to dig for cables.
Requirements –
Cross-device Copy & Paste feature on additional Samsung Galaxy devices
This feature is now being rolled out to the smartphones Samsung Galaxy S10e, S10, S10+, Note 10, and Fold devices.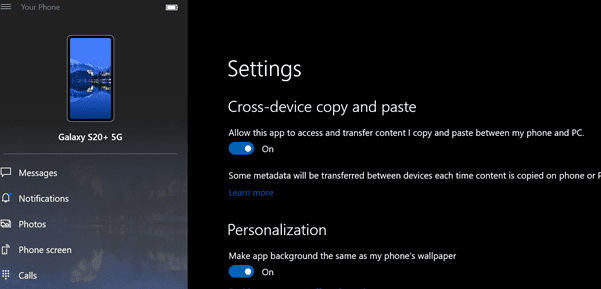 Messages node
A new rounded UI for Compose new messages, within the Messages node, is rolled out.
UI updates
Windows 10 2009 20H2 introduced a number of UI changes to improve the overall look and feel of the Your Phone app –
The option to match your app's background with your phone's wallpaper. This doesn't only enhance the look and feel of the application, but it makes it more personal.
The app background color in dark mode is now a lighter tone of gray.
Typography of headers is more modern and prominent.
The update brings responsiveness in addition to app-wide padding to perform in better method for various sizes of the application window when you go across nodes.
Cortana app update
Windows 10 20H2 2009 carries Cortana app update to enable on Assistant Conversations and Bing Answers for the given regions and languages –
Australia: English
Brazil: Portuguese
Canada: English/French
France: French
Germany: German
India: English
Italy: Italian
Japan: Japanese
Mexico: Spanish
Spain: Spanish
United Kingdom: English
You can try out by discussing in the following way –
What's the weather?
What can you do?
Convert one inch to centimeters
Access to COVID-19 info using search box
You are able to check COVID-19 update staying on Windows 10 – How to Check Coronavirus Update in Windows 10.
Additionally, View interactive map tool allows you to fast access to the Bing COVID-19 Tracker.
Control your music and audio from within the Your Phone app
Windows 10 2009 (20H2) allows you to control your music and audio apps using Your Phone app. You have the ability to access and manage the audio apps playing from your phone straight within the app. Your audio tracks will stay synchronized between your smartphone and PC. You switch anytime between multiple sources using the drop-down in the player.
Key features of music and audio features of your phone app –
View and interact using the audio applications running from smartphone.
You can see Audio title track details and stay in sync with what's playing on your phone.
You can manage tracks from PC, moreover play, pause, previous/next.
Audio player control requirements
Audio player feature will be working on a PC powered with minimum Windows 10 v1809.
Android phone running 7.0+.
Apps should support media controls in their Android notifications. For instance, the applications may be "Google Podcast," "Spotify", "YouTube Music", "Pandora", "Amazon Music", "Google Play Music", and "Xiami Music".
By default setting, Show audio currently playing from my phone will be disabled if Your Phone Notifications permissions are bestowed on.
Separate audio apps will require notifications permission provided on your Android phone. Navigate to Android Settings => Notifications => select the audio app and turn Notifications on.
General Improvements
Windows 10 20H2 2009 modifies VPN connection logic so that when you disconnect from a VPN network, it will now uncheck the option to auto-connect. You are currently handling the Wi-Fi in same way.
The version modifies the text of the Add a Device dialog in Bluetooth to show controllers.
Windows update Settings includes Optional Updates Available section to provide you the ability to copy the text.
General improvements
Windows 10 2009 20H2 offers initial support for DNS over HTTPS. The change allows you to opt into using encryption when Windows makes DNS queries.
Download ARM64 VHDX
Windows 10 2009 20H2 provides the ARM64 VHDX which allows Insiders to run Windows 10 as a guest OS in Hyper-V. You can download the VHDX here. Every build will get updated VHDX downloads further.
The version has updated Windows Hello configurations to ensure its compatibility with 940nm wavelength cameras.
WSB files in Windows Sandbox are case insensitive.
General Improvements
Storage Sense will no longer clear out your Downloads folder automatically on a cycle if it is synced to a cloud provider.
The new edition modified ogin logic to avoid error appearing with username while starting.
Windows 10 2009 20H2 has changed the servicing model for the Linux kernel inside of the WSL/Windows Subsystem for Linux 2 distributions. This improvement will withdraw the Linux kernel from the Windows image and instead have it be pushed via Microsoft Update. The same way will be working for 3rd party drivers such as graphics, or touchpad driver.
Continued…