Windows 10 Build 18945 comes out to the Insiders in the Fast ring carrying a bunch of fixes, changes, and improvements. This specific build of the Release Preview revealed a new Cortana experience for Windows 10 as a Beta to the Insiders, particularly in the United States. Moreover, after installing this update, you will notice that the company has attached global configuration options for WSL. These options also grant you the ability to specify the WSL 2 virtual machine. Along with these features, the company also includes some accessibility improvements like – efficient way of reading the text in Outlook, text cursor indicator, and more.
Being into the Skip Ahead ring, you're able to straightaway get Build 18945 20H1 via Windows Update. For this, just go to the Windows Settings app and expand the Update & Security category. Subsequently, click on the 'Check for updates' button and let download the build on your device.
Windows 10 Build 18945 [20H1] Features, improvements, Fixes
Let's see the features first –
Cortana gets new features
Microsoft team unveils a new Cortana service for Windows 10 as a Beta to the Insiders. This new experience feature is especially available for users in the United States. Furthermore, it has a chat-based user interface which provides you the capability to type or speak natural language queries.
In addition to this, it also holds most features of the Cortana like – Assistant conversations, setting reminders, and more. Some new features are –
With the build 18945, you will now able to use both light and dark themes with the Cortana.
Microsoft technician has introduced a less intrusive screen for "Hey Cortana" inquiries. Therefore, you can stay in the flow while you work.
The tech giant has upgraded the Cortana with new speech and language models and significantly enhanced performance – making it more active and also reliable than ever before.
To start this service, click on the Cortana icon. You are also able to start it by saying –  Hey Cortana. Additionally, you may need to sign-in with your account. However, if you're an insider in the U.S. and are not experiencing the new feature, you may need to keep patience as the company will sort out this issue in the upcoming days. Whereas further markets and languages will become available at a later date.
Note – This needs to enable this functionality by navigating to the path – Settings => Voice activation privacy settings  – Talk to Cortana.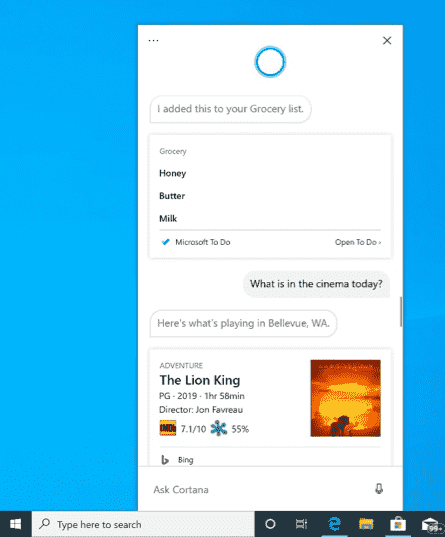 WSL 2 enhancements
Moreover, build 18945 provides you the ability to approach the WSL 2 Linux networking applications with the help of localhost.
In addition to this, the company has added the entire configuration options for WSL. These options will get utilized to each of your WSL distros. It also empowers you to specify options that relate to the WSL 2 virtual machine. This is because the entire WSL 2 distros operate inside of the same VM. However, the most interesting and effective option that you'll get access to in this update is custom Linux kernel. The build makes you able to specify these exciting features.

Improvements in Accessibility
Inside this context, the narrator gives you somewhat more effective reading experience when you read some texts in Outlook or Windows Mail.
When the message is opened, Scan Mode will be disabled by itself. This provides the user ability to use their arrow keys in order to read the message. Moreover, it also facilitates you to utilize Scan Mode hotkeys to jump through the text of the message.
Known issues
With the Windows 10 Build 18945, the cursor will not jump to the section the last read as Narrator auto-reads. It generally happens when an Outlook message is opened while in Scan Mode.
Besides, the narrator will start reading when replying to a text message. As a workaround, press the control key and jump to the upper section of the message to write your reply.
Narrator's Outlook folder reading has been improved for an optimal triaging experience
The Narrator can read the information more proficiently when you read any text like emails in Outlook. Now, all the line item initiates with the status of the email including the other columns. For example – subject, etc. Column headers will be quieted. Along with, columns with no data or that have the default (expected value) will be quieted. For instance – average importance or unflagged, etc. Whereas in Outlook, headers can be switched back on by pressing Narrator + H. It will toggle their reading on and off.
Text cursor indicator
The new Text cursor indicator will assist you to unearth the text cursor wherever you are at any time. Choose the range of sizes for the text cursor pointer and make it a color so that you could see it easily. As an alternative, personalize the color of the cursor pointer on your personal choice. To access the settings, open the new Text cursor page. Subsequently, turn on the text cursor indicator, and never miss track of your text cursor ever again.
Known issues
Text cursor indicator color and size might not sustain when you sign in. As a resolution, only you have to do is turn off and on – "Use text cursor indicator".
Sometimes, you might notice that the text cursor indicator remains on the display. You will experience this issue when the app has been closed or interrupted in Windows 10 Build 18945.
New File Explorer search rolling out to all Insiders
In the forthcoming days, the new File Explorer search experience will be pushed out to all Insiders in the Fast ring.
Windows 10 Build 18945 changes, improvements, and fixes for PC
Windows 10 Build 18945 solved an issue causing a few remarkable users to face install failures problems. Along with, this issue flashes an error code c1900101 which is due to an adaptability bug with a storage driver on their device.
The company has executed a few fixes which enhance reliability. It happens when you install a Windows Subsystem for Linux 2 distro.
Microsoft specialist is extending Windows Defender ATP capabilities beyond the Windows OS. As a consequence, they are renaming to Microsoft Defender. This is to reveal the cross-platform appearance to endpoint protection.
The tech giant resolved an issue where Settings might crash if you selected Activation under Updates & Security.
Microsoft observed the sudden disconnection of the network connection. Therefore, with this build, they provide a close button as a resolution to overcome this issue for you to use if needed.
With this Windows 10 Build 18945, the performance tab of Task Manager will extend in a normal form. In the previous build, it usually failed if you double-clicked on the text.
In this update, the company has updated the Details tab of Task Manager. Therefore, if you do a right-click a process, provide Feedback will now be listed after End Task.
Windows 10 team resolved another issue relates to network icon in the taskbar. It might show that there was no Internet even though there actually was a connection.
Microsoft Developer team resolved an issue affecting Windows Hello reliability in recent flights.
You are now able to update the DNS server settings manually in Settings.
Windows 10 Build 18945 settled an issue from the previous two flights resulting in mobile hotspot surprisingly turning off if enabled.
They have resolved an issue that could result in the system hanging after resuming from hibernation.
Software giant fixed an issue possibly resulting in the error. Here the error is – "MMC has detected an error in a snap-in and will unload it." It generally happens when you attempt to expand, view or create Custom Views in Event Viewer.
Known Issues Windows 10 Build 18945
There was a crucial concern of the anti-cheat program uses with games. However, when you update to the latest build, you may face some crashes experience the PC. With the associate's partners, Microsoft team is working on to receive their software updated with a fix also most of the games have released patches to hamper PCs from encountering this issue. To mitigate the possibility of running into this issue, ensure that your device is working on the most recent version of your games before endeavoring to update the OS. Moreover, the team is also working on with anti-cheat and game developers to settle these types of anxious issues. This will work to reduce the likelihood of these issues in the forthcoming days.
With this release, a few Realtek SD card readers will not operate well. However, the company is investigating the issue.
As per the Microsoft technician, the tamper Protection may be disabled in Windows Security after updating to this build. However, you can turn it back on. This Windows Defender will revert to being on by default for all Insiders in the month of August.
Sometimes, the candidate preference in the prediction candidate window for the Japanese IME doesn't resemble with the composition string. However, the company issue.
Insiders may get observe somewhat variations in Magnifier with today's build. However, still, these aren't quite ready for you to try, but we'll let you know once they are in a forthcoming flight.
Your Phone app – Expanding phone model support for the Phone screen
Microsoft team is continuing attempts to expand support for the Phone screen. With this announcement, they declare the feature availability for these devices –
These are the series of a mid-range smartphone of the Samsung company. Here is the list of all available devices – "Samsung Galaxy A6, Samsung Galaxy A7, Samsung Galaxy A9, Samsung Galaxy A10, Samsung Galaxy A20, Samsung Galaxy A30, Samsung Galaxy A50, Samsung Galaxy A70, and Samsung Galaxy S8 Active".
That's all