It is a common thing among the jailbreak lovers to modify the default look of their ioS Devices. Using the Cydia, you could not only change the theme of your iPhones but you could also use the various things from widgets to tweak to make your ioS Devices look completely different as in comparison with your friend. iPhone's lockscreen has remained completely same from many years. Here, again Cydia offers you a lot of amazing ways using which you can customize your lockscreen and make it look really cool.
It allows you to customize its look and feel with themes that you can design yourself, or you can use one of the various default themes that come with the tweak. The tweaks are used for adding visual jazz to the lockscreen and awesome functionality too. Unlocking the screen will allow you to add weather meter, launching app as well as other exciting apps. jailbreaking the device gives you a space to add new entry apps which could appear once whenever you open or wake up your device. Below are 5 must use Cydea Tweaks which could be used to make your ios Device lockscreen not only gorgeous, but also very fruitful.
1. Ayra
Ayra is one of the beautiful jailbreak tweak which gives you quick access to system toggles and Notifications from the Lock screen. This app is now available on Cydia. There is a notification center in the lock screen if you use this app in your iOS7. Here, you get all the features similar to that of the Android without even unlocking it. You can get the access to each notification easily. Using this app, You can disable the tweak on the fly via the Settings app. Just go to the settings, then click on ayra and then disable ayra On/off. This tweak costs you $1.99.
2. Buddy Lock
It is a fantastic tweak letting you place widgets and even app shortcuts on the lock screen of your iPhone. It offers you a lot of other customization settings like the camera grabber, time bar etc. This tweak also offers you to place your music playlists as well as your address book on its lock screen area. It can place four to five app shortcuts on the lock screen. Using this tweak, you could also change the color of different things present on its locked screen. There is however one problem and i.e. it comes for $0.99. But owing to its different enticing facility it is of the total worth.
3. LSMusicGestures
It is a very appreciable tweak. It doesn't change any of the pre-existing things on the lock screen. It appears like a blank wallpaper. During listening to any songs, all the options like play, stop, forward, sound control etc. of the media player can be controlled by lock screen gestures of this app. It is also available free of cost. This app lets you to control your iDevices without any distraction.
4. Atom
Atom provides you a nice way of keeping app shortcuts on the lock-screen. This is really a fantastic choice however it costs you more than Buddy Lock i.e $ 1.99. This app can allow you to place six app shortcuts on the locked screen. There is a special feature in this tweak according to which it can automatically change the visual aspects of its lock screen. It generally uses all the spaces present on the lock screen to make its own arrangements of icons. However, there are no customization settings provided in this app.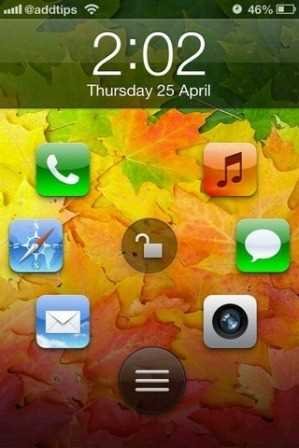 5. Lock Launcher
This is one of the most comprehensive app launchers for iOS devices. Still, it is not liked by most peoples owing to its bad arranging and not good looking screen. There is one cool feature provided by this tweak is that you can launch nine app shortcuts on your iPhone's screen. However, this tweak is not that much safe in privacy terms. If you don't have any privacy related issue, you can go on for using this app. It will comfort you. It is available for free.
Conclusion
Here, almost all the tweaks mentioned comes at a price. But, the price is reasonable if we see the different facilities provided by them. It almost change the appearances of your iDevices and that too for a affordable price. So, choose your own tweak and play with that.