Great opportunity on the door Gmail users. Now they may use SkyDrive in Gmail. This arrangement is made by Microsoft and attachment.me and available in Google Chrome and Mozilla FireFox.. Now the question is how to access SkyDrive with Gmail Account. The answer is in further instructions.
Firstly you have to add Skydrive extension (Attachments.me) in your Gmail account inside Chrome browser.With Mozilla FireFox, you have to choose Firefox add-on to add it.

Key Features of Attachments.me Extension – 
Easy to starting Skydrive account through Gmail.
It allows you to upload and send your files throughout your Gmail account with SkyDrive.
It permits you to save Gmail attachments on your SkyDrive account openly.
How to Add Skydrive extension in Gmail account from Chrome Browser –
First Step-
At first, open this link in your chrome tab – https://attachments.me/skydrive
From attchemnts.me home pages, click on this link from at the bottom – Add Chrome Extension
Then you get a Pop box (Add to Chrome). Click Add button.
Now Chrome extension will be downloaded in your chrome browser at bottom panel.

Once download completed, double click on it to add in chrome browser.

Second Step –
Sign in your Gmail account in chrome browser in which you wish to add skydrive extension.
Then you get a pop box at the middle screen in your Gmail account.
Here click on this link– Click to get Started.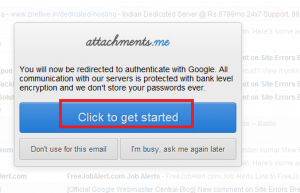 In next page click on Allow button.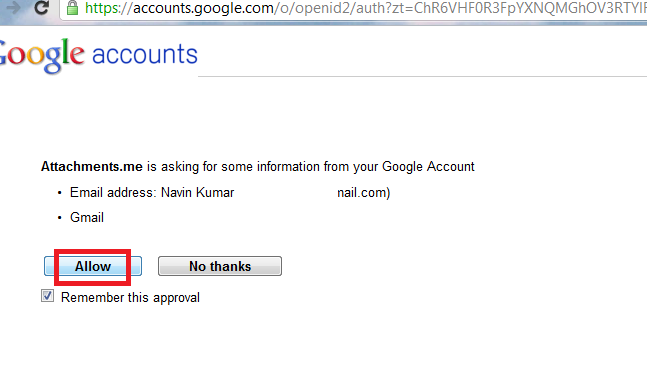 Then after you get new pop box with Skydrive logo. choose this option –  link your account option.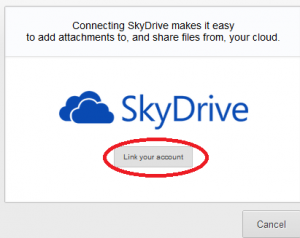 Now your browser tab connects from Skydrive login page. Here login your account.
Then you get several settings options. Click on this link at the bottom- yes.
Thus you have successfully add skydrive extension in your Gmail account inside.
How to Send, share and create SkyDrive files directly in Gmail Account ? 
As soon as you add new extension (Attchments.me) in Google chrome browser, you have to be ready to send and access Skydrive files through your Gmail account.
Sign in Gmail account in chrome browser.
Click on Compose button to make new email.
Under Compose page, you get two options near to attachment link.
Share from Sky Drive
Send File to Sky Drive & Share