You should not be confused with UEFI, actually, it is the short form for the Unified Extensible Firmware Interface. and just after booting Windows 10 PC, you see the text written Press Del to Enter Setup which guides to open UEFI. But due to fast Startup, it is just uninterruptible. So you need to discover another way to go to UEFI BIOS in Windows 10. So we are writing the Windows 10 tips here to show you How to Access UEFI (BIOS) Settings on Windows 10. The tips are working for Windows 8 and 8.1 too.
In the coming passages, you will read How to Access UEFI (BIOS) Settings on Windows 10. Certain approaches are valid and functional for the sake of the former editions as 8 moreover 8.1 too.
You may like to Read:
How to Create Windows To Go Startup Options Shortcut Manually
How to Access UEFI (BIOS) Settings on Windows 10
Usually, you can access it as it was in Windows 8/8.1 it has a little bit different. Let us see how:
On Windows 10, tap on Start symbol at the taskbar.
Check for Settings and click the same option to navigate it on your screen.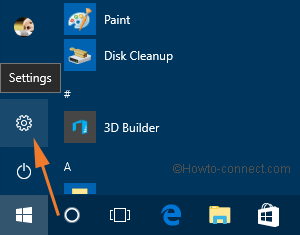 On the home page, take the option Update & Security.
Under Update and Security, choose a Recovery option. Then you will see the Advance Startup on the right partition of the screen. And click on Restart now button.
Note: When you click Restart now tab your PC will start to boot and it may take few minutes to again restart.
During rebooting it will bring you to Advance Startup Screen, there hit the Troubleshoot option.
Under troubleshoot, tap on Advanced Options at the bottom part.
The screen shows 5 choices. Go along with Startup Settings.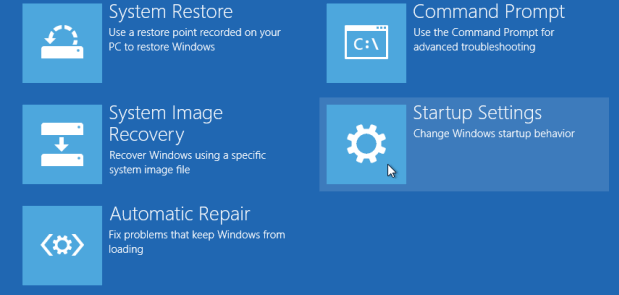 On the next screen. you see a group of 7 options. Restart without doing anything. Restarting your system will bring these options allocated with function keys.

Your display showcases 9 different options here and for each, one function key from F1 to F9 is assigned. To choose any one of these you need to press the concerned function key. F10 brings more options and Enter takes you to OS.
When you press F10 anymore you get Launch Recovery Environment.
Now, you need to know that UEFI interface which was present in earlier versions has gone. But you get Launch Recovery Environment.