You can now subtract the comments on your Facebook wall with your Android device. With an update to the Facebook for Android app previous week, Facebook has offered the facility for Android users to delete comments quickly after knowing some easy steps. Then you don't need to depend on the website to wipe unwanted comments from your Facebook account.
How to delete unwanted Facebook comments with Android app
To get a new feature, at first, you have to update Facebook for Android app with the latest version.
As soon as you have done the task of app update, you will  have to wait for getting new unwanted comments.
Or
You can check the procedure to delete an existing comment on your Facebook posts or walls.
Next, tap on the comment which you want to throw out from Facebook.
Then you will notice a pop-up on app screen with two options – delete comment and cancel.
Finally tap on delete comment option.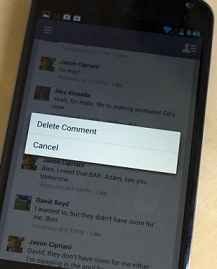 As a result, the unused comment will be removed and  never be seen another time. So, download Android App to Delete unnecessary Comments in Facebook.