Android nowadays is dominating the world making its presence felt on nearly every mobile and tablet device. New features are being added everyday and the existing ones are being developed. Android is now available on various mobile and tablet variants. And as we all know these have become man's best friend. There are various instances when we want to access the PC or we have the resolve the problem on PC. These are mere problems easily solved when there are good mobile apps on the Android phone or tablets. This article brings to you a collection of the best apps with which you can use your android phone for the purpose to remote tablet: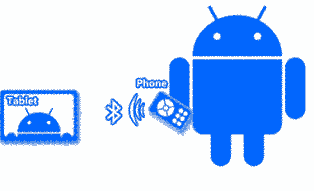 Best Apps to use your Android Phone as a Remote Tablet:
Splashtop 2: This makes accessing the Windows, Ubuntu and Mac from the Android device very easy. It is considered one of the fastest. The full access to the Office, emails, browsers etc is possible. The documents can also be accessed over wi-fi or 3G/4G with a good touch experience. It can be downloaded free of cost. 5 computers can be accessed with the Splashtop account. It is basically for the non-commercial use for home use and not for office purposes.
Teamviewer for remote control: Making the desktop access easier, it is considered to be one of the most popular and favorite of all. It has a strong encryption and a large number of good features. Access can be gained for editing a particular file on the computer or using the particular software. It is also for used for private and home purposes.
PocketCloud Remote Desktop Pro:  This app is very effective and fast and mainly helps in connecting the Android device to the Mac or Windows from anywhere possible. It makes accessing the files, images, music and the other applications such as the Outlook, Word, Photoshop, games or any other program easily. It has RDP/VNC compatibility. It can be installed very easily and has a host of good features including the security.
Jump Desktop: It is considered to be one of the powerful apps for controlling the computer. It is compatible with both RPD and VNC. Its setup is very easy. It is very secure and most reliable to use. Due to the presence of a user interface, which is streamlined, it is considered to give the best of experience. And moreover , it is even compatible with Windows 8.
LogMeIn Ignition: This app like all its counterparts is very reliable and secured to use, but the only problem is it has to be bought at a heavy price of $29.99 which is considered to be very high for such an app. It has host of awesome features which includes streaming music and printing files. More than one computer can be controlled at a time.
VNC Viewer: It can be connected to the computer from anywhere in the world. The desktop of the computer is displayed and the control can be taken of the computer. All the files can be accessed, settings can be changed, applications can be reviewed and others. It runs on VNC-compatible Server technology and can be connected to Windows, Mac OS X, Linux, or UNIX.