Blue Screen Troubleshooter Windows 10 – You know BSOD is one of the most headstrong errors on the Windows operating system. This error causes the screen of the computer to turn to blue color displaying a brief suggestion in the middle. In addition, the windows encounters unexpected shutdown or restart.
A tough effort including a decent knowledge of window OS is necessary to fix Blue screen error. In these circumstances especially, thankful to Windows 10 which comprises a Bluescreen troubleshooter. Blue Screen Troubleshooter Windows 10 fixes this difficult issue in a few steps. The Tagline of this troubleshooter is – Troubleshoot errors that cause Windows to stop or restart unexpectedly. If your PC is also facing the same issue follow the steps in subsequent paragraphs.
Fix BSOD With Blue Screen Troubleshooter Windows 10
Step 1 – To begin with, write down control on the Cortana text box. The name Control Panel will arrive as the Best match on top, click on it.
Step 2 – Once visible, modify the applets into small or large view and then trace out the one entitled Troubleshooting. When you find it, double-click on it.
Step 3 – On the left flank of the next interface, hit or click the link called View all.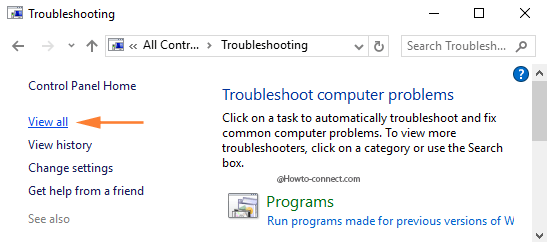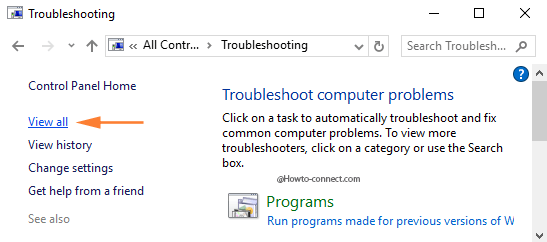 Step 4 – The resultant screen will exhibit a list of troubleshooting items. In the second place is the Blue Screen, double-click on it.
Step 5 – A troubleshooter dialog with a heading Blue Screen will arrive on the screen. Hit or tap the Advanced link, noticeable on the left area.
Step 6 – Insert a tick mark on the little cell that reads as Apply repairs automatically.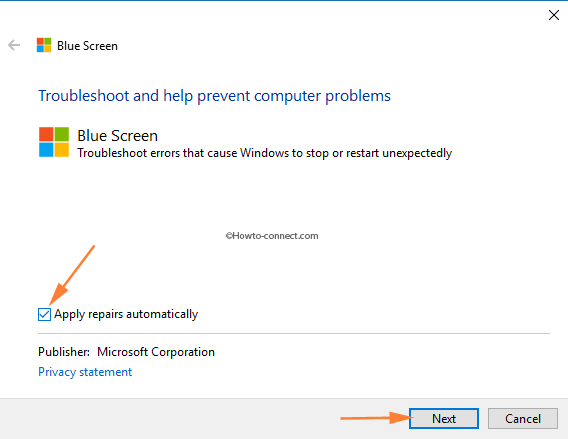 Step 7 – Now, hit the Next button.
Step 8 – The tool will soon commence its search for the troubles.
Step 9 – If it detects the errors, it will try to settle them.
Step 10 – And while there are no errors, it displays a message Troubleshooting couldn't identify the problem.
Blue Screen Troubleshooter Windows 10 examines the errors that compel Windows 10 to stop or restart abruptly. Hence, when you experience such an error, you won't be able to figure out certain things like Start Menu and Taskbar even when your machine is running.
Finally, grab a shot to this troubleshooter and see how much it helps you in rectifying the issue. Likewise, if you have handled this tool and know more about this specific troubleshooter, do share with us in the comments form.
Update –
The tool is removed now so go to the Troubleshoot blue screen errors link to fix the issue.

Helpful tools to research or fix:
Repair any Windows problems such as Blue/Black Screen, DLL, Exe, application, Regisrty error and quickly recover system from issues using
Reimage
.