On one side Windows 8 has a number of merits, but due to new look users are facing some new inconveniences.  One of these is to shut down.
Users have to process 2 or 3 steps to shut down. So here we discuss how to build Shutdown icon and fix to Windows 8 Taskbar,
Build shutdown shortcut and fix it to Windows 8 Taskbar
Step 1
Firstly right-click on the desktop screen and choose New option from right context menu tab.
Then click on the shortcut menu from drop down lists.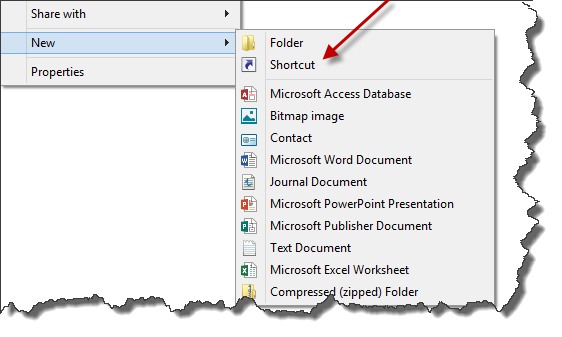 Step-2
You will get a new small window having a blank box. Type following command in the blank text box and hit Next button at the bottom:
%systemroot%\system32\shutdown.exe -s -t 0
Your shutdown shortcut is ready. Use this shortcut and shut down your computer in just a single click.
Step-3
Now you have to type a name for this shortcut. You can type for this shortcut either Turn off or shutdown which is better for easy recognition.
Now click on the Finish button.
step-4
To get a new look of shutdown shortcut, hit right-click on this shortcut from the desktop screen and choose its properties.
From the Properties window of this shortcut, choose shutdown icon. It displays new look up of shutdown shortcut on the desktop screen to easy recognize
At last click on the OK button.

Thus, you have built easy shortcut for shutdown operations in Windows 8 immediately.
How to pin shutdown shortcut on the taskbar panel in Windows 8?
When you want to place or pin shutdown shortcut at the Windows 8 Taskbar panel it is a very simple process.
just drag and drop shutdown shortcut from the desktop screen around taskbar panel.
Important tips 
If you like to create restart button on the taskbar panel then above the same process will be applied.
Restart shortcut command
%systemroot%\system32\shutdown.exe -r -t 0.