In iPhone device the Apple store has provided a twist to save web contents as PDF for offline reading for safari browser. The name of the app is PDF Printer for Safari. The great thing of this app is it prevents the text of current page from dispersing. As the result we can copy, and edit it simply from the PDF document. It also supports another installed app with the intention to generate PDF files on iPhone.
How to create PDF file of Safari Webpage on iPhone or iPad ? 
In order to save a webpage as a PDF file, at first launch any webpage on safari browser, and tap on print menu.
In Printer Options screen, tap on small blue button (named PDF) in the top-right panel.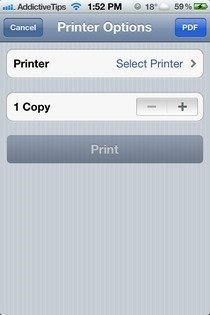 Next, tap on the center of the screen to highlight this option – Open in, and Open in iBooks.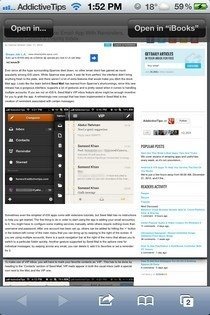 Here tap on Open in option.  It should be memorize that PDF Printer for Safari will not let to us save a webpage as PDF until it will load completely.
At lat click on Print menu again and tap on PDF button.
Thus, we have saved desired webpage as PDF file on safari browser to read offline while we have no internet in our iPhone or iPad.
Download PDF Printer For iPhone