As you know well, act of  searching has been the best way of enhancing knowledge since olden days. In modern days trend of searching turns to virtual search engines like Google, Bing, Yahoo, Ask, AOL etc. It is needless to say Google is leading the chart with more than 80% of worldwide users. Certainly, you are been among dependent of Google search engine for gaining any type of information. In previous times we have discussed on Interesting and Useful Google Search Tips and Tricks.  The instant search feature of Google, works on high speed net connection, displays thousands of related search in fraction of time. All such results placed on hundredth of Google pages. To glance all important search need access of scrolling, because only 10 related search appears on single Google page. In such circumstance, it would be good idea to allow permission for displaying more related search on every single page. Now, I am going to address, how to display 100 Google Search results in single page.
To activate function of displaying more Search Results in single Google page, you need to Turn of Google Instant search features. Just take a few steps as I suggest and be able to display more Google Search Results in single page.
Now go for Google Instant prediction option and click radio button against Never Show Instant Result .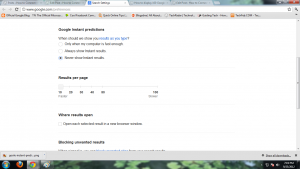 Then after scroll the slider of Results per page, which stays default on 10 related search in single page. Set slider to extremely right position, which shows 100 results in single page.
Finally press Save button at bottom part of same screen to apply setting to display 100 search results in single Google page.