Microsoft releases  KB4340917 for Windows 10 1803 Build 17134.191 just now. This July 24, 2018, Cumulative update patch includes several important quality improvements and changes. In addition,  KB4338822, KB4338827, and KB4338817 have also arrived on different versions of Windows 10 today.
KB4340917 for Windows 10 1803 Build 17134.191 has no new operating system features but Microsoft addressed few very significant problems in this. These include Active Directory or Hybrid AADJ++, updated time zone information, Roaming User Profiles, Bluetooth connections and a lot more. You can Download KB4340917 from the link at the bottom.
KB4340917 –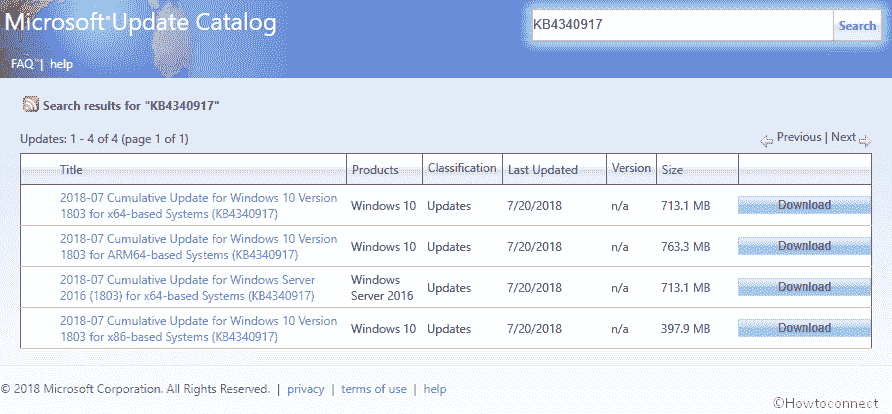 KB4340917 for Windows 10 1803 Build 17134.191
Here are KB4340917 for Windows 10 1803 Build 17134.191 details –
In KB4340917, Microsoft works an issue that occurs after installing provisioning package updates (PPKG). This installation enforces devices within Active Directory or Hybrid AADJ++ domains to surprisingly unenroll from Microsoft Intune or 3rd-party MDM services. The problem appears on devices that apply AAD Token Group Policy that for Auto MDM Enrollment. If the issue has taken place because of script Disable-AutoEnrollMDMCSE.PS1 then you can run Enable-AutoEnrollMDMCSE.PS1 from a PowerShell (Admin) after installing this update.
Windows 10 team worked on bugs with updated time zone information.
Microsoft, in KB4340917 for Windows 10 1803 Build 17134.191 refines the ability of the Universal CRT Ctype family of functions to manage EOF as valid input.
Windows 10 team worked on registration in the Push to Install service problem.
They gave an attempt to solve AppData\Local and AppData\Locallow folders are inappropriately synchronized at user logon and logoff issue. The problem occurs with Roaming User Profiles.
Windows 10 team worked on trouble with Bluetooth connections in which peripherals use Quality of Service (QoS) parameters.
They tried to fix the memory consumption of SQL Server that grows over time when encrypting data with the help of a symmetric key holding a certificate. Afterward, you run queries that start and close the symmetric key in a recursive loop.
Microsoft tried to solve PEAP environment shows two authentication requests when you insert a wrong password. The excess authentication request may generate premature account lockouts in environments with low account lockout thresholds. If you wanna enable the changes then navigate to the string "HKEY_LOCAL_MACHINE\SYSTEM\CurrentControlSet\Services\RasMan\PPP\EAP\26". Create a registry key DisableAuthRetry (Dword) on and set its value to 1.
Windows 10 team worked on OpenType fonts the fails to print in Win32 applications.
Then tried to settle down memory leak when enabled with LogOnly mode in DNS Response Rate Limiting.
Microsoft worked on black screen problem when maximizing an app window on a secondary monitor in a RemoteApp session.
Windows 10 team is trying hard to fix unexpected finalization of strings during Japanese input in applications due to IME.
If you installed earlier updates, only the new fixes in this package will be downloaded and installed on your device.
Known issues in this KB4340917
Symptom
Workaround
After you install any of the July 2018 .NET Framework Security Updates you encounter few errors. The problem occurs due to COM component becomes unable to load because of internal failure occurred for unknown reasons, access denied, moreover, class not registered errors. You will receive the message commonly as –

"Exception type": "System.UnauthorizedAccessException"

Message: "Access is denied". "(Exception from HRESULT: 0x80070005 (E_ACCESSDENIED))"

For more information, see KB4345913.

Microsoft is working on a resolution and will provide an update in an upcoming release.
How to Download KB4340917 for Windows 10 1803 Build 17134.191
You will automatically receive  KB4340917 (As I got today noon) and all you need to do is reboot your System. But if due to unavoidable reasons the patch didn't reach you then
Press Windows logo and I together on your Keyboard and select Update & Security on Windows Settings.
On the following page, go to right pane and click Check for updates.
Let the update download and restart your PC to complete the installation.
If you want to direct download KB4340917 then go to this link and grab your copy.
That's all