Speak2Recharge is one of the best mobile recharging app and that too for free.  It  doesn't  require you to have different apps on your mobile phone and earn free balances for valid installation. All you need to do here is to speak in your natural accent in a noise-free environment. You will be rewarded for your correct reading of the passage. The passages are not that big. The pricing is subject to change. However, initially you will be awarded 1 rupees for correct reading of 2 passages along with 20 rupees as the first installation award. In this way you can Earn Free Mobile Recharge upto 1000.
This app works only for Mobiles in India. Your account will be credited only when system verifies that your utterances match the given text. You can also earn a sum of 20 rupees for each installation of this app by your friend using your promo code. You can have this app from Google Play Store by typing its name over there.
In this article you will read How to earn Free Mobile Recharge upto 1000 on your Android Phone using Speak2Recharge app by enunciating in original utterance in a peaceful environment..
Earn Free Mobile Recharge upto 1000 using Speak2Recharge
Once you have installed this app on your device and open it for the first time, it will welcome you with Terms and conditions. There are no such strict terms and conditions. All it requires from you to speak the text provided in the box clearly in a noise free environment.
A screenshot of this app is shown below. Here in the second slide, you can a see a black box consisting some words. You just need to tap over the microphone and it will start recording. You have to read the words present in the box. If you spell the whole sentence correctly, your speech would be accepted otherwise it gets rejected. You can see Accepted speeches in green color while the rejected ones in red color.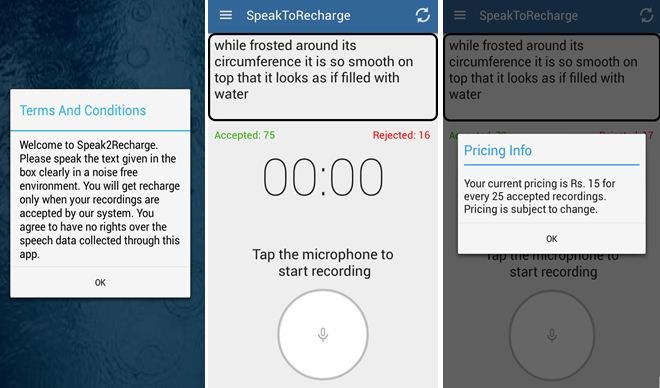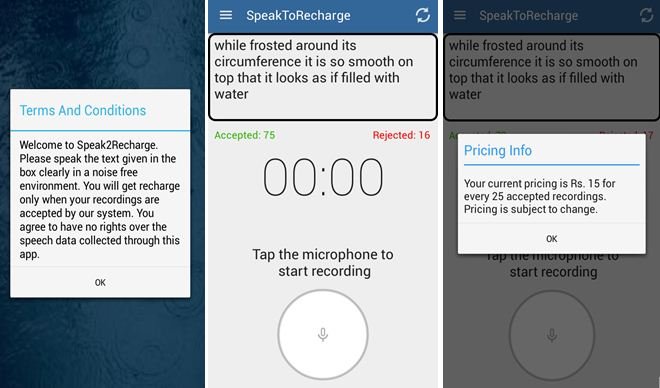 Note: –
You will get recharge only when your recordings are accepted by their system.
You have no rights over the speech data collected through this app.
You can see to your current pricing by going to the pricing menu which is shown in the next screenshot. Your current pricing will be shown and is subject to change at any time.
Clicking on the three horizontal lines, you can open its submenus. Here, you see different options like Record, look at your recordings, Recharge your Mobile, Your current pricing or sharing option.

In the My Recordings tab, you can look out for the speeches which get accepted or rejected. You could also see here the recorded speeches which are neither accepted nor rejected. Clicking on any particular speech will start reading that speech as recorded by you. Using the Share option, you can share your promo code to your friends on Whatsapp. If  you are the first one and willing to join this app, try the above promo code while first installing this app on your device.
You can see your balance in the Recharge section. Here, you will see your current balance and could do the recharge when more than 50 rupees are available in your account.
Conclusion
Speak2Recharge is a very nice app and it really works. This is not like any other apps which claims to give free recharges but ends up frustrating you. You can really Earn Free Mobile Recharge upto 1000 on your Android phone using Speak2Recharge. I have already recharged Rs.200 using this app and it is still increasing. In my opinion, you should also use this app and increase your Mobile Balance. Use this app on your own smartphone and let us know your views regarding this in the comments below.