OOBE or "Out-of-Box Experience" is a new auto operating tool that comprises a guided setup and an introduction to the features of Windows. It facilitates the process of device enrollment when you are trying to set up new system. Microsoft claims in the documentation that OOBEAADV10 error can be a result of time difference, which is necessary for Kerberos-based authentication.
Error OOBEAADV10 generally occurs in the last stage of installing or resetting the PC when setting configurations of Windows 10 or 11. Although the error screen shows  a "Try again" link, using it rarely works anything positive. There are a few ways to fix the error. Let's check some of our compiled solutions and fix the issue. You may get help by following – How to Fix – OOBE Error in Windows 10 or 11.
OOBEAADV10 Error in Windows 10
Here is how to fix OOBEAADV10 Error in Windows 10 –
Way-1: Click the "Try Again'
Despite this method does not work for several users but worth an attempt because the approach is simple and can resolve the issue by only clicking "try again". So if you see the Out of box experience error on your computer screen follow the instructions:
Go to the bottom of the screen.
Now, Click – "Try Again".
Wait for the procedure to finish.
Way-2: Restart the Device
Simply restarting your computer can fix any "Out of box experience" problem quickly. Error OOBEAADV10 means the AAD sign-in page could not be loaded by OOBE. If you see this before entering your user ID, you probably can't access the necessary AAD pages for language, region, and account creation during the Windows installation process.
Press and Hold – Power button until the computer turns off.
The error should be eliminated as predicted once you turn on the system.
Way-3: Using Regedit modification
When the above two ways failed, then we may assume that some settings that might be missing from registry hives are the primary cause of this error on Out-of-Box Experience screen. You must modify the entries and add OOBE to remove the error.
By following the steps, you can give it a try –
For Windows 10:
Staying at the Out of box experience screen, press – Shift+f10.
Command prompt will be launched; type regedit.
Hit – Enter.
Go to the following folder –
HKEY_LOCAL_MACHINE\SOFTWARE\Microsoft\Windows\CurrentVersion\Setup\OOBE
Go to the right hand side.
Right-click on an empty location.
Now, hover over – New and select – "DWORD (32-bit) Value".
Name this Value – SetupDisplayedOOBEAADV.
Double-click the Value and Type – "00000001" in the data value option.
Now, Press – Ok.
Close Registry Editor and then click the Try Again Then approach to setup windows.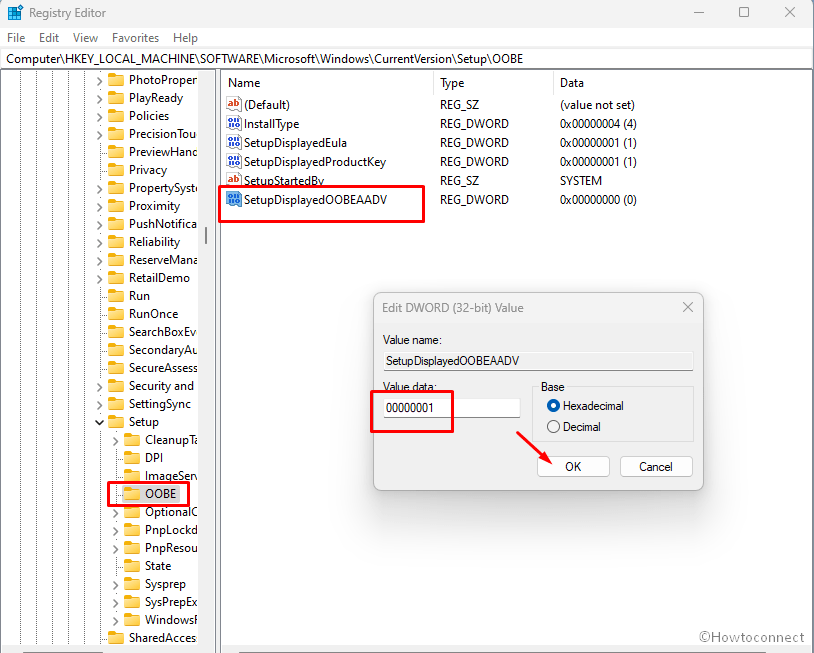 For Windows 11:
Hit – Shift+f10.
Type – regedit on the cmd prompt.
Hit – Enter.
Go to the following folder:
HKEY_LOCAL_MACHINE/SYSTEM/CurrentControlSet/Control/Session Manager/ Memory Management
Right-click on the value, then click on "Delete".
At the confirmation message, click – "Yes".
Restart the computer after closing the Registry Editor.
Check this one too – Fix – OOBEREGION and OOBEKEYBOARD Error in Windows 10.
Way-4: Run System File Checker or SFC
SFC means System File Checker which is a tool included in Microsoft Windows operating systems that enables you to check for and fix core files corruption.
In Windows 10 or 11, the error OOBEAADV10 can occur if there are any corrupted or malicious files. Run an SFC scan to check the file status. The process is given below:
On the current page, press Shift and F10 at a time.
Type – sfc /scannow.
Hit – Enter.
Now the tool will automatically scan for corrupted files.
Once the repair is completed (100%), close the command prompt and restart the computer.
Way-5: Reload OOBE screen again
Reloading the Out of box experience screen might solve the error if the screen is stopped working because of corrupted files or unstable network issues. Here is the way-
Run Command Prompt (Shift&F10).
Type – %windir%\System32\Sysprep\sysprep.exe /oobe /reboot
Press – Enter.
The computer will restart and load the OOBE screen.
Then, continue with the next setup procedures.
Fix – OOBEIDPS Error Something Went Wrong in Windows 10
Way-6: Using Local or Temporary Account
A temporary account is needed when this error occurs and prevents the user' profile from loading. Changes to desktop settings and files are lost when a session ends because the temporary profile is removed. Doing this is tough enough and expert hands are necessary to solve an error using this method.
A local administrator account may help you solve the OOBEAADV10 error. As Windows 10 or Windows 11 does not have an account during the Out of box experience phase, it proceeds with the region selection and encounters a bug. To cope, you must establish a dummy account for the OOBE to utilize, which you can remove later. The procedures are:
Run – Command Prompt.
Copy the following commands and replace the newuserpassword and newusername as per your choice:
[net user administrator /active:yes
net user /add newusername newuserpassword
net localgroup administrators newusername /add
cd %windir%\system32\oobe
msoobe.exe]
Then, hit – Enter.
The command prompt will proceed automatically. It may take 15-20 minutes and may shut down the PC as well.
Turn on – PC and it will show the login screen now.
Sign in with your given username and password.
Once the desktop is loaded, press – WinKey+R.
Type lusrmgr.msc and press Enter.
Now, click – Users.
Right-click on – Administrators.
Select – Properties.
A wizard will appear, now check – Account is Disabled.
Click – Apply and OK.
Now right-click on – Defaultuser0.
Select – Delete.
Next, Press – WinKey+I.
Select – Accounts.
Go to – Your info.
Click on – Sign in with Microsoft account instead.
Complete the account setup as instructed.
Way-7: Reset the PC – the last option
If none of the above fixes works on windows 10 or windows 11, then resetting your computer is the last option. Reset of the device and then turning it on brings up a new Out of box experience screen, which frequently functions perfectly.
The reset process is also useful for other system problems including error OOBEAADV10. The reset process is given below:
For Windows 10:
Open – Settings.
Go to – Update & Security.
Scroll down and find – Recovery.
Then click – Get Started from Reset this PC
Then follow the on-screen instructions to finalize the reset procedure.
For Windows 11:
Open Settings (Winkey+R).
Go to – System.
Find – Recovery.
Now, Click – Reset PC.
Choose the desired option.
Then select the way of reinstalling.
Finally, click Reset to start the process and follow on-screen instructions to complete the setup.
Methods:
Way-1: Click the "Try Again'
Way-2: Restart the Device
Way-3: Using Regedit modification
Way-4: Run System File Checker or SFC
Way-5: Reload OOBE screen again
Way-6: Reset the PC
Way-7: Reset the PC – the last option
That's all!!
Repair any Windows problems such as Blue/Black Screen, DLL, Exe, application, Regisrty error and quickly recover system from issues using
Reimage
.