In this article, you can learn about OOBE error in Windows 10. OOBE is a new feature whose acronym is Out-of-box experience and it involves guided set up and introduction to the functioning of the OS. It basically eases to use when you make an attempt to set up a new device. Thus it is safe to say, OOBE lays down the first impression that you get a device. See solutions to another similar nature of issue – Fix OOBEEULA Error Something went wrong in Windows 10 or 11.
The out-of-box experience walks through the entire set-up work when you start a PC for the first time. Microsoft attempts to improve the OOBE process with every other update. However, in a few cases, you may face a rare error during the startup process. Read on to know more about these OOBE errors in Windows 10 and workarounds for the same.
OOBE Error in Windows 10 and 11 Solutions
Here is how to fix OOBE Error in Windows 10 or 11 –
OOBE errors do not involve or impact any hardware in any manner. These faults result from the Out-of-box experience process causing a deadlock condition. Users, typically in a few cases, may experience either of the following errors in the Windows Out-of-box experience.
Thankfully, according to a Microsoft support site, you can easily fix the OOBE error.
Way-1: When Something went wrong error appears
Users see Windows OOBE display the below message when starting up:
"Something went wrong – But you can try again."
Step-1: Simply click on the Try again button that will be at the bottom of the screen.
Step-2: Wait for the OOBE process to continue normally.
Way-2: When Just a moment… error appears
Windows Out-Of-Box experience does not take forward to the next page or section. Instead, you may see a "Just a moment…" prompt for a prolonged period.
If you come across this issue, then hold down the power button until the system shuts down completely. Now, turn on the system again and the OOBE procedure should resume as well as complete without any further interruptions.
With the ongoing updates, Microsoft is continuously improvising the resiliency of Windows OOBE. So, hopefully, you will be able to bypass the above-mentioned problems and over time Microsoft will detect and resolve the issues as soon as possible.
Way-3: Solve OOBE Error in Windows 10 using Regedit
Hit – Shift + F10.
After the command prompt opens, type regedit.exe.
Press Enter to open Registry Editor.
Go to –
HKEY_LOCAL_MACHINE \ SOFTWARE \ Microsoft \ Windows \ CurrentVersion \ Setup \ OOBE.
RIght click in the 'right' pane and select – New > DWORD (32-bit) Value.
Name it – UnattendCreatedUser.
Double click the DWORD and enter 00000001 for value data.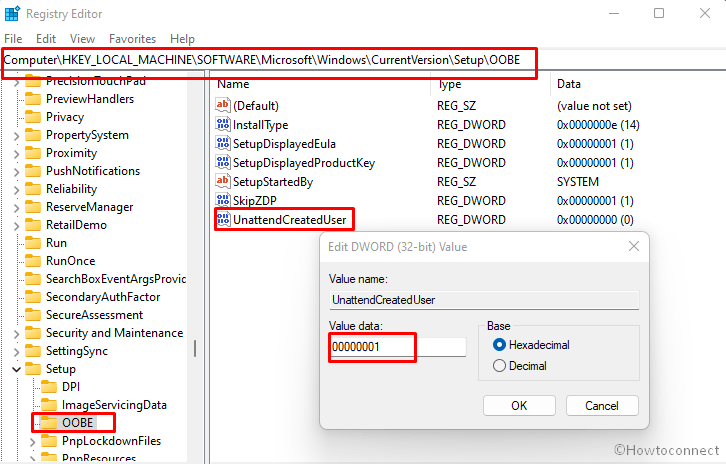 Fix for the machine that joined to domain –
Press Shift+F10 and let the command prompt appear.
Type – secpol.msc.
Hit – enter.
Go to – Account policies > Password policy.
Double click the – Password must meet complexity requirements.
Select – Disabled.
Set the Minimum password length to 0.
Finally, Reboot (restart the install).
Way-4: Allow the System preparation to reload the OOBE
Press f10 and Shift keys.
On the command prompt, type –
%windir%\System32\Sysprep\sysprep.exe /oobe /reboot
Press the – Enter.
The PC will restart and show you a fresh Out-of-box-experience screen.
Once more, move with the instructions out there and select options for Region, Language, Keyboard language, …..
Read – Fix – OOBESETTINGSMULTIPAGE Error in Windows 10.
Way-5: Create an account temporarily to fix the OOBE error
OOBE  error related to the Out-of-box experience mainly occurs due to missing user account at that time. Windows assumes Region, which is initially selected as an account and allows you to complete the configuration. So, create a dummy user account using the following steps and remove it after successfully completing the setup –
Press the shortcut keys – Shift+F10.
From the below code, change newuserpassword and newusername as your preferences.
net user administrator /active:yes
net user /add newusername newuserpassword
net localgroup administrators newusername /add
cd %windir%\system32\oobe
msoobe.exe
Now, copy-paste the command into the command prompt.
Press Enter to run them and wait for approx 20 or 25 mins.
In case, it stops working force shut down the PC.
Switch on your machine to get at the login screen.
Enter the changed newuserpassword and newusername.
Once you arrived at the desktop, press – Winkey+R.
Type lusrmgr.msc.
Press – Enter.
From the left pane, click on Users.
Right-click on the – Administrators.
Choose – Properties.
On the wizard that appears, select the box for – Account is Disabled.
Now, click Apply and OK.
You came back to 'lusrmgr – [Local] Users and Group[Local]' app, right-click on – Defaultuser0.
Select – Delete.
Next, go to Settings => Accounts and click on – Sign in with Microsoft account instead.
With the suggestions out there, complete the account creation.
Methods:
Way-1: When Something went wrong error appears
Way-2: When Just a moment… error appears
Way-3: Solve OOBE Error in Windows 10 using Regedit
Way-4: Allow the System preparation to reload the OOBE
Way-5: Create an account temporarily to fix the OOBE error
That's all!!
Repair any Windows problems such as Blue/Black Screen, DLL, Exe, application, Regisrty error and quickly recover system from issues using
Reimage
.