wscadminui.exe is a Win32 Executable file for Microsoft Windows Security User Interface. The exe's latest edition is 10.0.17763.1, popularity rating is 1 star and Security rating is "Unknown". You will find here the solutions to any issues found because of wscadminui.exe in Windows 10.
Microsoft introduced this executable file to daylight on 29th July 2015. Wscadminui.exe is a very useful and necessary Windows component used by the Tech giants. But the pathetic truth is that Virus developers have chosen its powerful link to change the game. They start pushing malicious invaders through it. Malware or virus gets a field through Internet especially once you open any suspicious link from Spam mails or from a malicious website. Users get frustrated while it comes to differentiate between harmful Spyware as a disguise and an original exe file. So, if you are jaded with wscadminui.exe in Windows 10, this write-up will work as a stress remover for you. Related – Fix: wlrmdr.exe in Windows 10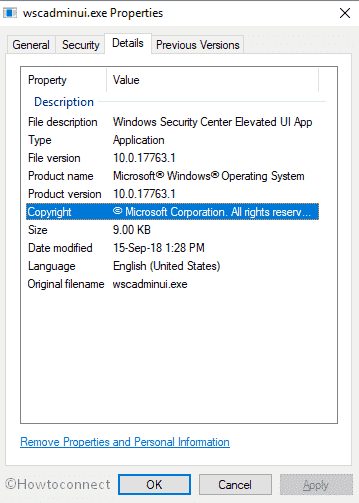 wscadminui.exe in Windows 10 Solutions
Here is how to fix wscadminui.exe in Windows 10 –
Let's discuss some basics about wscadminui.exe before we enter the workarounds.
Causes behind errors of wscadminui.exe in Windows 10
Being Similar to all exe files, this error is also attributed to missing Windows 10 components, mistakenly deleted System files, Wrongly input Registry entries and the infection from malicious invaders. To be honest, there are also a few more issues those can be culprits. Find the Causes behind wscadminui.exe in Windows 10 in the following section –
Windows Registry keys related to exe that is used in wrong way while working on Windows 10 in any edition.
Any missing system component that has been affected or deleted by Virus.
Malicious invaders impact the Program Files in Windows 10.
Installation of any similar application that has a conflict with the exe file.
Any other program has deleted exe file from your Windows as a part of its functionality.
Erasing any exe related files by human error or by a strong Virus.
Corruption took place while Downloading installation files for Windows 10 (any edition)
Incomplete installation of Windows 10 files used for upgradation.
Incomplete uninstallation by any system error occurred in the middle.
Errors because of  Wscadminui.exe in Windows 10
One of the common issues that occurs due to this executable is Wscadminui.exe Runtime error. Usually, the problem appears when a user clicks this .exe file extension to load a program. Furthermore, the error occurs when you start a new program, work on a specific application or execute a necessary function such as Printing. You may also experience trouble in PC when attempting to terminate a program abnormally.
If you are already affected by the issue, following error message will keep on coming to your screen –
1) Wscadminui.exe has encountered a problem and needs to close. We are sorry for the inconvenience
2) Cannot find wscadminui.exe
3) "exe Application Error.
4) Faulting Application Path: wscadminui.exe
5) Wscadminui.exe – Bad Image
6) Wscadminui.exe is not a valid Win32 application
7) Error starting program: wscadminui.exe
8) Wscadminui.exe is not running
9) Windows failed to start – wscadminui.exe
10) "exe could not be launched. Class not registered"
11) "exe failed to initialize properly"
12) The file wscadminui.exe is missing or corrupt
13) "exe could not be installed".
How to Differentiate between a Useful EXE File and a Virus as Disguise?
As this issue is probably the biggest puzzle on the internet, we found it necessary to put forward a simple idea to identify an original exe file and a malware. This will help the users to break the shell around and relieve the stress. The resolution is as follows –
Right click to the Taskbar and choose Task Manager from the list that appears.
When it shows up, click on More details.
Generally, the application opens with Processes tab so go down to the list and find  wscadminui.exe file.
Once you identified, make a right click and select Open file location.
If the location shown by the computer is in C:\Windows\System32, then the stress is over. This is nothing but a simple windows component. In alternative locations or any unknown cases, the EXE extension front of you is a malware waiting to cause harm to your computer. In this case, please read and comply with the following resolution processes to get rid of before it damages your PC.
Fix wscadminui.exe in Windows 10
When you are pretty confirmed that your Windows is already affected by the error, this will be legit to put the resolution processes into effect. We are presenting some effective solutions for you in the next section. Follow the instruction and get out of the cubical.
Terminate the task of wscadminui.exe in a Normal way
To be honest, this workaround is not a permanent heal. But it will definitely keep the error from spreading moreover stopping the issue for the time being.
Step-1: Hit the Ctrl+shift+esc altogether to launch Task Manager.
Step-2: Jump to Details tab.
Step-3: Reach out to wscadminui.exe from the available list, hit a right click on it and select End task.
Perform a Full scan for Virus in the Computer
Windows 10 is well equipped with the most powerful anti-malware solution Windows Security. A Full scan through this will remove all the threats from PC so that you can get rid of the wscadminui.exe in Windows 10 error. Follow the below instructions –
Do a click on the Taskbar search from the bottom left corner of the screen and type Windows  Security in the box. Press Enter.
Moving ahead to the app, choose the Virus & threat protection icon.
Click on Scan Options and proceed to the next page.
Once the next window appears, select the radio button of Full scan and select Scan now option from down there.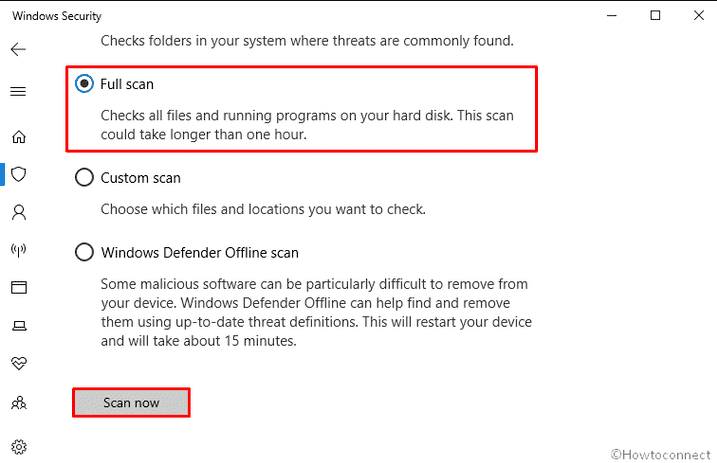 The scanning process will begin and threats will appear on the screen if found any. You can resolve the threats following the instructions appear on the screen.
Execute System file checker for corrupt system files
Type cmd in the search box.
When "Command Prompt" appears in the result, do a right click on it and choose "Run as Administrator" for administrative access.
Once a UAC prompts up, click on Yes to give Permission.
At the base of the blinking cursor, type sfc /scannow and hit the Enter button.
The system will start checking all the files with the execution of the command and resolve automatically once found any.
You can expect that it will fix issues Associated with wscadminui.exe in Windows 10.
Running DISM command
DISM or Deployment Image Servicing and Management is indeed a command-line tool that helps to repair all Windows components and sometimes save your time of reinstalling Windows. To make it effective –
Press Win+R together to Invoke the Run dialog on screen.
Write cmd.exe in the empty text box. To open Command Prompt as admin, make a combined Press of Shift+Ctrl+Enter.
Now, wait for UAC to show up and ask for permission. Click on Yes.
Once the command prompt comes into the sight, type the following command and hit Enter – DISM.exe /Online /Cleanup-image /Restorehealth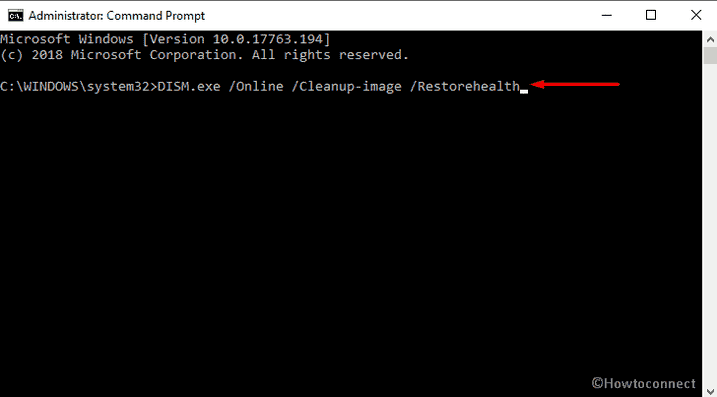 Uninstalling Unnecessary Programs
In the causes, we have got to know that some programs might have a conflict with wscadminui.exe file thus cause the error to occur. Therefore, it is recommended to uninstall the unnecessary and suspicious applications you have in the system. To do so –
Launch the Windows Settings app by pressing Win+I hotkey.
Move across the app and straightway click on Apps.
Select the Apps & Features option from the left pane.
Go to the adjacent right pane and locate the entries that are suspicious.
Do a click on such application and select the Uninstall button from the extended pane.
Hit the Uninstall button once more when asked and also select Yes when UAC prompts you for removing the program.
Follow the on-screen instruction if shown to complete uninstallation in order to fix wscadminui.exe in Windows 10.
See – How to Uninstall Unnecessary Apps from Windows 10.
Perform a Disk Cleanup utility
Hold down Windows key and Press R from the keyboard to bring up the Run dialog on screen.
In the Empty space of this wizard, type cleanmgr and hit the Enter key.
A pop-up will turn up. Select your drive (C:) using the drop-down menu.
Disk Cleanup will start with first with calculating available space you can retrieve from the occupied.
Choose the Temporary Files once the check boxes show up in the Disk Cleanup dialog box.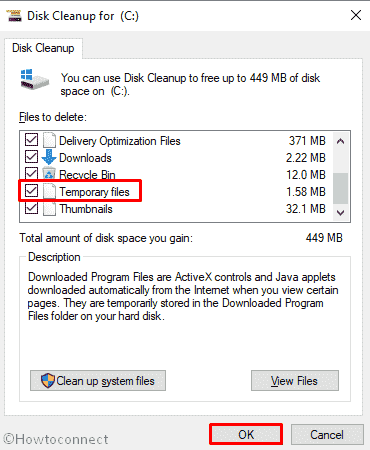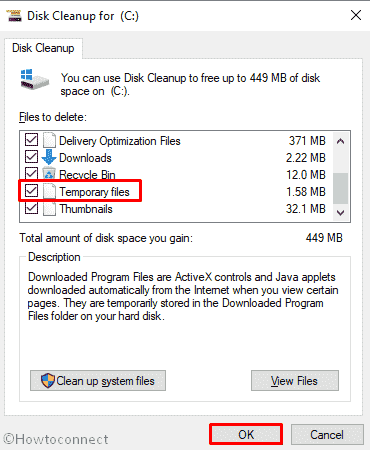 Select the Ok button to delete these files and free up spaces.
Also, read – How to Remove Temporary Files on Windows 10 – [Latest Tips]
Install all pending Windows Updates
Move the pointer to the bottom left corner of the screen and select Windows icon to open it.
Click on the Settings cog to launch the Windows Settings app.
Head to Update & Security tile and do a click on it.
After the additional Settings page opens up, choose Windows update option from the left pane.
Shift aside to adjacent right and hit Check for updates option.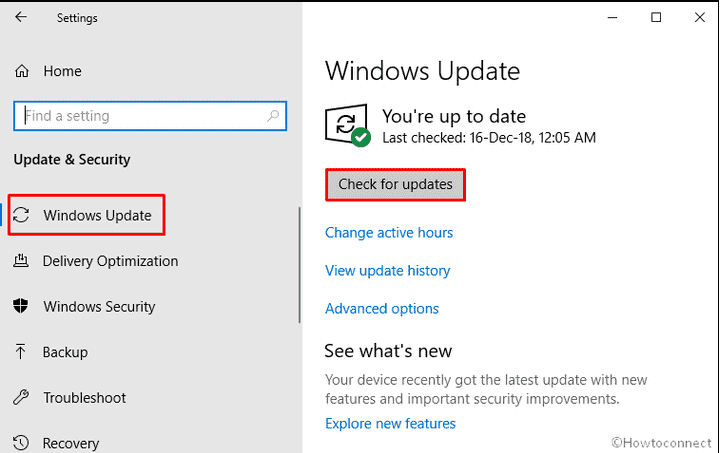 System Restore
This is a really handy utility to revert back the system to the previous shape if any recent changes take place to Windows 10 OS. You may have done something with the system and which caused wscadminui.exe error to occur in your PC. Therefore, system restore will revert the full process back to the old state and the might not show up again. Here is the way you can do it –
Note – This workaround will only work if you previously did create restore point when your PC was fine.
Type System Restore in the search bar and when the result shows up, hit Enter.
Click System Restore button on the wizard that rolls out. Follow the on-screen instructions and complete the restoration. This will revert back the system to a previous point of time and thus will undo all the recent modifications.
Reinstall Windows
Once you are done with all other above processes and in the result didn't find perfect feedback, the last option in hand is the clean reinstallation of Windows 10. It is a versatile workaround that serves as cleaning all the junk, corrupted files as well as will also provide a new start to the system. Before Proceeding with the process, you must save the backup of the existing system files in USB or somewhere secured place. This will reduce the probability of losing valuable data after reinstallation. If you are not confident enough to perform this Workaround, we recommend you to seek help from skilled person to reduce the risk of further trouble.
That's all!!!
Repair any Windows problems such as Blue/Black Screen, DLL, Exe, application, Regisrty error and quickly recover system from issues using
Reimage
.