Methods to Use Fotojet Online Photo Editor and features. – You often need online Photo Edit tools to make your pic wonderful and impressive. In this concern, Fotojet is the effective one to make collage, resize, add text, and perform several other tasks. The tool lets create own design, add frame, clipart, and a dozen of things to enhance image experience. Fotojet will eventuate as one of the best photo editors online when you compare it with other on the internet.
Fotojet Online Photo Editor provides change effects and dimensions, apply filters, Crop, and add overlays. Online photo editor like photoshop that offers a variety of tools for images is Fotojet. Here you will see how to use different features available in this utility.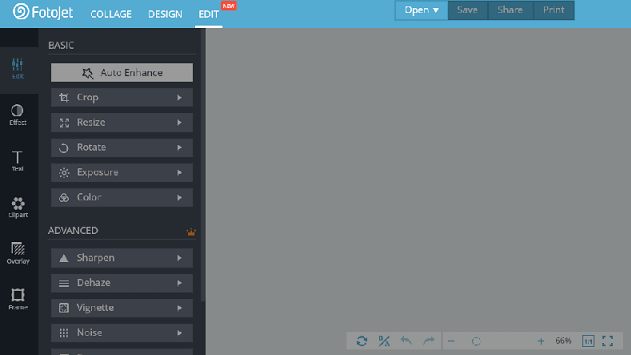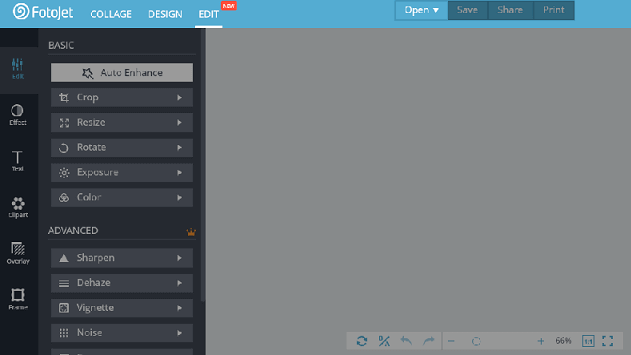 Fotojet Online Photo Editor
When you navigate to the site you will view 3 options – 1. Make a Collage, 2. Create a Design and 3. Edit a Photo. We are presenting here a guide for the 3rd option means Edit a Photo. See below
Edit a Photo in Fotojet
Fotojet provides tools in 6 categories – Edit, Effect, Text, Clipart, Overlay, and Frame. All these categories comprise several image editing utilities respectively. See one by one –
1. Edit
Edit category includes two sections – Basic and Advanced.
Basic
In the Basic section, Auto Enhance, Crop, Resize, Rotate, Color, and Exposure are available.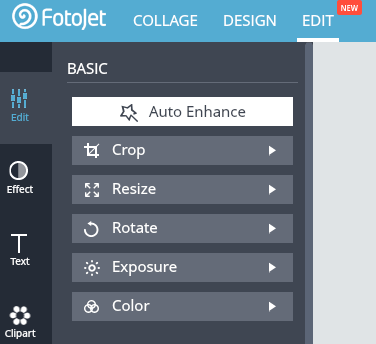 Auto Enhance
Auto Enhance tool helps make picture clearer and boost its quality on the implementation of only a click. Furthermore, if your pic has any look-wise issue then Auto Enhance fixes.
Crop
Fotojet Online Photo Editor Crop option lets cut the photos in necessary dimension. Once you click crop, you see cropping dotted line occupies the image. Using these lines, you can increase or decrease the width and broadness of the photo you are editing. To decrease the components you need to click and hold the lines and shrink or drag inwards. Oppositely to increase you should drag pull the lines outward.
Resize
Resize option permits you to engage your preferable dimension.  In this consequences, you need to select Resize and enter proper width and height and click Apply. Apart from this, you can use percentage instead pixel to resize the images.
Rotate
Fotojet Online Photo Editor Rotate option helps flip image relevant to the preferable percentage. For this, select Rotate and drag the slider under it and set to a suitable measure and select Apply.
Exposure
Exposure includes 5 tools – Exposure, Brightness, Contrast, Highlights, and Shadows.
To change the value for either component pull the slider forward of the respective one and choose Apply.
Color
This tool helps choose the preferable color for your image.
Advanced
Advanced section includes Sharpen, Dehaze, Vignette, Noise, Focus, Color Splash, and finally Selective Filter.
Sharpen permits optimize sharpness for your pictures. In the same way, Dehaze tool allows decreases the haze or fog. Fotojet Online Photo Editor Vignette tool helps decrease the brightness of the central area rather than circumference. Noise lets you minimize the granular effect from a picture. Focus changes the center of attraction and Color Splash  helps change the portion black and white of a photo less important for users. In addition, Selective Filter provides all the tools sliders at one location.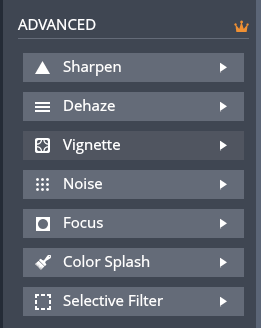 2. Effect
Effect Category comprises multiple photo effects you can choose and apply.  Once you click on Effect several boxes open and each box has its own essence. Each Effect has many sub effects too. For Example, if you click Sepia then you will find Sepia 1, Sepia 2, Sepia 3, Sepia 4 and Sepia 5. You need to Select one of these and click Apply to implement a specific effect.
3. Text
Text facilitates add a written work to your Photo. In this category, so many features are available such as you can choose Font, color, Alignment, Outline, Opacity, Glow and several other.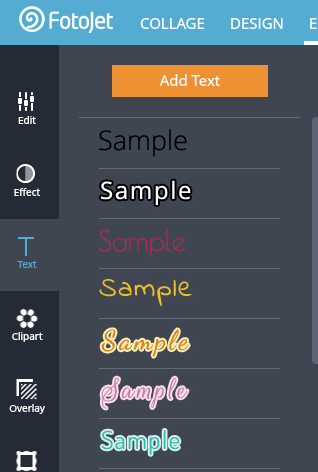 4. Clipart
This category offers to use some clipart to image. You can affix one or more clipart relevant to your picture pretty simply.
5. Overlay
Overlay feature in  Fotojet works to add a particular layer of design over a picture. You find 11 different Overlay designs and each design with having multiple patterns. All these patterns are so attractive and enough to make your Photo unique and beautiful.
6. Frame
Frames assists adorn your pictures so Photojet offers 8 sets of awesome frames. Each set holds 5 to 12 frames. Moreover, you can change the color and design of the frames on your own choice.
Conclusion
So above are few features and the procedures assisting you to use Fotojet Online Photo Editor. Its simple design and bunch of tools make this  Online Photo Editor exclusive. Therefore, you can say it Full Package of Image Editing Tools. We hope you will also appreciate this utility.
nice review of fotojet, thanks share https://t.co/TMPQTFgRC7

— Angela Lin (@Angelalin1992) November 11, 2016