The SEO (Search Engine Optimization) which is very poor is a common problem for the bloggers who write in Hindi. A blogger usually whether in Hindi, English or any other language can write any piece of admirable articles which can be well read by the searchers, but cashing can only be done by the media companies. Content-pushing is the serious business of the big media companies who recruit experienced professionals to write huge content.
So, even though the content is not so good, the hired professionals manage to get a very good amount of the traffic. And, the problem is faced by the home-based bloggers who despite posting the best content are not able to get a very good traffic. There are many popular Hindi sites, which are the proof to the fact that the Hindi blogs earn well. Giving tactics to earn money online is not the aim of my topic. I just want to give you some tips and that too for Hindi blogs to get good traffic. Monetizing the traffic is your task:
WordPress should be chosen to host the Blogs which at this time is considered as the best blogging CMS. The SEO optimization is available through various features and options. The plugins are great for adding new features. The community support is very robust for any problem faced. Many features include: adding the tags and the categories, adding featured images, showing and the relating of the previous similar posts with the new ones, choosing permalink structure and adding alternative post titles and others.
Using a Premium theme gives a lot of advantage for rewriting the titles and descriptions of the posts, categories and the plugins. It even has the SEO feature of the Homepage.
Using All in one SEO pack plugin gives an edge over the Thesis theme as the latter can make the former useless if the SEO optimized theme is absent. The ALL in one SEO plugin is important.
English should be made use of. The English needs to be added in the Hindi blogs. This is how:
The permalink should be English though the post title should be in Hindi.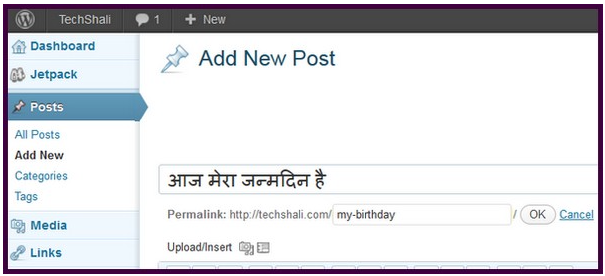 Optimized categories and posts should be added.
The blog description should be made in English.
The summary of the post or the description should be added in English.

Hope, this article has proved a lot of help to you. Suggestions are always appreciated.