Today, we will talk about a very important issue for ways to Find Saved Drafts on Facebook App in Android. It may sound like dumb but sometimes, we cannot publish a post or status for the shortage of time. Coming back to scenario again, we really do struggle with finding the draft.
Fortunately, you can easily find these from Push notifications and from draft history. This solution can bring you out of the loop and save your time. Let's see the processes:
Way to Find Saved Drafts on Facebook App in Android
Here is how to Find Saved Drafts on Facebook App in Android –
Step-1: Touch the Facebook app from Android device homepage to launch it.
Step-2: Once the application comes in view, make a tap on "What's on your mind?" to type a post.
Step-3: When you completed the typing, touch the left arrow (Back) before Create Post option.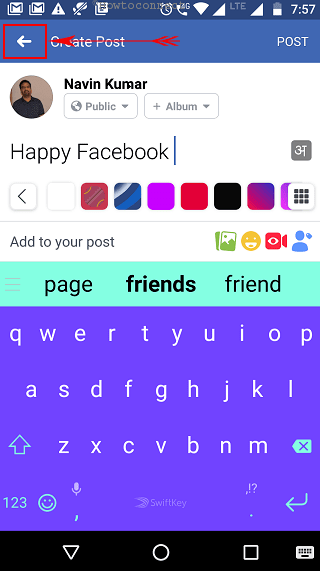 Step-4: You will get Save Post as Draft? pop up having 2 options. Select SAVE AS DRAFT to continue.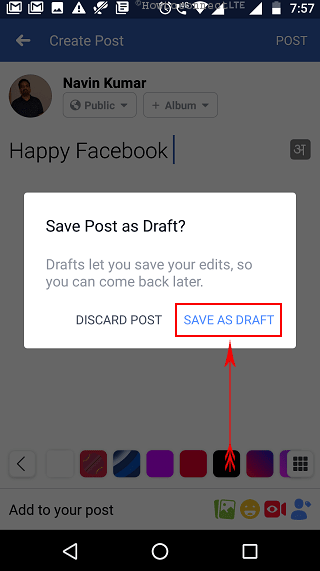 Step-5: The post will be saved in Facebook as a draft and you will receive a push notification on your Android device. So Swipe your phone screen from the top to see the alerts. Be careful here, we are not talking about Facebook notification but about notification on Android device.
You will notice a message Your draft was saved. Tap on this notification.
If you don't find the message there then open Settings of Android device, go to Notifications => Facebook => On the lock screen => and choose Show all notification content. Then follow Step 1 – 5 once more.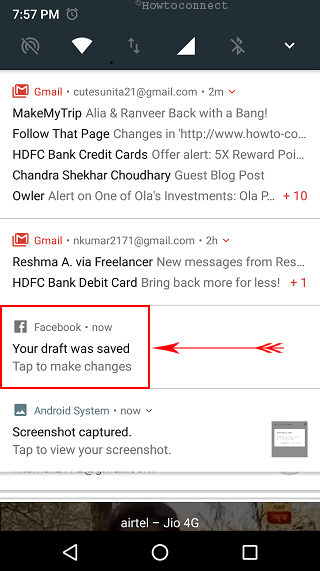 Step-6: Now you will reach the post where you were typing in the beginning. Go to the Back button of your Android Phone and tap 2-3 times on it. Be cautious, this is your device's back button rather than Facebook.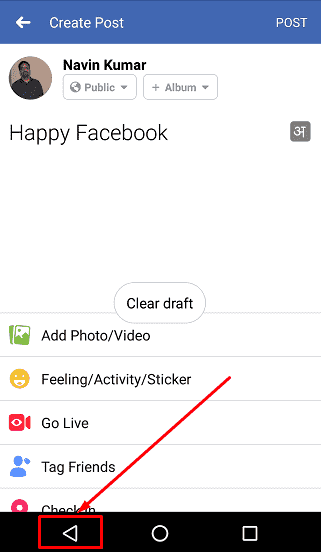 Step-7: Finally, you will get the Drafts of Facebook is on the screen. You can tap on any Unpublished draft to edit and then publish.
Note – Expiration period for a draft is 3 days. You cannot find a saved one beyond the period. So simple and easy to Find Saved Drafts on Facebook App in Android. Use this small solution to reduce hassle in Social media. Happy posting!