Do you notice CHKDSK scanning involuntarily at every startup on Windows 10? You can cutoff the process using a small registry tweak or running a command forever. Here you will find the methods to Stop ChkDsk in Progress in Windows 10 and permanently as well.
CHKDSK is an inbuilt utility that is equipped with Windows system to check the integrity of system drives and to repair issues as bad sectors, directory errors. Unlike previous versions, Microsoft has developed the tool to run as part of an Automatic Maintenance routine in Windows 8 /10. CHKDSK starts at either start or boot as a schedule; relaxing you from running the command manually.
You can run CHKDSK for any drives where you have to type the name of the drive on the command line; the specified drive is dismounted and then scanned. However, in case of the drive being in use, the scan runs on the next boot.
How to Stop CHKDSK in Progress in Windows 10
With CHKDSK being a part of Periodic maintenance, you may encounter the scan involuntarily at every startup. Let's see the way to Stop ChkDsk in Progress in Windows 10
You would find a Cancel icon (x) on the pop up. This will abort the scan by simply a single click. In addition, you can terminate the disk check by hitting any key within seconds'of time.
Another way to abort a scan in progress is force powering off your system.
However, it is advisable to let a CHKDSK run completely as stopping in the middle can lead to system errors. So we recommend following a registry key hacking or using command line tool to finish it completely.
How to Stop CHKDSK at Startup Permanently
Through Registry Editor
Step-1: Type regedit.exe in the taskbar search bar and hit Enter.
Step-2: Copy the below string, and Enter into the Registry editor address bar
HKEY_LOCAL_MACHINE\SYSTEM\CurrentControlSet\Control\Session Manager
Step-3: Check for the BootExecute entry in the right pane of the console. Perform a right click on this Value and select Modify from the list.
Step-4: You will find Value data autocheck autochk * / for the name. change its value to autocheck autochk *.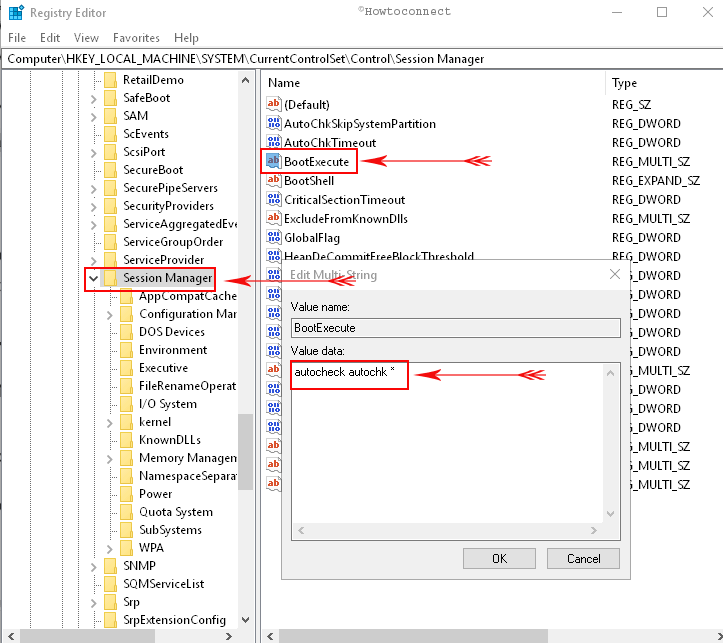 Step-5: Close the Registry Editor and restart your system. You may notice that CHKDSK would not run this time.
Stop CHKDSK in Progress in Windows 10 Using Command Prompt
Type cmd.exe after pressing Windows logo key.
Once you notice Command prompt Desktop app under Best match, make right click on it.
Select Run as administrator.
Input chkntfs /x c: in the black window and press Enter.
These will Stop CHKDSK in Progress in Windows 10 moreover permanently.