KB4100403, a new patch,  has reached Windows 10 April 2018 update today.  The update includes various fixes for Windows 10 Build  17134 including Microsoft HoloLens. The update package contains few improvements and fixes including solutions for Toshiba and Intel devices.
Recently, they have dispatched KB4090007, KB4091663, KB4091664, KB4091666 MicroCode Updates for various Windows 10 editions.
KB4100403 –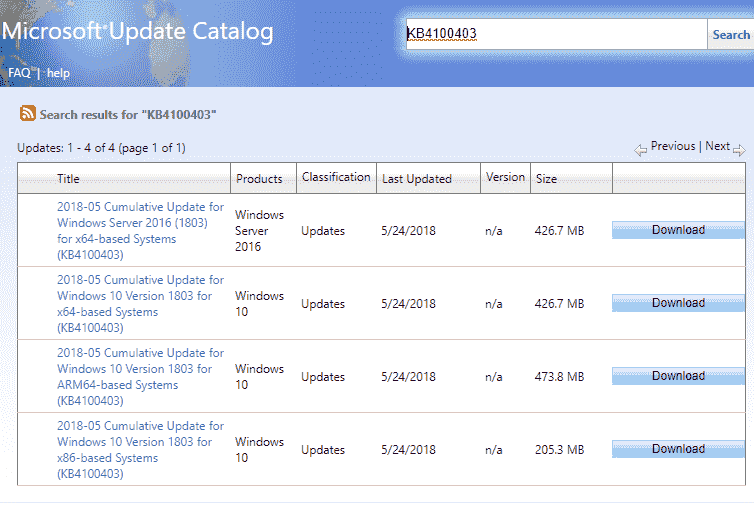 Patch KB4100403 for Windows 10 Version 1803 April 2018 Update Build 17134.80 Details
KB4100403 for Windows 10 Version 1803 April 2018 Update Build 17134.80 MSU download is available on the Microsoft Update Catalog website.
Changes, Improvements, and Fixes in KB4100403
Microsoft takes on on communication between web workers to fail in certain asynchronous situations with multiple navigate to a web page on the browser Internet Explorer.
Windows 10 developers make an attempt to solve the extra problem with updated time zone information.
The developers are working on a bug of closed-caption settings that are preserved after upgrade.
Windows 10 experts are trying to fix an issue as Microsoft Edge or other apps fail to respond when you create a new audio endpoint while either audio or video playback is beginning.  This is a reliability problem
Microsoft works on Windows Hello enrollment mess up that makes it fail on certain hardware that has dGPUs.
They try to resolve power regression on systems with NVMe devices problem from some vendors.
If you installed earlier updates, only the new fixes in this package will be downloaded and installed on your device.
KB4100403 for Windows 10 Version 1803 April 2018 Update Build 17134.80 Known issues
When you try to update to the V1803 Windows 10 April 2018 Update, the system unexpectedly reaches a UEFI BIOS screen or stop functioning frequently after reboot. This mainly takes place while choosing devices with either "Intel SSD 600p Series". Moreover, "Intel SSD Pro 6000p Series". creates the same scenario.
There was also a problem with Toshiba XG4, XG5, moreover, BG3 Series SSDs Microsoft deals with. They may manifest lower battery life after updating to Windows 10 April Update.
Microsoft suggests getting June Update Tuesday directly for the Toshiba and Intel devices rather than version 1803. If you're an advanced and techie user and would eager to install Version 1803 Windows 10, you can manually check for updates.
In the Search bar, type "Settings" and press Enter. For resolution, On the Windows Settings page, navigate to Update & security => Windows Update => hit "Check for updates".