Cumulative update KB4467699 hits Windows 10 Version 1703 Build 15063.1478. The patch includes quality improvements to the existing features and some important fixes. This cumulative update mainly addresses the problems with Internet Explorer, Japanese era calendar, word spellings deletion, Russian daylight standard time, smart cards, moreover system stops working.
You will automatically receive the patch through Windows update but you can also download  KB4467699 from Microsoft update catalog. Here you will find a Windows 10 Cumulative Updates List to help you receive the same.
KB4467699 –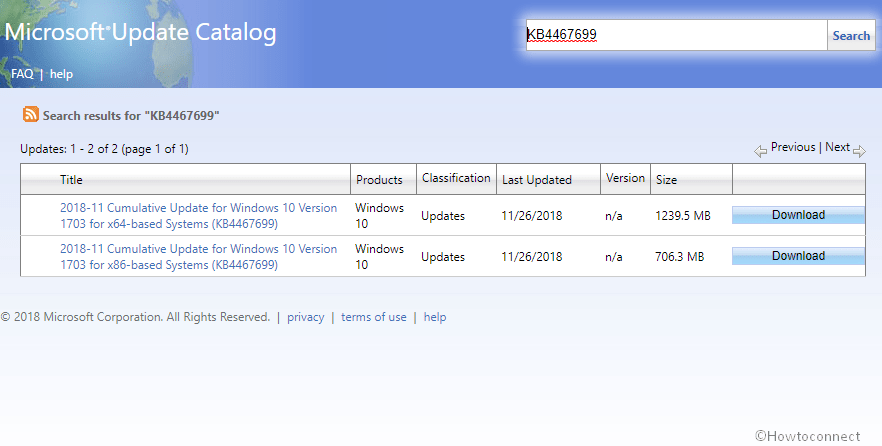 KB4467699 for Windows 10 Version 1703 Build 15063.1478 Details
Every time Microsoft releases any new Windows 10 update, people expect two things. First is any new Windows 10 feature and second is the quality enhancement of existing features. However, it does not include any new OS features but the following key changes/ boosts are present:
This patch addresses the Japanese era calendar date format problem.
The problem that was resisting the navigation across eras in the Japanese Calendar view finds a solution in this cumulative update.
There was an issue because of which GetCalendarInfo function returns the wrong era name on the Japanese era first day. The KB4467699 addresses it.
The word spellings were facing difficulty in deletion from the settings section of the Microsoft Office dictionary. This patch addresses it.
KB4467699 address the time zone fluctuations for the Russian daylight standard time.
Sometimes Universal CRT sources FMOD's AMD64-specific implementation produces a wrong result, especially in case of extremely large inputs. This cumulative update addresses it. The common usage of FMOD is the implementation of modulo operator in JavaScript and Python implementations which uses "Universal C Runtime".
After this update, the problem with smart cards using excessive memory will get resolved.
The issue when the system stops working and gives the error code 0x120_fvevol!FveEowFinalSweepConvertSpecialRangesChunk gets a solution.
A problem where Internet Explorer ActiveX controls on 64-bit PCs gets blocked is addressed in this patch. This happens while exercising Windows Defender Application Guard and establishing a policy which permits all the ActiveX controls to execute in the Internet Explorer.
If your PC has the previous updates, the latest fixes available in this KB4467699 update will get downloaded and then installed on the system.
KB4467699 known issues
Symptom 1 – After receiving either 11th Sept 2018's .NET Framework update or Aug Preview of Quality Rollup, the SqlConnection instantiation can deliver an exception. Read more in 4470809
Workaround: Microsoft is in the process of finding a resolution. The upcoming release will address this issue.
Symptom 2 – After getting this update, the Seek Bar of Windows Media Player might disappear while playing particular files.
Workaround – Microsoft is finding a resolution and the upcoming release will address this issue.
How to download KB4467699
Prior to the installation of KB4467699, Microsoft highly exhorts getting the latest  Servicing Stack Update for your OS. It is because SSU alleviates potential issues at the time of latest cumulative update installation.
When you use Windows Update, the newest SSU is automatically offered. In order to get the separate package of the recent SSU, you should consider visiting the Microsoft Update Catalog website.
For installing this update, follow this path –
Settings => Update & Security => Windows Update
Here, click on Check for Updates.
If you want to download KB4467699, consider visiting the website of Microsoft Update Catalog.