KB4467708 for Windows 10 Version 1809 was recently rolled out by Microsoft for Build 17763.134. This cumulative update does not introduce any new features but definitely carries certain significant fixes and updates. It resolves the issues of Microsoft Account, on-screen keyboard, file system access.
The good thing about this patch is that it contains updates for Microsoft HoloLens as well. You may receive this update either directly through Windows Update or manually by Microsoft Update Catalog.
KB4467708 –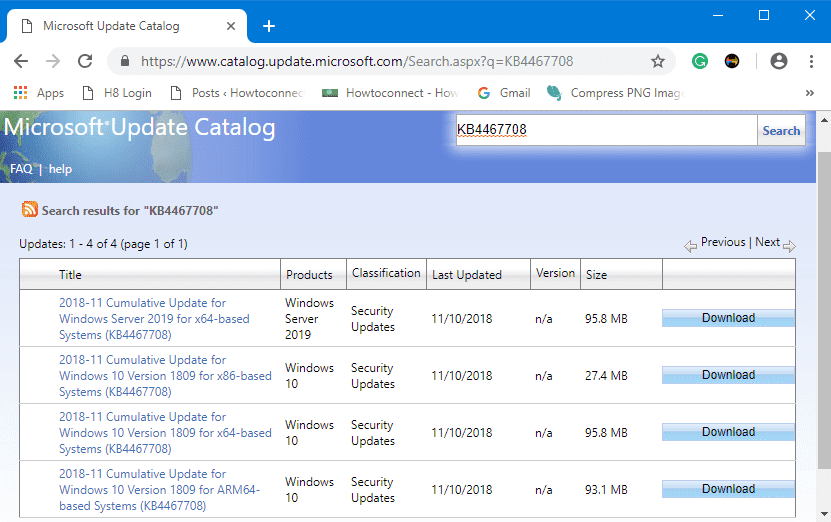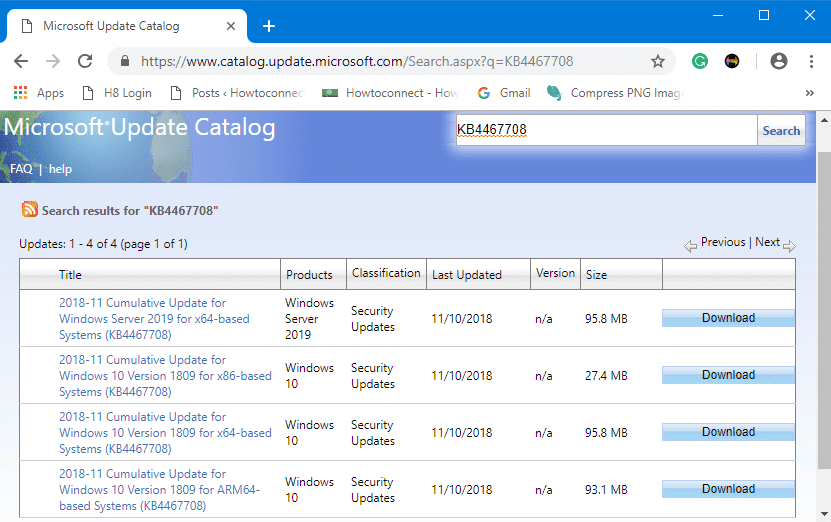 KB4467708 for Windows 10 Version 1809 Build 17763.134
The release of KB4467708 for Windows 10 v1809 introduces a protection against an additional subclass of speculative execution side-channel vulnerability which is popularly known as "Speculative Store Bypass (CVE-2018-3639) for AMD-based PCs. By default, these protections are not turned on. You need to go through the instructions in KB4073119 for Windows client IT pro guidance. Moreover, observe the instructions in KB4072698 for Windows Server guidance. Fortunately, with the help of these guidance documents, you can easily enable mitigations for "Speculative Store Bypass" (CVE-2018-3639). In addition, it also allows you to use the mitigations that have already been out for "Spectre Variant 2 (CVE-2917-5715) as well as for "Meltdown" (CVE-2017-5754).
There occurs a problem which avoids users from signing in to a Microsoft Account (MSA). This issue happens when you make an attempt to sign in as a different user if signing in a second time. So, the team takes control of this specific trouble.
KB4467708 also deals with an issue which denies file system access to the Internet of Things (IoT) Universal Windows Platform (UWP) applications which need this capability.
Microsoft and the team makes an attempt to resolve the on-screen keyboard issue which appears when running automated tests. It also happens to show up when you install a physical keyboard.
In addition to the above-mentioned fixes, Microsoft aims to roll out multiple updates to Edge browser, Windows Scripting, Windows Server, Windows Wireless Networking, Internet Explorer, Windows App Platform and Frameworks, Windows Media, and Windows Graphics.
Known Issues in KB4467708 for Windows 10 Version 1809 Build 17763.134
Symptom
Workaround

A common problem that you may encounter after installing this update is that you may not be able to set Win32 program defaults for certain apps. In addition, some also fail to set file type combinations using the Open with… command or Settings => Apps => Default apps.

In certain situations, you might be unable to set Microsoft Notepad or other Win32 programs as the default.

For a few users, this is a temporary one as the default will get success after some attempts.

Microsoft is working on a resolution. However, you may estimate a solution by late November 2018.
How to Get KB4467708 for Windows 10 Version 1809
Before Installing the update
The experts from Microsoft highly suggest you install the latest "Servicing Stack Update" (in short SSU). This is important for your OS before you make an attempt to install the current Cumulative Update (LCU). Actually, SSUs upgrades the reliability of the update process. This will help you out to mitigate potential problems while you install the LCU moreover when you also apply Microsoft security fixes.
In case you are using Windows Update, you will automatically receive the latest SSU KB4465664.
Install this Update
Through Windows Update, you will automatically receive the patch. So, this will be downloaded moreover installed all by itself. However, if you ever prefer to get the stand-alone package for the latest SSU, you need to visit the "Microsoft Update Catalog" web page.