Windows 10 1809 receives cumulative update KB4489899 on Patch Tuesday lying on 12 Mar 2019. This includes improvements in HoloLens and Error 1309. Security updates to various Windows components are the part of this patch.
You will get KB4489899 Windows 10 1809 automatically via Windows update unless you haven't disabled or paused. Moreover, you can download the patch from the Microsoft update catalog site as MSU file. Let's see the details further –
KB4489899 –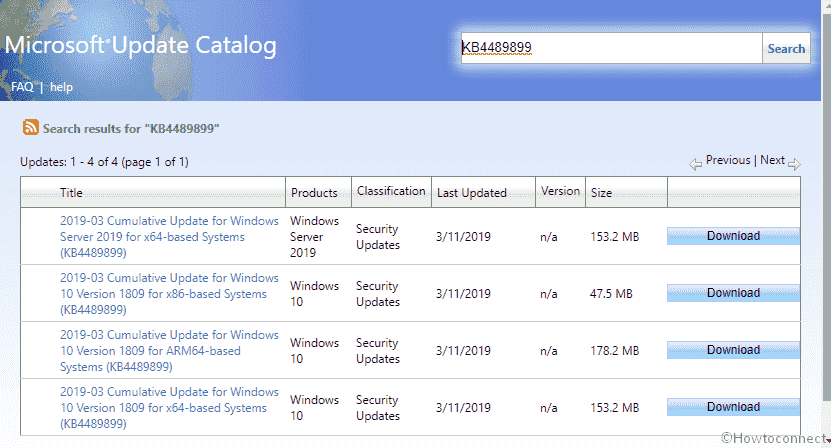 KB4489899 Windows 10 1809 Patch Tuesday Cumulative Update Details
Following are the prime changes that KB4489899 carries –
This patch deals with an issue in Microsoft HoloLens. A certain number of users were affected by the tracking and device calibration of HoloLens. So, once you install this update, you will notice the enhancements in 10-15 minutes. However, for best results, experts suggest you reset the holograms.
Some of you might encounter "Error 1309". This problem will occur while you make an attempt to install or uninstall certain types of MSI and MSP files. Microsoft addresses this issue as well in this cumulative update.
With desktop gaming, there are chances of degradation in graphics moreover mouse performance. It will happen when you play certain games like Destiny 2 and also after installing KB4482887.
Furthermore, the release of KB4489899 Windows 10 1809 Patch carries several security updates as well. You will get updates for Windows Hyper-V,  Internet Explorer, Windows Fundamentals, Microsoft Scripting Engine, Windows App Platform and Frameworks, Microsoft Edge, Windows Kernel-Mode Drivers, the Microsoft JET Database Engine, Windows Datacenter Networking, Windows Shell, Windows Wireless Networking, Windows Storage and Filesystems, Windows Server, Windows Kernel, Windows Linux, and Windows.
Known Issues in the Patch Tuesday Update
Problem 1
You may experience certain authentication issues in Internet Explorer 11 after installing KB4489899 Windows 10 1809. This specific problem may occur when two or more people use the same user account. When they use the same account for multiple, concurrent login sessions on the equal Windows Server machine. It also includes the Remote Desktop Protocol (RDP) and Terminal Server logons as well. So, the symptoms that users are confronting are as follows.
The size of the cache and location may display empty or zero.
Keyboard shortcuts may fail to function properly.
Webpages may fail to load or render correctly at irregular intervals.
Credential prompts may generate certain issues.
Problems when users make an attempt to download files.
Workaround
You need to avoid people from sharing the same user account when logging on to a Windows Server machine. So, the best solution is to create unique user accounts. In addition, you need to disable multiple RDP sessions as well for a single user account for a particular Windows Server.
However, the team is working on a resolution and will shortly send it in the forthcoming updates.
Problem 2
You may also experience issues with audio output after installing KB4489899 Windows 10 1809. The problem will occur on the devices that have multiple audio devices. Here, the apps that provide advanced options for external or internal audio output devices may fail to function all of a sudden. You will also encounter this problem when you don't choose "Default Audio Device" and instead select another audio output device. Some of the applications that may stop working are the Sound Blaster Control Panel, Windows Media Player (WMP), and Realtek HD Audio Manager.
Workaround 1
You need to modify the output of the application to Default in the per-application audio settings. This is a temporary workaround and to do so,
Open Windows Settings and navigate to System.
Move to the sub-section Sound on the left sidebar of the following page. On the right pane, click the option "App Volume and device preferences".
Here, for each application, change the output to Default.
Workaround 2
As an alternative, you can also go ahead with the "Default Audio Device" option that the application provides. For example, to modify Windows Media Player settings,
Get access to Windows Media Player and click Tools. Choose Options followed by Devices.
Here, select the device and choose Properties.
Upon the prompt of the next dialog, click the drop-down menu below Select the Audio Device. From the options, select the Default Audio Device.
Don't worry as Microsoft will soon release its resolution by the end of March 2019 as the team is working on it.
How to Get KB4489899 Windows 10 1809
Before the installation of KB4489899 ensure to receive the latest servicing stack updates. This will upgrade the reliability of the update process and will eventually reduce potential issues.
You will get this patch automatically through Windows Update. However, to download KB4489899 as the standalone package, visit the Microsoft Update Catalog webpage.
Source – Microsoft KB Release Note