Microsoft rolled out an off-time cumulative update, KB4512509 Windows 10 1803 on 19 Aug 2019. It takes the build to 17134.984. KB4512509 consists of multiple fixes for various bugs or issues that were detected with the previous updates, making it an important one. There is no feature update anyway. But, this being a quality update if you have not received the patch yet, ensure to download and install it right away!
If you have not yet received the update, you can manually check it and get the same by navigating to the Windows Settings followed by Update & Security tile. Then do a click on "Check for updates". When you see the latest patches listed, simply hit 'Install'. Usually, WSUS installs these patches automatically. In case you have kept your system up to date with all the previous cumulative updates, the OS will install just the new fixes and improvements. You can know, in the later section, more about the highlights of this updates and the bug-fixes included.
KB4512509 –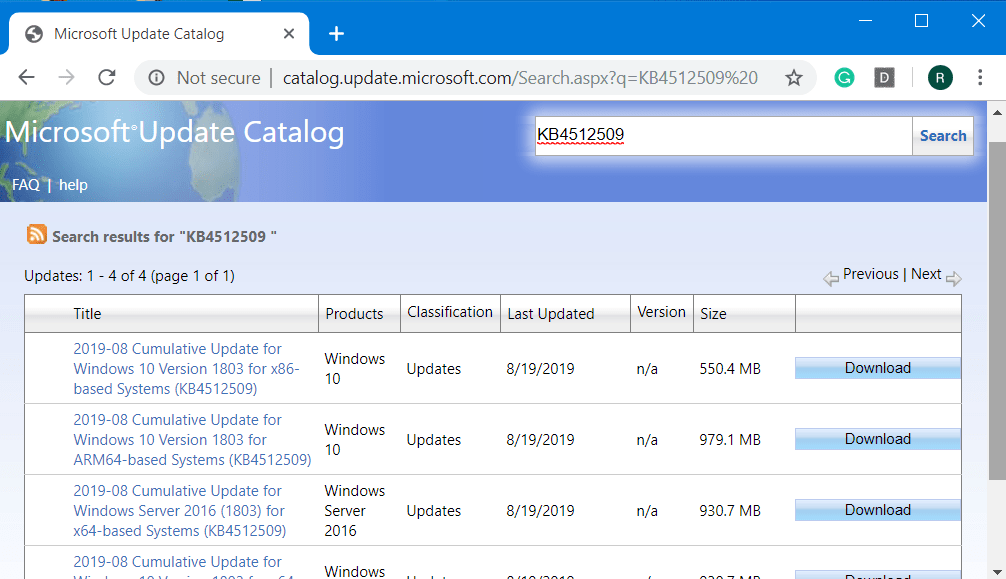 KB4512509 Windows 10 1803 17134.984 Cumulative Update
This update has the fix for an issue that previously existed with downloading digital rights management (DRM) files from some sites. It mainly arose when using Microsoft Edge and Internet Explorer.
KB4512509 resolves a problem that results in the DISM in non-responsive condition intermittently while deprovisioning certain previously installed apps through the Microsoft System Center Configuration Manager.
This cumulative update also fixes an issue due to which the default keyboard for the English (Cyprus) (en-CY) locale fails to set accurately.
Further, KB4512509 addresses the problem of the Settings page stop. Further, it resolves the issue that prevents default applications from being properly set now and then.
There is also a fix for a bug resulting in a query request of the Win32_LogonSession class for the StartTime in displaying the value of the epoch. This means the system does not display the actual logon time. The issue occurs generally as a non-administrator user creates the query request.
KB4512509 also addresses problems causing an error, "0x80070721" as the Windows PE (WinPE) host fails.
There was also an issue preventing the start-up of an App-V application. Basically, it displays a network failure error. This problem occurred in a few circumstances. For example, when a system is on a low battery or when there is an unexpected power failure.  KB4512509 resolves the same.
The update resolves an issue of Windows Hello as well. Previously, this sign-in option would unintentionally remove its credentials post the installation of KB4489894.
Other fixes
KB4512509 also has the fix for a rare issue causing Windows Defender Advanced Threat Protection (viz ATP) to temporarily block or interrupt some other processes from accessing files.
There was also an issue resulting in an interrupted working of a workstation when the users sign in with an updated user principal name (UPN). KB4512509 fixes it too.
The cumulative update addresses an issue due to which "Windows Defender Application Control" would prevent third-party binaries from being loaded from a Universal Windows Platform (aka UWP) application. CodeIntegrity event error 3033 would appear when attempting to do the same.
There is also a fix for a problem breaking the domain-trust as user configures the Recycle Bin on the domain that carries the trust.
KB4512509 addresses the problem that blocks certain users from receiving a TTL value. This used to happen when the users are added as members of "Shadow Principals". Furthermore, it occurs for users who have distinguished names (DN) containing an escape character. However, with the fix in this update, the TTL value is now added as expected.
This patch also has the fix against an issue that may prevent devices from starting when they start up through PXE or "Preboot Execution Environment" images from System Center Configuration Manager (viz SCCM) or Windows Deployment Services (WDS). The issue would otherwise state the error, "Status: 0xc0000001, Info: A required device isn't connected or can't be accessed."
Further, there are solutions for the non-responsive condition of apps based on Visual Basic 6 (VB6), scripts or apps that use Visual Basic Scripting Edition (VBScript), macros that use Visual Basic for Applications (VBA).
There are also resolutions for problems in getting the copyrighted digital media from some sites. This occurs when using IE or Microsoft Edge.
Known issues with KB4512509 and respective workarounds
Issue 1:
The previously detected issue with folders or files on a CSV (Cluster Shared Volume) is still there. Due to this, the users generally fail when they try renaming or performing such other operations. This generally results in an error message, "STATUS_BAD_IMPERSONATION_LEVEL (0xC00000A5)".
Workaround:
As you can note, that only the users trying to operate in a CSV-owner node from a process without due administrator privilege are having this problem. There is no permanent fix from Microsoft's team yet. They are working on a final resolution and you can expect an update on one of the upcoming releases. For the time being, as a workaround, you can attempt performing the operation from:
A process having an administrator privilege.
A node without a CSV ownership.
Issue 2:
There have been reports of a few devices starting up to a black screen when they log on for the first time after installing updates.
Workaround:
There is a temporary workaround for this situation. Press Ctrl+Alt+Delete and then hit the Power button you see on the screen and confirm Restart. This should help the system restart normally. You can expect an update on one of the upcoming releases.
That's all!!!
Source – Release note.