Windows 10 1803 gets cumulative update KB4516058 on Patch Tuesday today.  The package brings some important improvements and fixes and takes the OS version to build 17134.1006. This is a monthly security update to the different Microsoft's components for the month of September.
KB4516058 will be automatically installed on your system unless you haven't disabled or paused Windows update. In case you have not received the patch navigate to Settings => Update & Security => Windows update and click on Check for updates.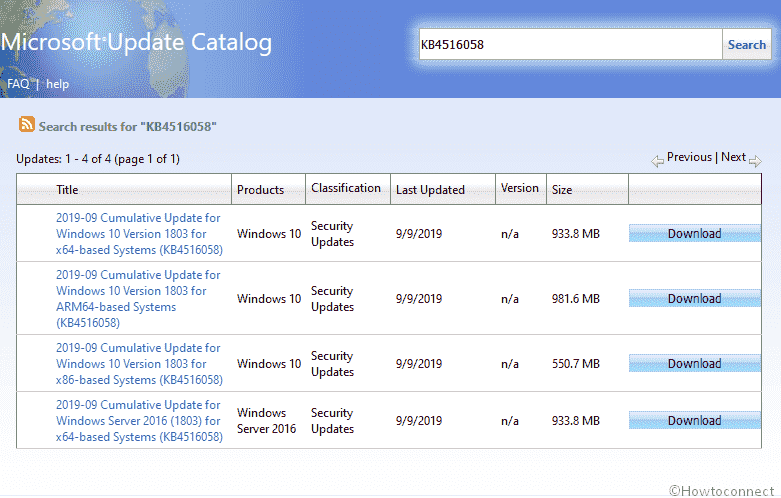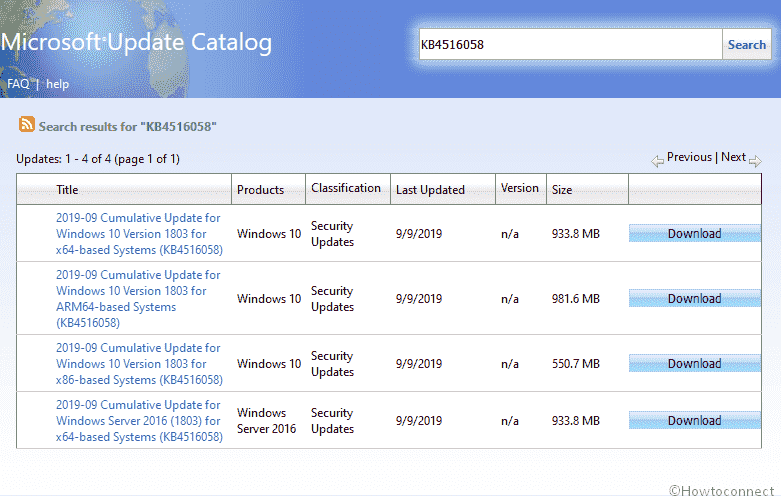 KB4516058 Patch Tuesday update for Windows 10 1803 17134.1006 improvements and fixes
Highlight
This is patch is aimed to update to improve security when using Internet Explorer (IE), Microsoft Edge, and input devices, for example, mouse, keyboard, or stylus.
The Cumulative Update will verify username and password.
This patch will store and manage files.
KB4516058 Improvements and fixes
September  2019 security update changelog –
The patch comes up with the protections against the recent subclass of speculative execution side-channel vulnerabilities. These are recognized as Microarchitectural Data Sampling, for 32 Bit (x86) edition of Windows ("CVE-2019-11091, CVE-2018-12126, CVE-2018-12127, CVE-2018-12130"). You need to bring the registry settings into use as explained in the Windows Client moreover Windows Server articles. Remember that these registry settings are turned on by default for Windows Server OS and Windows Client OS versions.
This cumulative patch is security updates to the Components as "Windows Media", "Windows App Platform and Framework", "Microsoft Scripting Engine", "Internet Explorer (IE)", "Windows Input and Composition". Furthermore, the update is for "Microsoft Edge web browser", "Windows Kernel", "Windows Fundamentals", "Windows Storage and Filesystems", "Microsoft JET Database Engine", "Windows Authentication", "Windows Cryptography", "Windows Datacenter Networking", "Windows Virtualization", "Windows Server".
The new fixes in September 2019 security update will be automatically installed if you installed earlier patches.
In order to get details of the resolved vulnerabilities, kindly refer to the Security Update Guide.
Known issues in this update
Symptom
Workaround
You may receive an error when performing certain operations, for example, rename, on files or folders. This happens when using Cluster Shared Volume (CSV). The error message that appears during the operation is STATUS_BAD_IMPERSONATION_LEVEL (0xC00000A5). This issue takes place when working on CSV owner node using a process that doesn't own administrative authority.
Follow anyone –

Use the process that has administrative authority for CSV owner node.
Work from a node that does not occupy CSV ownership.

The company is working on a resolution and will send an update in an upcoming release.

Windows 10 team is investigating reports that a few devices may startup to a black screen during the initial logon after installing updates.
In order to mitigate this problem, press Ctrl + Alt + Delete. Subsequently, select the Power button in the lower right of the screen and choose Restart. Now the device should reboot without throwing any issue.

Microsoft team is actively working on a resolution and will push an update in a future release.
How to get this update
Before installing this update
The tech giant firmly suggests receiving latest SSU before installing the cumulative update.
If you have enabled Windows Update, then you will automatically get the latest SSU (KB4512576).
If you want to install KB4516058 Windows 10 1803 17134.1006 Cumulative Update as Standalone package then go to the link here.
Source – Release note.