Windows insider users in Beta channel are getting a new build with a considerable amount of bug fixes and changes. Windows 11 Build 22000.176 (KB5006050) is the update that includes fixes for paired Bluetooth LE and issues that occur when taking photos with USB cameras.
You will get the insider build automatically if you have opted for the Beta channel.
Windows 11 Build 22000.176 KB5006050 Beta Channel changes, fixes, and known issues
Here is the changelog –
Improvements and changes
This current Windows 11 build allows you to hide and unhide system icons on taskbar via Settings page. For example, right-click on Taskbar, select Taskbar Settings, and choose which system icon to hide. When you already hid any of the icons previously and now want to unhide them follow the same method.
Bug Fixes
General
The build fixed an issue with paired Bluetooth LE devices generating multiple problems. These were – increase in Bluetooth reliability problems and bugchecks that occurred when coming back from hibernate or when Bluetooth was turned off. You can see some solutions here – How to Fix Bluetooth not Working in Windows 11 Problem (Solved!!).
KB5006050 Windows 11 22000.176 beta channel mitigated an unexpected error that occurred when trying to take pictures with certain USB cameras.
You will find a link to learn more about Windows Hello when configuring Windows Hello in OOBE.
Chat from Microsoft Teams
Hebrew and Arabic languages will now permit to change Teams Settings.
The experts from the insider team fixed the issue where if you were making an outgoing call, there was no ring tone, but the user interface would show that the call is getting connected.
Microsoft Store
They solved the install button that might not be working in limited scenarios.
Furthermore, they also fixed an issue where ratings and reviews were not available for some apps in Store.
Windows 11 Build 22000.176 Known issues
General
The insider team is looking into the reports of the new Taskbar is not appearing as well as the Start menu doesn't work. As a solution, you can uninstall the latest cumulative update using the following guide – Go to Settings > Windows update > Update history > Uninstall updates. Remove the LCU from the installed updates window.
The experts are trying to solve WHEA_UNCORRECTABLE_ERROR on Surface Pro X devices.
Start
Sometimes, you might fail to enter text when using the taskbar or Start Search. If you also encounter, press WIN + R to open the Run dialog box, then close it.
Windows Terminal and System are missing from Win + X menu.
Taskbar
On Windows 11 Build 22000.176, occasionally, the Taskbar will flicker at the time of switching input methods.
Search
After clicking the Search icon on the Taskbar, the Search panel may not be unfolded. Restart the Windows Explorer from the Task Manager and then open the search panel.
In KB5006050 Windows 11 Build 22000.176, the Search panel might appear black and not show any content underneath the search box.
Widgets
After installing this build, the widgets board may look empty. As a solution, sign out and then sign back in again.
On the external monitors, Widgets may appear in the incorrect size. If you experience this issue, launch the widgets through WIN + W hotkey or touch. First, open on your actual PC display then on your secondary monitors.
Microsoft Store
The team is involved in the improvement of search relevance in the Store.
Windows Sandbox
Language input switcher fails to open after clicking its icon located at the Taskbar when in Windows Sandbox. As a solution, use the following hotkeys for the same: Ctrl+Shift, Alt+Shift, or Win+Space (the 3rd one exists only if Sandbox is full-screened).
Furthermore, IME context menu does not open after clicking the IME icon located on the Taskbar. Access the functionalities of the IME context menu using any of the following methods:

Accessing the IME settings via Settings => Time & language =>  Language & region => <each IME language => (e.g. Japanese) three dots => Language options => <each IME => (e.g. Microsoft IME) three dots => Keyboard options.

Alternatively, you may also enable the IME toolbar to instantly invoke specific IME functions. Continuing from above, go to Keyboard options -> Appearance => Use IME toolbar.

Either use the distinctive set of hardware keyboard shortcuts associated with each IME-supported language. (Know more – Traditional Chinese IME Shortcuts, Japanese IME Shortcuts).
Localization
A small subset of languages might be missing for some insiders. If you are encountering the same then go to this page Answers forum post and pursue the steps for remediation.
Microsoft Store
With Windows 11 Build 22000.176, Store is receiving an update (version 22108.1401.11.0)  in the Beta Channel that includes the following changes:
A thorough visual overhaul of the User interface of the library, with better performance to boot and easier navigation.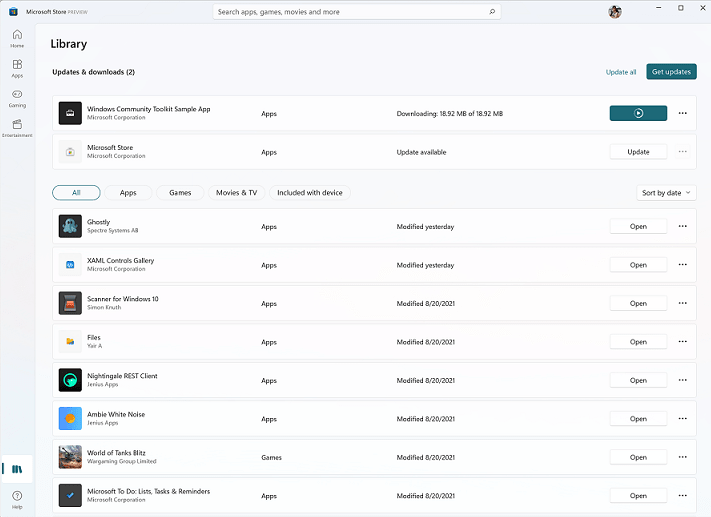 The Spotlight design for promoted products has got an update in the Microsoft Store app. Hover over an option to get a sneak peak of what's inside.
When available you can download the iso file from – Windows Insider Preview Downloads
Source – Windows insider blog.