Microsoft often rolls out great themes and the latest one is the Mountain's Glow. A majority of people, travel freaks, as well as non-traveler types, can agree that there's a certain element about mountains that holds particular attraction and charm. For those who love to travel or take up adventures, peaks can be a source of inspiration. Nature-based themes can motivate people in many ways. If you are one such mountain-loving soul, simply get this Mountain's Glow Windows 10 Theme.
Mountain's Glow Theme essentially consists of 17 breathtaking pictures of high peaks, taken around the globe. The approximate size of the theme is 16.38. The images in the theme can, however, only be used as desktop wallpapers. Another interesting fact is that you can get this app on at least ten Windows 10 devices. Further, there are a few requirements that your PC would have to meet for getting this amazing theme.
Mountain's Glow Windows 10 Theme
Here is how you can download, install, and apply Mountain's Glow Windows 10 Theme –
Step-1: In your Windows PC, open Microsoft Store app by clicking its icon on the taskbar. Type Mountain's Glow in the Search box of the Store app and select the same from the result.
Step-2: Simply hit on the Get button.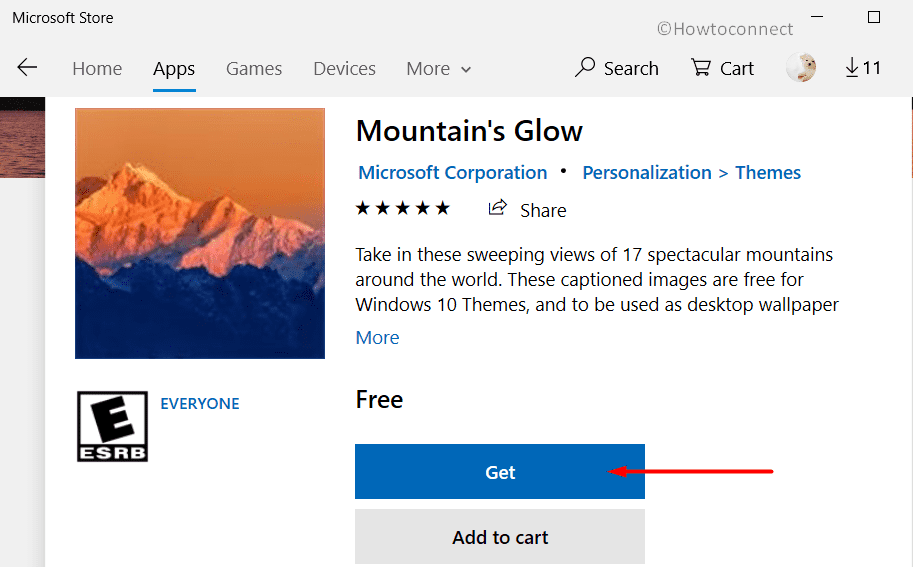 Note – As an alternative, you can also navigate to the official page of Mountain's Glow and click the Get button there. This will also take you to the Store page of the theme.
Step-3: Wait for the theme to download. Then do a click on "Launch" or "Apply" button.
Step-4: This will immediately open the Themes Settings page on the PC screen. Switch to the right pane and choose the Mountain's Glow Windows 10 Theme from the themes listed in there.
Get the theme right away!
System requirements
In order to apply and use Mountain's Glow Windows 10 Theme, the device requires to fulfill certain system requirements. Here are they –
Firstly, to enjoy this theme, the device should be running Windows 10 version 14951.0 or higher.
Secondly, it would need a system architecture of x86, x64, ARM, ARM64.
Thirdly, the device should support English (United States) language.
That's all!!!