How to Move to New Window from a Tab in Microsoft Edge – While you are doing your job in a browser and have opened multiple tabs, the essential web page is jumbled in the crowd of tabs and creates a big annoyance. Thanks to the Microsoft edge which has presented a solution for this mishmash. When you are running a mob of webpages, this browser allows you to switch any tab to a new window.
Move to New Window choice is present in the right click menu of every tab in Edge whose selection leads to switching to a fresh browser window. In the variant browsers like Chrome and Firefox, you need to swiftly drag the concerned tab.
How to Move to New Window from a Tab in Microsoft Edge
Launch Microsoft Edge from the taskbar or Start where you feel convenient.

Open more than one tab.
Go to the tab you like to access in a fresh tab, Perform a right-click on it, and choose the option Move to new Window on the context menu.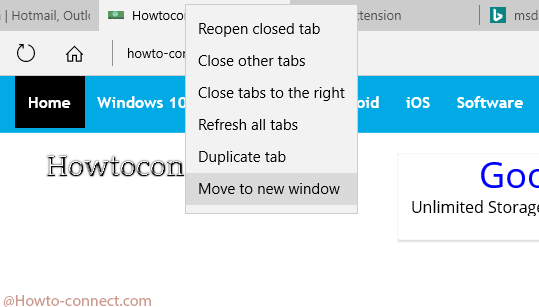 You witness a new Window of Microsoft Edge having the web page you were running in the tab.
In the latest build, Edge has got a lot of features for easier navigation like Move to new Window described above. Reopen closed tab is one of these for which you used to press Ctrl+Shift+T in the variant browsers.
One more tool Duplicate tab available in the context menu of a right click on a Tab which leads to open a fresh tab but having the same web page.
One more tool is Refresh all tabs which reload all the web pages open in all the tabs at the same time in Microsoft Edge and found in again the right click context menu of every tab.
Move to New Window in Edge Browser from a Tab is an awesome tool for tab management who works on many webpages or applications at a time. Apply Move to New Window and give us feedback to serve you with new reliable and dashing content.