If you are anxious about eye strain and need a Screen Brightness Control Software for Windows then Pangobright is a good choice. Pangobright is a lightweight (114KB) software and helps you dim your PC screen in a single click. Windows 10 allows you adjust brightness with built-in tools rather this small application also permits you to darken the monitor's screen in connection.
Pangobright Screen Brightness Control Software also works to fade out a certain color. Although this dimming application is freeware, a premium version is also available which includes a bunch of additional features such as it handles multiple monitors. You view a list of all the monitors connected to your computer providing for changing the brightness from this application. A very user intuitive software is also available in this concern – Provide Your Eyes Rest from PC with Pause4Relax.
How to Use Pangobright Screen Brightness Control Software
Step 1 – Click here and download Pangobright Screen Brightness Control Software free of cost. As the downloading gets over, simply double click on this application.
Step 2 – Now open System tray on the extreme right of the taskbar and locate Pangobright. Click on its icon and view all the options here.


Step 3 – You find the brightness level from 100% to 20% including Choose fade-out color. So select the brightness percentage you like to bear on your desktop screen.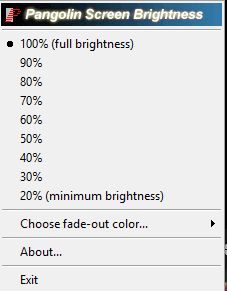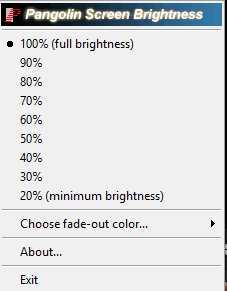 Step 4 – If you like to use the blue light filter you will get here all the colors and can choose either of these. Hover your mouse cursor on the option Choose fade-out color… and pick up the color you like to dim.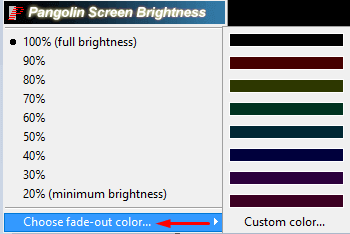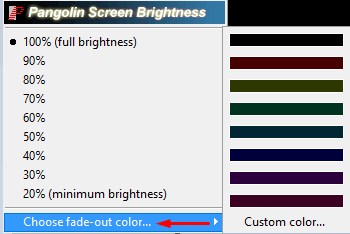 Step 5 – When you have certain monitors connected to your system, the Pangobright popup will display a list containing each of them. You can control every monitor's brightness from this list.
Step 6 – This software has the capability darken everywhere as nightclubs, DJs, theater lighting, planetariums. And so simple it is. All you need is click on the System tray seated icon of Pangobright and chose the percentage level as per your need.
That's it.
An extremely convenient and handy Dimmer offers to Reduces Screen Brightness below Minimum on Windows 10, 8.
Conclusion
So this is the whole details of Pangobright including how to use this Screen Brightness Control Software for Windows. I have discussed the default tools to adjust the brightness, while this cannot work to dim the brightness of other monitors, theater or DJ. Rather Pangobright dim screen utility performs these tasks pretty effectively.