You would be aware of the fact that Docking station for the exact earlier model of Surface is not compatible with the later Surface Pro 4 as well as Book. Considering this Microsoft Surface Dock worth $ 199 is introduced which will be applicable for both of the devices. So far the question of compatibility this Dock is also working for Surface Pro 3.
If you occupy Surface Pro 3 Docking station and have bought Surface Pro 4 or Surface Book you need to take an adapter so that it can closely fit in the port. This adapter will be priceless. You can contact Microsoft Customer Support for this. The commercial reseller will also avail you of this product.
Surface  Pro 4 can buy this Dock from Microsoft Store.
The Surface Dock immediately converts ultraportable Surface to a desktop Computer. Just insert the SurfaceConnectTM cable in order to charge your Dock and start monitors, mouse, keyboard, etc.
In the condition such as you occupy Surface Pro 3 Docking Station and desire to apply in Surface pro 4 before the shipment of the new one, you can materialize on your own. We are writing the process here. So read How to Print Surface Pro 3 Docking Station Adapter to renovate the Adapter for Full Functionality and relevance with the assistance of 3D Printer.
How to Print Surface Pro 3 Docking Station Adapter
Although, if you are in a hurry and don't wait or you want to avoid the shipping and handling, you can print out your own adapter with a 3D printer.
Remember that the quality of the 3D printing will be conditional on the printer used to make these and your 3D printer must be able to accommodate a build volume of 10.3mm x 100.8mm x 285.4 mm.
Surface Pro 3 Docking Station Adapter is present in two separate file formats.STP and.STL. Select the format required for your 3D printer at Docking Station Adapter
After you have printed  Surface Pro 3 Docking Station Adapter, position two slices of double-sided tape into the indents on the back of the Adapter. Tape size will be respectively 3/8" x 3/4", or 9mm x 18mm.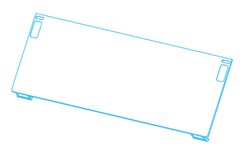 Underneath given sketch can make you understand to ensure the Adapter to the Surface Pro 3 Docking Station in 4 steps.
Your new Surface Pro 4 will fit right into your Surface Pro 3 Docking Station after drawing the sides of the Docking Station to the center with carefulness.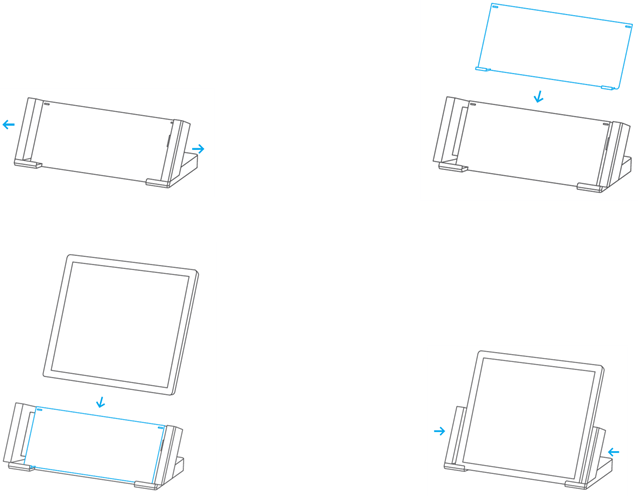 Once you have printed and pull the sides to be the adapter fitted for your Surface device this will be fully functional.