If you need to Pay bills and do top up recharge on your Smartphone whether it is Android or iOS you can do both or task at a single platform using Citrus Cube. Citrus Cube is a free Android and iOS App which lets you plan and manage bills even when your are offline. This app basically works as your Personal Bill Payments Manager. Citrus is a payment gateway with over 10 million users registered. Citrus Cube is considered to be the back end payment for each and everything we buy or book online.
There might be already dozens of apps installed in your Smartphone to pay bills like Credit card bill, phone bill, gas bill, rent bill and many others bill. The list of this bill paying apps keeps on increasing and along with it increases daunting task to keep track of recurring payments. More numbers of apps you keep, the more memory space it will take.
Ever Wondered about an app which would take care of all these without any hassle. Citrux Cube is one such app which can keep track, pay and remind users of their bills, helping them avoid the penalties incurred because of late payments. This app also provides you a great platform to track your spending each month.
It has already processed 50 million transactions and is growing day by day. You can have this app from Google Play Store. A screenshot with its various functions is shown below.
Note:
You will get an instant flat 50 rupees cash back on your 1st Mobile/DTH top up on your 1st bill payment in the cube.
This offer is going to expire on 30th June, however, similar offers keep on floating on this app every month for new as well as old users.
How to Pay bill and Recharge Top Up Using Citrus Cube on Smartphone
Using this bill paying app is very easy and simple. At first just download this app from Google play store (for Android users) and Apple's AppStore (for iPhones, iPad). You need to go through a sign up procedure. If you are already a member of this app, just go to the Sign in options and put down your email and password. It will automatically open up your personal account.
Every time the users will be shown a screen where some of the most common bill payment types are listed. One can create his own reminders using the features of this app. At the bottom, one can see the details about how many payments being "Late", "Due this week" or "Paid". This app has been designed keeping in mind the user ease and their satisfaction. One can easily remove anything which might seem to be distracting him from the mundane task of paying bills.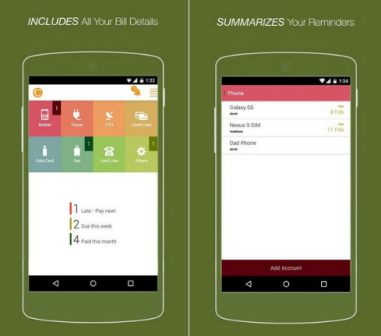 During making transactions, your personal details are always secured and safeguarded. According to the developers of this app, this app is PCI-DSS-complaint and RBI approved. PCI-DSS compliant means all the transactions done via this app are transmitted and backed by 128-bit encryption. This windows version of this app has not been installed yet.
Conclusion
Citrus Cube is one of the best apps when it comes to bill paying apps. You can Recharge Top Up Using Citrus Cube too. It allows its users to plan and manage bills even when they are offline. It helps one in making custom reminders, create graphs with which one can keep track of spending money unnecessarily. It makes things a way lot easier than it seems. This is a worth having app for everyone smartphone. Use this app yourself and tell us your views about this app in the comments below.