Being a great follower of Microsoft and Windows, you will definitely appreciate Wallpaperhub.app, a new website that contains stunning wallpapers for Windows 10. A very popular Microsoft enthusiast, as well as a Windows Insider by the name of Michael Gillett, is the developer of this webpage. The site offers a wide range of gorgeous and impressive wallpapers of every type.
When you visit Wallpaperhub.app you will notice that the images are well laid out by categories. Starting with the simple Ninja Cat to the most gorgeous Windows, Xbox, and Surface wallpapers are offered here for free of cost. However, the site will continue to provide new features with its every development. To add to its bucket list, each picture in this webpage offers various sizes, moreover, resolutions arranged by Surface devices to the normal ones. As a matter of fact, the site is compatible with both desktops as well as mobile devices.
How to Download Stock Wallpapers for Windows 10 from Wallpaperhub.app
Step-1: On Windows 10, open any web browser of your choice and navigate to this page.
Step-2: At the top of the website, you will view three tabs – Home, Collections, and Wallpapers.
Home: It provides you with a glimpse of Popular, Xbox, Surface, Windows wallpapers and so on. Scroll through the page and get access to the section of your choice.
Collections: This tab displays a collection of wallpapers divided into various categories. For the time being, it includes Ninja Cat Originals, Conference Collection, Surface Collection, moreover Xbox E3 2018 Collection. The images of certain categories were created by the developer which were inspired by actual Microsoft's conferences.
Wallpapers: You can see a compilation of images which also includes a new feature of "Wallpaper Versions". The wallpapers that display Version tag are the ones that appear the same apart from different colors or with a little addition of text.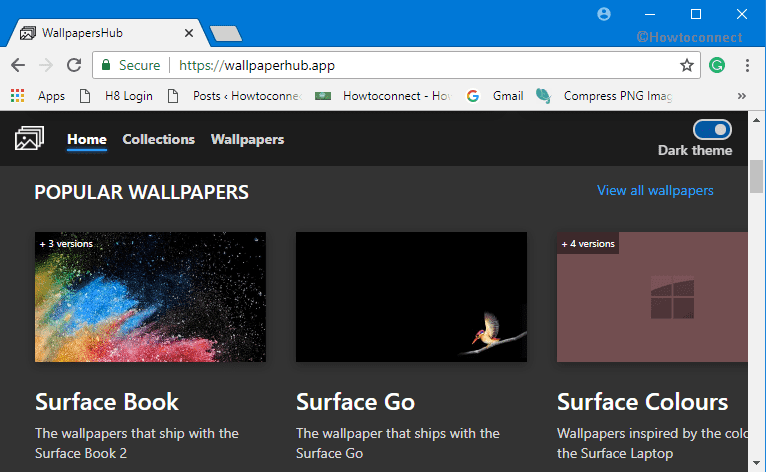 Step-3: So, after going through all the tabs, select the wallpaper that you wish to download.
Step-4: Now, the Downloads page will display Wallpaper sizes, individual Resolutions, including the Download link for each of them. So, depending on the size of your device, you can choose the right one accordingly.
Step-5: Once the image gets downloaded, set it as Desktop Wallpaper.
A large collection
The collection of images here is huge as the site contains wallpapers inspired from the official Xbox Gear as well as the ones inspired by the Surface Studio. It adds a ton of new pictures regularly so you can keep coming back to update your collection.
A large selection ensures you may not face the common problem of boredom. All of them are free to download so you'll never have to worry about your collection. You can keep downloading different wallpapers for Windows 10 and pile them to your little personal collection with ease.
Dark Theme of WallpaperHub
WallaperHub.app provides a Dark theme for its webpage. Just on the top right corner of the site, you will see a "Dark theme" toggle.
By default, when you first visit the website, you will find everything in Dark mode itself. However, use the toggle to switch back to the normal mode.
Acrylic Effect
During your visit to the Wallpaperhub.app, you will notice the elements of acrylic effect throughout the design. With the development of the site, the effect is getting more subtle as well as refined. However, in order to get the best acrylic effect, you need to use –
1. Use Microsoft Edge on Redstone 5 (RS5).
2. Or Turn On Experimental Web Platform in Google Chrome. To do this, launch Chrome browser and on its address bar, type in or copy/paste chrome://flags/ and hit Enter. Moving ahead, search for Experimental Web Platform. Click the drop-down alongside the feature and choose Enabled.
Wallpaper Versions
One more interesting and a new feature that Wallpaperhub.app contains is the "Wallpaper Versions". The developer gives this name to the images that appear same but are little apart in terms of colors or due to the addition of some text. Now, the good part is these will not appear as separate wallpapers. Instead, you will find them listed as versions of one wallpaper.
Wrapping Up
Background images always play an important role in personalizing your system. In this regard, Wallpaperhub.app is the best stop as it is a shop for Microsoft inspired backgrounds. You can show off your amazing and high-resolution wallpapers to everyone who gets access to your PC. So, quickly take a view of the site and start downloading your personal collection of Wallpapers for Windows 10.