Windows 10 Build 18262 (19H1) reached the Insider who opted Skip Ahead and Fast ring. The update includes Fixes, Changes, Features as DPI Awareness column in Task Manager, Uninstall preinstalled app, Troubleshooting and Narrator.  However, Microsoft has warned insiders that the build may have bugs cause problems as these are early in the development cycle. In case, the update creates issues, you have an option to switch to the Slow ring because this will continue to be higher quality.
You can download and install Windows 10 Build 18262 through Settings => Update & Security => Check for updates. The update includes a number of fixes such as for Settings crashing, Notepad set as default issue, brightness resetting to 50%. Let's walk through the details of each and every change.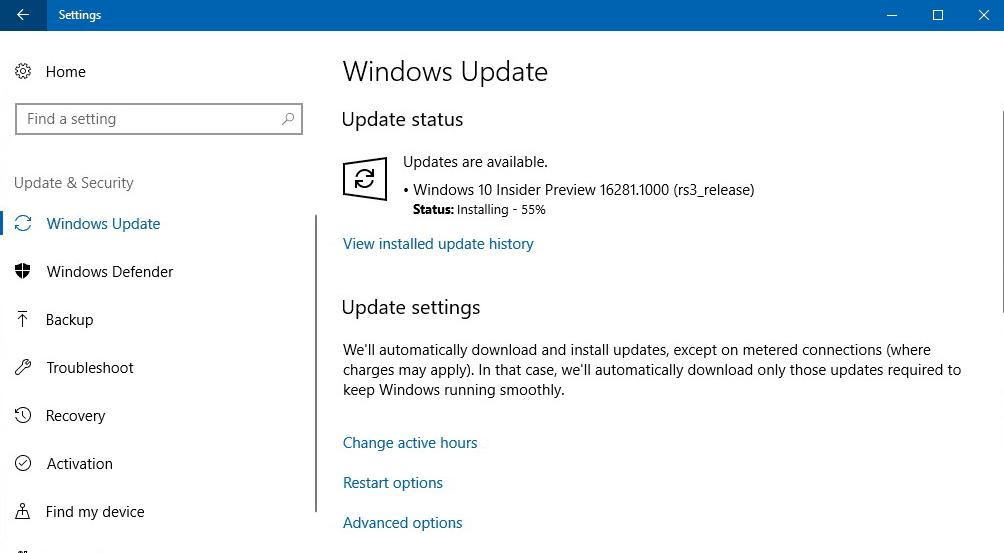 Windows 10 Build 18262 in Skip Ahead, Fast ring (19H1) Changes, Fixes and Improvements Details
View DPI Awareness in Task Manager
The current build adds DPI awareness column to the Details tab Tab of Task manager that display the data per process. If you are dot per inches conscious for applications then noting to worry about.  You will get the DPI each application consumes in this column.
To see the column, press Ctrl + Shift + Esc, right-click on any of the headers in the Details tab and click Select Columns then add DPI Awareness to the list.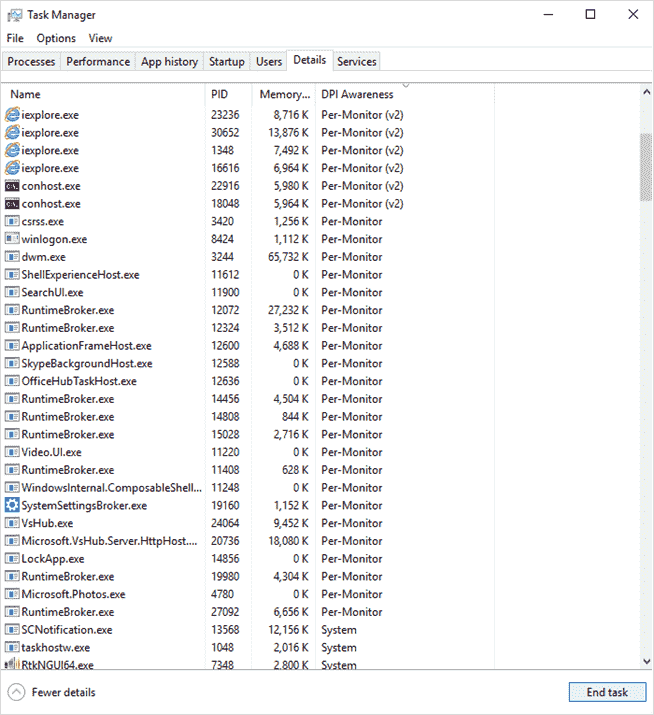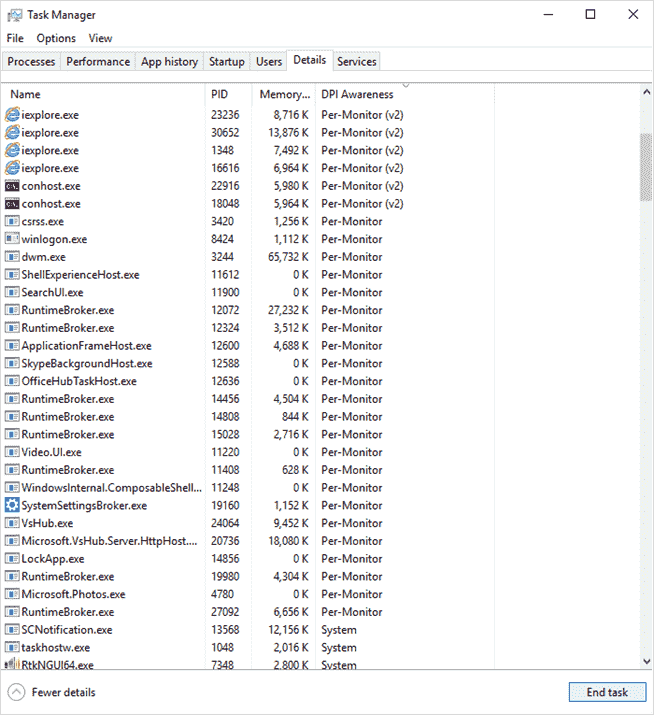 Uninstall Preinstalled inbox apps
Numerous users have been using tweaking to delete the built-in application from Windows 10. But you are able to uninstall the pre-installed apps through an option on context menu on the All Apps list on the Start menu after Build 18262. The applications are –
1) 3D Viewer (previously called Mixed Reality Viewer)
2) Calculator
3) Calendar
4) Groove Music
5) Mail
6) Movies & TV
7) Paint 3D
8) Snip & Sketch
9) Sticky Notes
10) Voice Recorder
In the versions previous to Windows 10 October 2018 Update only the underneath inbox apps will allow you to be uninstalled –
a) Microsoft Solitaire Collection
b) My Office
c) OneNote
d) Print 3D
e) Skype
f) Tips
g) Weather
Troubleshooting improvements in Windows 10 Build 18262
Windows 10 Build 18262 in Skip Ahead, Fast ring (19H1) introduces a setting to automatic detection and troubleshooting of issues. You need to go to Settings => Update & Security => Troubleshoot. Change the pane side and enable recommended troubleshooting. If an issue occured windows 10 will get your back up and running as quickly as possible. This setting will use diagnostic data you send to deliver a tailored set of fixes for problems. The system identifies the data on your device and will automatically apply them.
Narrator Changes in Windows 10 Build 18262
Narrator, after this update, will read next, current and previous sentences. The build includes Read by sentence feature that works with the keyboard and also touch. Move by sentence is not available yet for Braille.
a) Caps + Ctrl + Period (.) to Read next sentence
b) Caps + Ctrl + Comma (,) to Read current sentence
c) Caps + Ctrl + M to Read previous sentence
You will experience the sentence in a new Narrator view and can approach through Caps+Page Up or Caps+Page Down. You can jump with Caps+Left arrow for move by previous sentence and Caps+Right arrow for move by next sentence.
Read – Narrator Keyboard Shortcuts / Hotkeys in Windows 10
Windows 10 Build 18262 changes, improvements, and fixes for PC
Microsoft solved an issue App History being blank in Task Manager.
Windows 10 insider experts fixed Task Manager icon in the notification area of the taskbar not staying visible while Task Manager was open.
They solved upgrade to the previous flight potentially failing with an error. Identical problems could end up with "Office products not launching", "services not starting", "or/and your credentials not being accepted on the login screen after first upgrading until rebooting".
Windows 10 team solved Settings would crash if in Ease of Access you click Apply on Make Text Bigger.
They resolved Settings might crash when clicking Check for updates or applying an updated Active Hours duration.
Microsoft fixed Notepad wasn't listed on the Set Defaults by App section in Settings.
The build provides separate options to install new language pack and set it as the Windows display language When adding a new one. You will also find separate options to install the Speech recognition and Text-to-speech features.
Microsoft has updated the Printers & Scanners section in Settings to now add a link direct to the troubleshooter in case you need it.
You may experience a few changes in clipboard history.
Windows 10 Insider team solved File Explorer not opening if invoked from a pinned Start tile when in Tablet Mode.
They fixed brightness sometimes resetting to 50% after a restart.
Windows 10 Build 18262 Known issues
Windows 10 team is investigating Settings crash problem when invoking actions on some pages. This affects several settings, moreover various links here.
A few users may encounter launching Inbox Apps problem after updating.  Follow this answer forum to solve this.
When you Switch audio endpoints from the volume flyout it doesn't work.
Task View is unable to display the + button under New Desktop after adding 2 Virtual Desktops.
Windows 10 Build 18262 Known issues for Developers
An old issue is after switching to the Slow ring – optional content, for example, enabling developer mode fails. You will need to persist in the Fast ring to enable/install/add optional content. The reason is optional content only installs on the builds approved for stipulated rings.
Source – Windows Experience blog