Windows 10 2004 is the upcoming version of the OS supposed to be released in May 2020. Currently, Microsoft has provided codename 20H1 but it will get the name Windows 10 May 2020 Update at launch. This will be the first Windows 10 feature update of the year that will include the changes, features, and improvements that Microsoft is testing on Insiders.
Development for 20H1 release is continuously going on and Microsoft is releasing builds at regular interval. The features and improvements in each build will be available in Windows 10 2004 update. Here, you will find the full Windows 10 2004 changelog –
1] Windows Security
2] Time & Language
3] Devices
4] Ease of Access
5] Store Utilities and tools
6] Windows Search
7] System apps
8] Your Phone
9] Update & Security
Now see the changelog in details –
Windows 10 May 2020 Update Changes, Improvements, and Features 20H1
1] Windows Security
Windows Sandbox accessibility Improvement
The Windows 10 May 2020 Update brings several updates to make Windows Sandbox accessibility scenarios better. This includes –
Microphone support
The upcoming release 2004 will include the capability to configure the audio input device through Windows Sandbox config file.
A Shift+Alt+Print Screen shortcut combination in the Sandbox will activate the ease of access dialog to enable high contrast mode.
A Ctrl+Alt+Break key will let you enter or exit full-screen mode
Windows 10 Build 18855 [20H1] Skip Ahead Details
Windows Sandbox configuration file support
In the Win10 2004, Windows Sandbox will support configuration files. These files allow you to configure networking and shared folders and GPU.
Windows 10 Build 18841 20H1 Details
2] Time & Language
Dictation support to more languages Improvement
Windows 10 May 2020 Update will support dictation when using the languages "French (Canada)", "English (Canada)", "German (Germany)", "English (UK)", "French (France)", "English (Australia)", "English (India)", "Italian (Italy)", "Spanish (Spain)", "Spanish (Mexico)", "Portuguese (Brazil)", and "Chinese (Simplified, China)" in addition to English (US).
To check it out Set focus on a text field and press WIN + H shortcut key Alternatively you can tap the little mic button at the uppermost of the touch keyboard. Speak what you want to say, then press WIN + H a secondly or tap the microphone button to stop the dictation. Alternatively, let the dictation session time out on its own.
You will need to download Speech for dictation to work. To try go to Settings => Time & => Language, click on the desired language and then click on Options. If speech resources are available but you haven't been downloaded it previously, you will find a download button.
Dictation depends on the language of the active keyboard and to switch between preferable one, press WIN + Space.
East Asian Microsoft Input Method Editor (IME) Improvements (Build 18875)
Windows 10 20H1 provides new Japanese IME. In the upcoming release, IME will more secure, stable, with improvement in game compatibility.
Japanese IME
Updated IMEs are available for Traditional and Simplified Chinese. Windows 10 1903 version will come with new versions of the Chinese Simplified IMEs (Pinyin and Wubi), moreover, Chinese Traditional IMEs (Bopomofo, ChangJie, and Quick). The version will improve reliability and security by redesigning how they work with applications. The interface is cleaner for the settings pages and candidate window as well. Settings app also has renewed and Improved settings of the IMEs.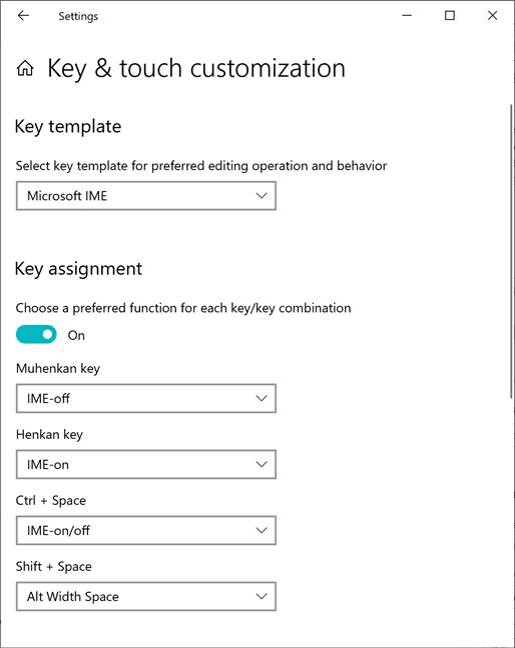 1] Windows 10 Build 18875 20H1 Details
2] Windows 10 Build 18885 Details
Language Settings Improvements
In Windows 10 May 2020 Update 20H1 you are able to view the current state of your Language in an easier way. The latest version includes an overview section that allows to quickly check the default languages for "Speech", "Keyboard", "Windows display", "Regional format", and "Apps & Websites". If anything is not according to your preference, click one of the tiles which will carry you to where you need to be to change that selection.
In addition, the language features installation page has got tooltips with descriptions.
Chinese Pinyin IME settings have received an update to refer to Default mode, instead of Input mode.
3] Devices in Windows 10 2004
SwiftKey's Typing Intelligence support for More Languages
Windows 10 2004 will bring SwiftKey's typing intelligence for the following 39 languages –
Afrikaans (South Africa), Albanian (Albania), Arabic (Saudi Arabia), Armenian (Armenia), Azerbaijani (Azerbaijan), Basque (Spain), Bulgarian (Bulgaria), Catalan (Spain), Croatian (Croatia), Czech (Czech Republic), Danish (Denmark), Dutch (Netherlands), Estonian (Estonia), Finnish (Finland), Galician (Spain), Georgian (Georgia), Greek (Greece), Hausa (Nigeria), Hebrew (Israel), Hindi (India), Hungarian (Hungary), Indonesian (Indonesia), Kazakh (Kazakhstan), Latvian (Latvia), Lithuanian (Lithuania), Macedonian (Macedonia), Malay (Malaysia), Norwegian (Bokmal, Norway), Persian (Iran), Polish (Poland), Romanian (Romania), Serbian (Serbia), Serbian (Serbia), Slovak (Slovakia), Slovenian (Slovenia), Swedish (Sweden), Turkish (Turkey), Ukrainian (Ukraine), Uzbek (Uzbek).
The whole means Windows 10 20H1 updates the underlying language model when typing in each of these languages. This will improve the accuracy of the autocorrections, shape writing, and predictions. You'd find this when using the onscreen keyboard, or the hardware keyboard text predictions (if enabled).
Windows 10 Build 18860 20H1 Details
Windows Ink Workspace Updates
In the latest version, Windows Ink Workspace is a little smaller and includes a link to Microsoft Whiteboard app. This provides you the information about rich ideation and collaboration capabilities. Microsoft Whiteboard is a freeform digital canvas where ideas, content, and people can come together. It comprises a boundless canvas, optional backgrounds (including graph paper and solid dark grey) to select from, rainbow ink support, multiple pages, and generally addresses much of the feedback you shared with us about Sketchpad. When you use Sketchpad, the tool saved the sketch in your Pictures folder.
You can show it by right-clicking the taskbar and choosing – Show Windows Workspace Icon.
Windows Ink Workspace has got an update moreover change for the overflow menu button to use an ellipsis icon.
4] Ease of access
Accessibility improvements
Windows 10 May 2020 Update will carry some important Accessibility improvements –
The efficiency of the Narrator is far better when reading tables. When you navigate with the same column or row the Header information no longer repeated. Exiting and Entering tables will be verbose to a lower extent.
A new command will lead to show Narrator web page summary and this is Narrator+S. You will get the information about landmarks, hyperlinks, and headings.
The version provides to keep the text cursor in the center of the screen making it easier and smoother to type while using Magnifier. The position is set by default but you are free to change in Settings.
Windows 10 Build 18894 (20H1) Changes, Fixes, and Improvements
The current Windows 10 version, Magnifier UI supports dark theme and text sizing options.
Narrator
Click me link solution
Narrator is able to read out you the title of the page that's linked to. You need to only press "Caps+Ctrl + D". Then Narrator will automatically take the URL of the hyperlink where you are and send it to an online service that will send the page title to the tool. If you would like to turn off all online service usage by the Ease of access tool, you can use Narrator Settings.
Windows 10 Build 18912 20H1 Brings Narrator Improvements and Fixes
Data Table Reading Improvements
Windows 10 May 2020 Update changes include optimized information that you hear with the Narrator when navigating a table with the help of table navigation commands. The tool now reads the header data first, then the cell data, then the row or column position for that cell. Moreover, Narrator only reads out the headers when these are changed, so you can focus on the content of the cell.
Bopomofo IME settings have received an update for making Ctrl + Space usable for toggling conversation mode.
Narrator starts reading webpages and emails automatically
Narrator will now automatically start reading webpages in order to read them faster. This will begin reading at the predominant landmark, if there is one or will fall back to a reasonable paragraph. The narrator will also start reading emails itself in Outlook and other inbox Mail applications.
Eye Control Improvements
Windows 10 May 2020 Update 20H1 will improve Eye Control. Following are the settings that will get improvements –
Drag-and-drop
Eye control will get drag-and-drop feature which is most requested of customers. When you turn this setting on from Ease of access, the precise mouse control tool will allow drag operations. In addition, Ctrl and Shift modifier keys will have the capability to combine clicks and drags.
Pause
Windows 10 20H1 version 2004 will include improvements to the pause experience. When you will select the pause button it will fully hide the launchpad. The launchpad will again appear when you briefly stop looking at your screen on dismissal. This change allows uninterrupted viewing of full-screen content, such as watching a video. In similar fashion, the feature also allows eye gaze enabled applications to be used without triggering Eye Control. This is useful when playing a short time ago launched Eye First applications.
Switch support
Previously, Dwell was the way for clicking a button. Dwelling means fixing your eyes on part of the screen and keeping your eyes continuously there for a specific amount of time. The current Windows 10 version will add another activation method, switch. According to this, you are able to use dwell to choose the target, but click a button with switch. This version supports switches on joysticks or devices emulating joysticks.
Under the hood
Developers can now create their own gaze enabled applications using open source Gaze Interaction Library located in the Windows Community Toolkit. The Tech giant has revised the Eye Control. The user interface is implemented using the same code that is in the Gaze Interaction Library.
The settings app has got more Eye Control features. The options here include additional fine control of the numeric values that change the responsiveness of the system as per eye movements.
5] Store Utilities and Tools
Snip & Sketch version 10.1901.10521.0
In Windows 10 May 2020 Update, snips became a bit blurry after saving or copying to the clipboard is solved.
The experts for Windows 10 fixed copying to clipboard would fail issue when you switched out of the app while the copying was in progress.
They solved suggested file name turned into unexpectedly a GUID for snips when it was launched via Win+Shift+S toast.
They have included Narrator (screen reader) confirmations in this version when a snip is copied to clipboard.
Windows 10 20H1 changes the default save format to be png. However, you are able to use the drop-down when storing to pick your desired format if it's not png.
The version resolved auto-copy changes to clipboard weren't working on return from Snip & Sketch settings problem.
The team solved an app might crash when you closed 2 app windows in sequence.
They fixed the default save file location that was documents instead of pictures. The Save dialog wouldn't memorize where you previously store a snip is also fixed in the continuation.
Windows 10 Build 18850 20H1 Details
Windows Subsystem for Linux 2
Windows 10 May 2020 Update 20H1 introduces WSL 2, a new version of the architecture that empowers the Windows Subsystem for Linux to execute ELF64 Linux binaries on Windows. This feature uses a real Linux kernel, modifies how the Linux binaries interact with your PC's hardware and Windows, nonetheless provides WSL 1 experience. WSL 2 performs a quicker file system performance together with full system call compatibility, which allows you to run multiple applications similar to Docker!