Windows Hello PIN in Safe mode
Safe mode totes Windows in a basic phase, using an essential set of files and drivers to help you troubleshoot problems. If an issue doesn't occur in this mode, this indicates that default settings and drivers are not reason.
Windows 10 2004 20H1 includes support for Windows Hello PIN in Safe mode. So you will no longer have to depend on your password when troubleshooting your device. Follow the instructions to enable Windows Hello PIN in Safe mode –
Go to Settings => Accounts => Sign-in options => Windows Hello PIN and set a PIN.
Now Boot your device into Safe mode:Settings => Update and Security => Recovery.
Under Advanced startup select Restart now
After restarting to the Choose an option screen, select Troubleshoot => Advanced options => Startup Settings => Restart. You may be demanded to enter your BitLocker recovery key.
After your computer restart, you'll come across a list of options. Select 4 or press F4 to boot into Safe Mode.
Alternatively, you can also choose 5 or press F5 to gain access to "Safe Mode with Networking".
Lastly, Sign in to your device with Windows Hello PIN.
Your Phone app–multiple new features rolling out to all users
Windows 10 20H1 provides Samsung Galaxy S10+, S10e, S10 5G, S10 and Fold devices to Link to Windows natively. Integration is quite simple and to sync photos, send messages, manage notifications, and mirror your phone on PC are easy.
Phone screen, which allows to access Android phone apps right from PC, is gradually pushing to Samsung Galaxy S10+, S10e, S10 5G, S10, and Fold devices. You can use multi-touch gestures, for example, pinch to rotate, zoom and swipe from your PC's touch screen while using Phone screen.
Moreover, 2 more features, battery indicator and Your Phone icon are also available. The first one will offer quick access to phone's battery level staying in the application without bothering to check device. Your Phone icon in Windows 10 20H1 will display the current static home screen wallpaper thinking of a personal touch.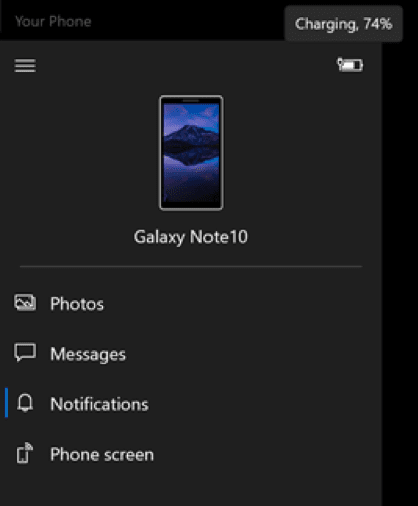 See the WSL improvements here
Right click menu of a .HEIC image displays an option to "Set as Desktop Background" or "Print" in File Explorer. This was already available for other image file types.
Magnifier performance is now better when using touch.
Magnifier User Interface will now show properly when alt-tabbing if the tool was minimized originally.
Improvements in kaomoji
You already received WIN+(Period) / WIN+(Semicolon) keyboard shortcut to emoji in Windows 10 version 1903. This hotkey now also work for special characters and kaomoji. kaomoji are faces with expressions you can create by mixing up different characters.
In the current build, WSL 2 will roll out unutilized Linux memory back to PC
Earlier, WSL 2 Virtual Machine memory would grow to match the needs of workflow. Sadly it wouldn't shrink back down when the memory was no longer needed. With this improvements as memory is no longer in action in the Linux VM, it will be freed and shrink in memory size accordingly.
Update for PowerToys v0.12
Microsoft rolled out 0.12 version of PowerToys on GitHub. The tool now includes PowerRename module, which helps to batch rename a bunch of files easily. Additionally, FancyZones and support for Dark Mode are also appended.
GIF showing how you use PowerRename to select a group of files and batch rename them by searching for and replacing certain words.
See PowerToys v0.12 full detail.
Your Phone app–Elevating the Phone screen feature by removing its dependency on Bluetooth connection
Multiple Insiders reported about the dependency of Phone screen features on Bluetooth Low Energy connectivity. So Microsoft partnered with Samsung to present a streamlined experience across all Windows 10 PCThis became possible by removing the dependency of peripheral role for Phone screen.
Samsung Galaxy Note 10 was the initial  device to carry forward this feature in August. Once responded positively, Microsoft has turned this feature on across the devices S10e, S10, Samsung Galaxy Fold, and S10+  Android Phones. All you need is receive the recent software update on the devices that enables the – Link to Windows – feature. This feature will be activated in Samsung Galaxy A30s, A50s, and A90 in the coming months.
Microsoft will remove the Bluetooth connectivity options immediately from the devices. Therefore, you are recommended to unpair the devices via Bluetooth settings on both of the PC and Android phone.
requirements of the SmartPhone screen
1] Select Android phones running Android 9.0 or greater
2] PC running Windows 10 October 2018 Update or later
3] Android phone must be on and connected to the same network as the PC
4] You will need a supported device to use this feature:
5] Samsung Galaxy Fold
6] Samsung Galaxy Note 10/ Note 10+
7] Samsung Galaxy S10/S10+/S10e
8] Samsung Galaxy A30s/A50s/A90
Preview new DirectX 12 features
Windows 10 2004 20H1 allows to preview DirectX 12 including DirectX Raytracing tier 1.1 Mesh Shader, and Sampler Feedback. See here.
Quick searches in Search Home
Windows 10 2004 will comes up with quick web searches in the Search Home:
1] Weather – You can see present conditions and the upcoming forecast.
2] Top News – The feature will allow knowing the fresh headlines from famous news websites.
3] Today in history – Take a look at four events that happened on this day.
4] Brand new movies – Fossick what's playing in theaters near you.
Click the search box then choose one of the quick search buttons to see the results. Now type a query into for almost everything.
Moreover, Microsoft has updated the design of Search and input a few tweaks.