As we all know Microsoft keeps on releasing updates quite frequently in several forms. The giant software company offers them in the form of Tuesday patch, cumulative updates, preview builds, and more. This time, the team rolls out Windows 10 November 2019 Update as feature update that contains a number of amazing modern features, bug fixes, improvements, etc. So, go ahead with the below section and explore the list of all the changes, features that the update has to offer you.
Windows 10 November 2019 Update Features and Changelog
Here is the list of Windows 10 November 2019 Update features –
Commonly, Windows containers would require an analogous container and host version. This essentially limits users as it prevents them from offering support for mixed-version container pod scenarios. The Windows 10 November 2019 Update comes with 5 fixes for dealing with this scenario. Now, in order to process "(Argon) isolation", the host may execute down-level containers on up-level.
Windows 1909 comes with a resolution that bypasses the inking latency by OEMs. It depends on the hardware capabilities of their devices instead of remaining stuck with latency chosen on typical OS hardware configuration.
Herewith comes a Key-rotation or Key-rolling feature that is tasked with enabling secure rolling of Recovery passwords

.

That will be applicable to MDM managed AAD devices when Microsoft Intune/MDM tools send demand request or each time the client uses the recovery password for unlocking the BitLocker protected drive. Ultimately, this feature would help to a large extent in preventing accidental recovery password disclosure. Such accidental disclosure by users was the problem with manual BitLocker drive unlock.
Start menu and settings
One of the best Windows 10 November 2019 Update Features is Start menu navigation pane that will now expand to a higher level. This is to better inform where clicking impacts when you hover over it.
Furthermore, the giant software has included friendly images that explain "Banner" and "Action Center" during app notification adjustments. This change, though minor, makes those settings more approachable and understandable for various users.
There is a feature change allowing voice-activation above the Lock screen by 3rd party digital assistants.
The Windows 10 1909 developers are updating the File Explorer search box to be powered by Windows Search. It aims to integrate the user's online OneDrive content with the traditional indexed results.
The narrator and other assistive technology will now be able to read and learn where the FN key is located on the keyboard. Moreover, it will be able to figure out whether it is locked or unlocked.
Notifications and calendars related changes
Post integration of the Windows 10 November 2109 update 1909, users will now be able to create an event straight from the Calendar fly-out that's located on the Taskbar. All you need to do is hitting the date and time that you can find in the lower-right corner of the Taskbar. When the action opens the Calendar fly-out, pick the preferred date. Then, you can simply start typing in the newly set text box with inline options to set a time and location.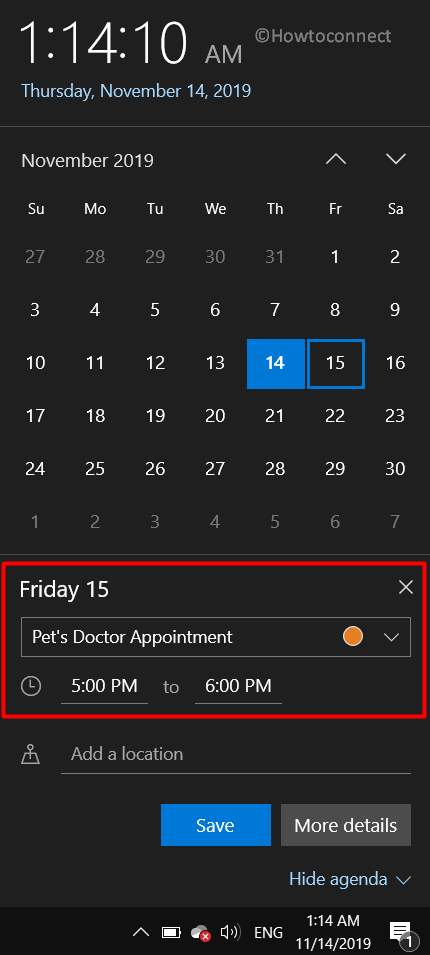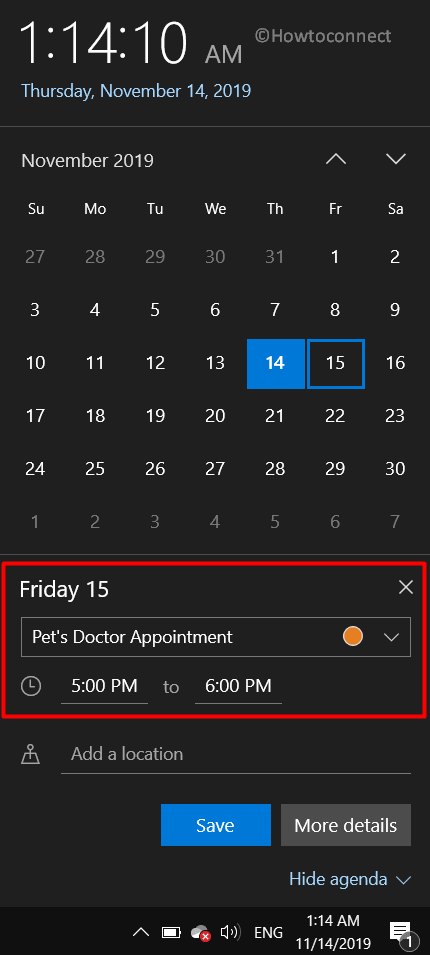 Yet another change coming with the package is the notification sender shown in Notification settings under Settings > System > Notifications sorted based on the most recently received notification itself instead of the sender name. This change will make it easier for users to find or configure recent and frequent senders. There is also an added setting for muting the notification sounds. The update also includes an option to configure turn off notifications from a specific app/website on the notification itself. You can do so both on a banner including in the Action Center.
Microsoft's team has also included a "Manage notifications" button in the Action Center, to the top. It launches the main "Notifications & actions" Settings page.
Power, protection, and system
Windows 10 November 2019 Update features an added debugging capabilities supporting newer Intel processors. The change is relevant just for hardware manufacturers though.
The general battery life and power efficiency are enhanced with the update, especially for PCs with certain processors.
The team implements a rotation policy with this update.

It would distribute the work equally among CPU's favored cores in order to offer better performance and reliability.

Furthermore, the update comes with enabled Windows Defender Credential Guard for ARM64 devices. This would offer an extra layer of protection against the risks of credential theft. The feature is particularly useful for enterprises deploying ARM64 devices in their organizations.
Enterprises can now supplement the Windows 10 in S Mode policy to allow traditional Win32 (desktop) apps from Microsoft Intune.
What's more?
Windows Virtual Desktop
"Windows Virtual Desktop" and "app virtualization service" ongoing in the cloud are now made available to general public. The feature is a powerful infrastructure offering simplified management, optimizations for "Office 365 ProPlus", "multi-session Windows 10" moreover support for "RDS environments".
Desktop Analytics
Desktop Analytics, which is a cloud-based service integrated with Configuration Manager is now available to general customers. The feature offers data-driven insights and intelligence to make more informed decisions concerning OS endpoint's update readiness.
Microsoft Connected Cache
Moving further, with Delivery Optimization, Microsoft Connected Cache available on the Configuration Manager distribution point, Linux server or Windows Server can cache content adroitly at the byte range level, thereby smoothly offloading traffic to local sources.
Microsoft Endpoint Manager
The tool is an integrated endpoint-management platform that provides the management of all your endpoints. Microsoft would present the Microsoft Intune and Configuration Manager together. They'll also remove the migration barriers in order to let users leverage the existing Configuration Manager investments and, at the same time, reap benefits of the Microsoft cloud.
That's all!!!